International
Blair Gets a Bloody Nose for Iraq
Tony Blair has won his longed-for third election victory and secured his place in history. But the prime minister must know that, for the first time, it was despite, rather than because of him.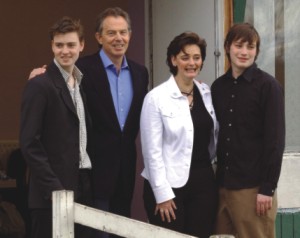 The victory came on the back of the smallest winning share of the vote recorded. And with a vastly reduced majority and both the Tories and the Liberal Democrats making significant advances at Labour's cost, the celebrations in Downing Street was short.
All eyes will now focus on the prime minister's future - and what many believe is the near-inevitability of a handover to Gordon Brown well before the end of this third term. Iraq dogged the prime minister throughout the campaign and many in Labour believe only a change in leader can draw a line under this episode
The sight of Stephen Twigg suffering role reversal and losing the seat he so sensationally took from Michael Portillo in 1997 and fellow minister Melanie Johnson falling will have pained Blair.
But perhaps the moment that will have rocked him the most will have been when Respect Party's George Galloway ousted Oona King after a campaign based almost entirely on anti-war sentiments. Galloway's successful and bitter single-issue campaign to oust King from one of the most Muslim seats in the country has secured his place in British political history. It has also given us a return of sorts to the political street-fighting that once made London's East End such a volatile electoral mix.
King entered the Commons in 1997 with a majority she went on to increase in 2001. A member of the "Blair Babes", she was media savvy and a high profile MP for some of the poorest people in the country. But eight years on, those constituents have punished her closeness to the Prime Minister -- not over the bread-and-butter East End issues of jobs and housing -- but over her support for the war in Iraq.
And so it was to the cheers of his supporters that the new member for Bethnal Green and Bow declared: "Mr Blair, this is for Iraq." Galloway lost the party whip in 2003 over his refusal to toe the line over Iraq.
Here was a Labour man who had called the Prime Minister a liar long before it emerged as a bright campaign idea in the Tory campaign bunker. But it was no accident that he then chose Bethnal Green and Bow as his last stand against the party that rejected him. With close on 45,000 Muslim residents -- and Muslims at the forefront of those opposed to the Iraq war -- it was Galloway's best chance to bloody Tony Blair's nose.
Forming his own anti-war Respect Party, he called a large number of Muslim volunteers to the constituency - many of them heavily experienced members of the anti-war movement. The Muslim Association of Britain, an organisation which predominantly campaigns on Palestinian and Iraqi issues, swung behind Mr Galloway with a large number of enthusiastic campaigners, including well-connected local mosque workers eager to make their voice heard.
Many observers thought that this race was too close to call; if Mr Galloway was relying on the Muslim vote, the question was whether he could persuade the solidly working class Labour section of this community to come on board. The contest also appeared likely to split the vote, if faith was the issue for voters, as both the Liberal Democrats and Conservatives put up well-known local Muslim figures.
But the first hustings very quickly demonstrated this was going to be a title-fight between Galloway and King -- and not a particularly edifying spectacle at that. Galloway raised the temperature at that first clash by accusing the government of being part of a "war on Muslims". While King said her support for Saddam Hussein's overthrow had been principled, Galloway said his candidature represented the "ghost of Labour's past" come back to haunt her.
Yet as the debate continued, the comments became more vitriolic.
"What makes me sick is that when I come across someone who is guilty of genocide I do not get on a plane and go to Baghdad and grovel at his feet," said Ms King, referring to Mr Galloway's controversial meeting with Saddam Hussein 11 years ago.
Two days before polling Mr Galloway walked out of an ITV interview after the programme raised his visit to Saddam Hussein, saying he had been set-up to appear a supporter of the former dictator. Writing days before the vote, Mr Galloway predicted Iraq would be Tony Blair's political tombstone. But as he scraped home in the seat with a majority of less than 1,000, the war also gave a new lease of life to one of the toughest street-fighting rebels Labour has ever seen.
Iraq dogged the prime minister throughout the campaign and many in Labour believe only a change in leader can draw a line under this episode. The prime minister himself acknowledged the effect the war had had on his campaign during his victory speech. He also echoed sentiments expressed by Gordon Brown earlier when he spoke about the need to listen to people's concerns.
Meanwhile, both Michael Howard and Charles Kennedy had reason to be happy with their results. The Tories may not have made a breakthrough of the size many were dreaming of.
But Michael Howard was happy enough with his showing to declare his party had taken a significant step towards recovery. There will be speculation over his own leadership plans but he has done enough to avoid instant demands for his resignation.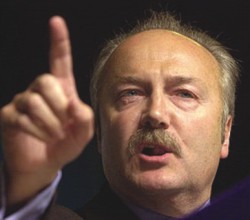 In any case there is a widespread feeling amongst Tories that they do not want the sort of resignation William Hague made after the 2001 poll. Similarly, Kennedy will be delighted with his showing and the likelihood of ending up with more Commons seats than at any time for the Liberal Democrats since Lloyd George.
He will see the result as a solid staging post towards his ambition to make the Lib-dems the real opposition, in time for the next general election.
There was a time, of course, when a majority of over 60 would have been seen as a major success for Labour, or even the Tories at their prime. But there will be no getting away from the fact that Mr Blair will now have a far more difficult time than before in getting his programme through Parliament.
That will only add to the speculation over his leadership. And there must be doubts about him remaining in Downing Street for the full term, as he has insisted he will do. As soon as the smoke has cleared from this election battle, that is the story most likely to now dominate politics.
This article is compiled from various sources on the Internet.
Copyright (R) thedailystar.net 2005