Cinema

Char Sotiner Ghar
Nargis' latest venture brings a social malice like polygamy to the fore
Shamim Ahsan
Bangladeshi films are not held in high esteem. Educated and sophisticated people consciously avoid going to the cinema and watch Bangladeshi movies. Allegations abound that these films are vulgar and have no plausible story line or artistic merit. But there have been people within the industry who have dared to deviate from the mainstream and make good films. Nargis Akhter is one of them.
Her films are not what we call parallel films. Hers are not the kind of films filmmakers like Tanvir Mukammel, Morshedul Islam or Tareque Masud (some of the branded parallel filmmakers of the country) have made. Rather, her films are mainstream films with a difference. They have all the basic components of the conventional commercial films like romance, songs, dance, comedy, etc, and the cast too is made up of mainstream performers. But what makes her films different is they have "something to say"; Nargis uses the cinema as a medium to communicate her messages to the masses. Her films are educative, but they are not very serious, didactic or intellectually profound as educative films intend to be. "My objective is to educate through entertainment" is how she brands her kind of films. Her first film "Meghla Akash" starring Indian superstar Shabana Azmi among others was meant for creating awareness about AIDS. A strong sense of social commitment is evident in her second effort "Char Sotiner Ghar" that was released on the Eid ul Azha. It depicts the social malice of polygamy that is often sustained and nourished by ignorance, prejudice and social taboo.
Set in a remote village, the story evolves around Kashem Khan. Khan is the richest man in the village and has three wives. The story begins with the 50- plus Khan getting preparing for his fourth marriage. His three wives could not bear him any children, to be more specific, a son who would keep his generation going. So, he is marrying again and his new find is Phulbanu, a beautiful woman of the same village, who is less than half his age. Phulbanu's father, as anyone can guess, is very poor, has got kidney trouble and above all, has a couple of more daughters to marry off. Khan's proposal appears to him like a god-sent solution to all his problems. Phulbanu too cannot ignore the fact that her sacrifice will not only ensure her father's treatment, but ease his worry of marrying her two daughters. She sadly submits to her fate.
Khan, however, finds it hard to exert his dominance over his fourth wife as he used to with his first three wives. When he tells her about his long cherished desire of having a son, she blatantly tells him about her impression about it -- she believes that he is incapable of giving birth to any child. Khan reacts angrily at first, but when the eldest wife, whose opinion he attaches some value to, finds the suggestion reasonable, Khan accepts the challenge. They visit a doctor and the youngest wife's doubt proves right. Khan's heart caves in, he confesses that he has made a great mistake by marrying one after another in the hope of having a son.
At this point in the movie, he divorces Phulbanu so that she can start her life anew. Before her marriage, Phulbanu had some weakness for the boatman of the same village. The weakness deepened when they met each other a few times after her marriage. So, the moment she gets divorced from Khan she runs to the boatman.
He also extends the same offer to his first two wives when he returns home broken and helpless. They, however, don't want to leave him. The third wife, who had already devoloped an illicit love affair with Kallu, a servant who lived in the same house, has meanwhile committed suicide when she becomes pregnant.
The story is not particularly extraordinary. Neither in reel nor in real life. It is the same old story of the richest man in the village who takes advantage of the helplessness of poor fathers with marriageable daughters.
But a poor father's problems with many marriageable daughters is not the focal point of the film. In "Char Sotiner Ghar", Nargis goes beyond that. She deals with the ignorance and misconception many of us hold concerning sex or birth related issues. These issues are still taboo in our largely conservative rural society. Taboos breed prejudice and ignorance and there are unscrupulous individuals who readily take advantage of that ignorance to pursue their own designs. Nargis tries to attack the notion created and sustained by our patriarchal society that the woman is the solely responsible for her inability to give birth. In this story, it is Khan, the male, who is incapable, but by the time the revelation is made all his four wives have paid dearly.
The third wife's illicit love affair with a male servant and the subsequent tragic end of her life also illuminate another extreme predicament. The movie tries to show how long-held misconceptions may lead to unforeseeable tragedies.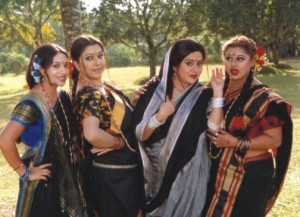 "Char Sotiner Ghar" is reasonably well made. Alamgir in the role of Khan and Shabnur as the youngest wife have done well. The role of the first and second wife is very small and not very significant and in the end, one has the feeling that the talent of Babita and Diti was greatly wasted. Perhaps commercial concerns prompted Nargis to cast them, which of course is not a great sin. TV famed Mahfuz has portrayed the boatman's character very well. Nargis apparently has great weakness for music. Especially her use of songs to create the tragic ambience has been an effective technique.
The film will hopefully win audience's acclaim as well as make good money. Her first film "Meghla Akash" did reasonably well at the box office and Nargis is confident "Char Sotiner Ghar" will do the same. "I strongly believe that good films fare well at the box office," she says. Let's hope her confidence doesn't backfire.
Copyright (R) thedailystar.net 2004