Books

Short Story Anthologies

Sanyat Sattar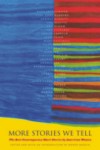 More Stories We Tell
Wendy Martin (Editor)
Pantheon; April 2004
This follow-up to the well-received anthology We Are the Stories We Tell (1990) explores the lives of women in the latter half of the twentieth century. The two dozen stories gathered here are written by an interesting and powerful group of contemporary female writers. It is up to the reader to decide whether or not, collectively, these voices speak to all women in modern times, but there is no doubt that the characters in these stories make up a broad group both ethnically and socially. Writers are well known and well regarded and include Jamaica Kincaid, Margaret Atwood, Grace Paley, and Louise Erdrich. The flow from one story to another is gentle, clearly a result of thoughtful editing. Fans of the short story will find some favourites, like Ellen Gilchrist's "Light Can Be Both Wave and Particle" and Toni Cade Bambara's "The Lesson," as well as some interesting and unexpected choices, such as Gish Jen's "Who's Irish?" This is an excellent anthology, one to read and reread many times.
---
Crafting the Very Short Story: An Anthology of 100 Masterpieces
Mark Mills (Editor)
Prentice Hall; June 2002
This outstanding anthology is comprised of acclaimed authors from diverse cultures and both genders. Organised alphabetically and stylistically, this volume's avant-garde fiction features numerous genres and serves as an excellent introduction to the authors' longer works. The first-person and commentary essays by distinguished writers and scholars appear immediately after their corresponding stories. The text includes writing instruction, exercises, a glossary of literary terms, scholarly commentary, key stylistic elements alongside stories included in the collection. The rich variety of narratives and the overall reader-friendly structure make this compendium an essential tool for teaching fiction and crafting the very short story.

---
The Anchor Book of New American Short Stories
Ben Marcus (Editor)
Anchor; August 2004
ISBN: 1400034825
"Writers are reaffirming tradition, ignoring it, or subverting it," Marcus notes in the introduction to this wide-ranging collection of stories from contemporary writers. Including writers such as Rick Bass, David Foster Wallace, and A. M. Homes, Marcus has collected quite a diverse group of talented authors. Jhumpa Lahiri's offering, "When Mr. Pirzada Came to Dinner," from her acclaimed collection The Interpreter of Maladies (1999), is the story of a how a young girl is deeply affected by Mr. Pirzada, a friend of her parents, and his separation from his wife and seven daughters, who are caught in the middle of the Indian-Pakistani conflict. In Lydia Davis' "The Old Dictionary," the narrator realises she handles a delicate old dictionary more carefully than her own young son. In Stephen Dixon's "Down the Road," a man tries to carry his lover when they both can barely continue their long journey. Different readers will likely prefer some selections to others, but all will have to agree that Marcus has collected a respectable sampling of some of today's finest writers.
(sanyatsattar@hotmail.com)
Copyright (R) thedailystar.net 2004