Voicebox
"We went through such hardship during the (liberation) war. Especially the hardship of always going hungry. It hasn't ended."
HASNA KHATUN
a Fifty-five year old woman of a small village in Kurigram during a food distribution initiated by Prothom Alo to assist people affected by a severe economic depression in the northern districts. Hasna's husband Golam Nabi, a freedom fighter, died only the day before.
"We are teachers, not investigation officers."
Prof SYED RASHEDUL HASAN
Treasurer of Dhaka University (DU).
Not a single report of around 500 investigations conducted by the DU administration has ever been published.

"Try to take legal action against me if you can. You have filed cases against me before and I was released on bail as soon as I stood before the court."
KAWSER HUSSAIN SIDDIQUI
the leader of a militant extremist group Shahadat-e-Al Hikma
after his arrest for the third time in Rajshahi. The group has blacklisted 31individuals as 'enemies' of the organisation.
"I will need your support and I will work to earn it."
GEORGE W BUSH
after being re-elected for the second time.
"There is no reason to send the issue to the Security Council. It would only make the issue more complicated and difficult to work out."
Li Zhaoxing
Chinese Foreign Minister
at a press conference in Tehran opposing Washington's efforts to have the Islamic Republic referred to the UN Security Council. The US accuses Iran of secretly trying to develop nuclear weapons in the guise of its civilian atomic energy programme which Tehran insists is only to generate electricity.
---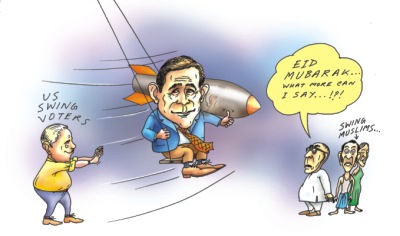 QUOTATIONS ARE TAKEN FROM DIFFERENT LOCAL AND INTERNATIONAL NEWSPAPERS.
Compiled by: AHMEDE HUSSAIN. Quotes can be sent to <ahmedehussain@gmail.com>
Cartoon : MUSTAFA ZAMAN
Copyright (R) thedailystar.net 2004