Cover Story
Fun options for
Eid
It's that time of the year again. After a whole month of abstinence, it is time for Bangladeshi Muslims to celebrate the most popular festival of all-- the Eid-ul-Fitr. The shopping is over and the gifts have been distributed. It's time to get dressed in new outfits, over-indulge in both the savoury and sweet and meet with friends and relatives you haven't seen for years. Thus the ritual starts all over again. For many, Eid has become a chain of obligation and monotony. So how can we break the routine? Star Weekend Magazine explores a few possibilities.
DHANMONDI
Sometimes, all it takes is a cosy boat ride with your significant other or just with your close friends, to get into a more relaxed frame of mind. Dingy, the city's only self styled boat-café, has its own plan to celebrate Eid. Situated on Dhanmondi Lake, the club will remain open on Eid day; a single boat ride on the lake will cost Tk 25. It is an ideal dating spot for young couples who hardly get any place in the city to have fun. The boats have to be manually paddled, so when you feel tired, have lassi or a soda from the cafe. Or you might prefer to lie on the green and chill.
When you get really tired of having shemai and phirni, it's time to try something sharp. An ideal place can be on Dhanmondi Rd. 5, where the phuchka and chotpotiwallahs will be ready to serve you with the traditional delicacies. A plateful of either chotpoti or phuchka costs only Tk 10.
Horse carriages have recently been off most Dhaka streets but some still ply on the Gulistan-Coronation Park route. Given the bad traffic in the area on any other working day, it might sound a hellish experience, but on Eid, it will surely be a breeze. A single ride through the old part of Dhaka will cost Tk 10.
GULSHAN-BANANI-MOHAKHALI
For those of you who don't want to spend Eid at home or at a friend or relative's house, many restaurants will be open on Eid day. Some of these restaurants, such as SKs Khazana located in Gulshan 2, will be having Eid specials. Khazana will be offering a package combo meal instead of its usual buffet in addition to its a la carte menu. The combo meal will include a soup, a starter, a main course and beverages for the total price of Tk. 399 plus VAT. Of the food included in the combo meal, eight or nine of them will be new items, which are not on the original menu.
Fast food joints such as Wimpy's, which is located on Kemal Ataturk Avenue; Dominous Pizza which has branches both in Dhanmondi and behind Iqbal Tower in Banani; Café Mango, which has branches both in Dhanmondi and Gulshan 2 and Pizza Hut, which is in Gulshan 2 will be open although they do not have anything special planned for the day.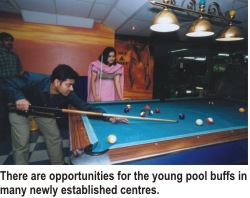 Recreational Joints Billiard Centres
Proprietors of the Dhaka Billiard Centre (DBC) located in Gulshan, have their hopes up for the new café that they built alongside the pool area. "Like every other Eid, we will have a huge number of people, especially the younger ones," says Swapan Kumar Debnath. "They play late into the night, and ask for refreshments in between."
Pool Lovers and Rocking Zone, located on opposite sides of Kemal Ataturk Avenue, and equally popular with the university going students, are also places one can go to and spend time playing pool. "Entertainment is still very limited in Dhaka City," says the manager of Pool Lovers. 'That's why many youngsters just end up playing pool here and spending quality time together."
Sports Zone
Atiqur Rahman, assistant co-ordinator of Sports Zone, in Mohakhali is confident about their arrangement for this upcoming Eid. "Our doors will be open from 9 in the morning till midnight." Entry fee is free in the morning but from 1 p.m., it will cost Tk 30 for people above 10 years of age. Special discounts will also be available on the bowling allies and the pool centre. From 9 a.m. to 3 p.m., bowling will cost Tk 70 instead of the regular Tk 100 charge and pool will cost Tk 100 instead of the regular price of Tk 120.
To commemorate Eid, a special Video Games Competition will also be held all throughout the day. Participants will be challenging the gaming consoles, beating certain opponents and breaking records for prizes that mostly include free-food gift vouchers.
Amongst a host of shoot-em-up games, arcade games and rides, there is also a movie theatre, Turbo Ride, which will feature two shows, "Dino Island" and "The Lost Temple". Tickets cost Tk 100 and the shows will start every hour, on the hour.
"Other than our regular attractions, we will have a cultural programme on November 17 featuring kids and teenagers," continues Rahman. "There will be a fashion show, singing and dancing. This is going to be free to all our clientele and is mostly to create a family ambience during this special time of the year." The next day Sports Zone will have a Musical Evening featuring band shows. There will be two bands featuring 'Black' and 'Maksud of Dhaka'. Tickets will cost Tk 100 to enjoy the Musical Evening. Tickets can be bought in advance, as a limited number of people will be allowed to keep the atmosphere enjoyable. Both the shows will commence from 7 p.m. There will also be a raffle draw on the entry tickets sold during Eid.
In the past three years, younger people of the city have found lots of new ways to entertain themselves, including a game of pool. Nowadays, just about every other youngster prefers to accept the challenges of hitting the 'solids and the stripes' with his/her cue stick after class, rather than simply hanging out at a fast food stand or playing computer games.
Sports Zone is expecting a big crowd of pool players this Eid. "It's a very common scene every Eid," says Rahman. "The Bowling rink and especially the Pool areas become over crowded with people."
Wonderland
Located in the heart of Gulshan, Wonderland has made quite a name around for all their cheap thrills. To celebrate this Eid, it will introduce some new rides such as Bumper Boats, Volcano Adventure and many more. Though they are still under construction, the Project Director is somewhat confident that they will be up and running before Eid. There will be no special discounts during Eid and hence, entry fee is going to be Tk 50 per person. The rides in Wonderland include the Merry-go-round, Train Ride, Boat Ride, the Ferris-wheel and more. Ticket costs range from Tk 10 to Tk 100, depending on the nature of the ride. Though this place is jam-packed with rides, most people will surely turn up to take a nice stroll with the family and take in the pleasant setting.
BASHUNDHARA CITY
Some say life begins when you're 18. Others say it starts at 30. In the context of Bashundhara City this Eid, life begins at 2 p.m. This is the time the city's entertainment zones will commence their thrills for all the wonder seekers to Panthapath. Among them are Star Cineplex, Toggi World and the Arcade Zone, the latter with its duplex pool-and-billiard level. Entry ticket to the Arcade Zone is Tk 5 but tickets to each game are a little steep at Tk 15 per game and the settings for the games too are set to maximum difficulty. Nonetheless, it is fun to see little kids pointing the toy guns at the screen, enjoying the display while the monitor fervently blinks 'Insert Coin'.
Toggi World, the first indoor theme park in Dhaka, is going to provide a lot of chills-n-thrills this Eid. With their fun collection of rides, this place will surely be alive with children and parents alike enjoying rides like the mini Eiffel Tower, the indoor train ride, a Merry-go-round and much more. The place has nice lighting to give it a festive atmosphere. The entry ticket is about Tk 50 per person and the rides ranging from Tk 20 to Tk 30 per ride.
This new 'hangout' mall is also expecting a crowd on the 8th floor, where the pool tables are located. "We still have to get new snooker and pool tables to fill up the floor," says one of the officials, pointing at the four or five tables which were booked until closing time, that is 9:30 p.m. Don't miss out on the mall's Cineplex screenings during the Eid break, of the romantic comedy 50 First Dates starring Drew Barrymore and Adam Sandler and Humayan Ahmed's brand new flick Jay Jatra.
BAILY ROAD
For the young and the restless, Baily Road is an exciting hangout on Eid Day. The Broadway of Dhaka may seem impoverished compared to its international counterpart, yet it has its honour and pride glued to it. And the crowd seems to swarm the road in their effort to brush some of it in their new attire. The reason behind the unofficial gathering is not the food offered by the series of stores that line the two sides of the road. But that doesn't mean that the food buff should avoid the spot. In fact in the last six or so years, this small vicinity has attracted not only culture seekers but also people with overactive salivary glands.
The most exotic delicacies are made in the Pitha Ghar.
Exotic in a sense that, in an urban setting pithas are a rare treat. Pitha Ghar has it all, from cream-filled patishapta to oil dripping pakon.
For junk food lovers there are plenty of opportunities to take a break from the heavy fare prepared at home. Palki, New Dahlia's, La Vista, Golden Food and even Domino's Pizza remain open on the day of Eid and the few days after. But most store personnel claim that on Eid Day the demand for food is less and it is the drinks that the crowd craves for.
However, Shahidul Islam's testimony nullifies this claim. As a worker of La Vista and with a seven-year-long experience on the job, he is assertive about the sale of chicken fries, sandwiches and even burger. But he also stresses that it is the fountain soda that sees an unprecedented boost in sale; the young people who throng the road on Eid Day and the few consecutive days thereafter are heavy drinkers (soft drinks of course!) and light eaters.
For those with discerning taste buds coupled with an ample wallet, Swiss Bakery is a marvellous option. After all, the bakery still tops in the list of the food hierarchy. There is Bamboo, which will remain open on Eid Day, and for people willing to forage for more protein-heavy stuff, like parathah and kabab, it is an ideal place.
Baily Road is definitely a place that beckons the young for it is here that they let down their guard and exchange secrets among their buddies. And that's not all. For the usual Eid ritual of the young and bold -- the almost compulsory flirting with the opposite sex -- Bailey Road offers immense possibilities for romance and the romantic.
ASHULIA
Dhakaites have a tendency of going 'out of town' to get away from it all. This in most cases is as far as Ashulia. Now for those people who have had little chance of visiting this spot, Ashulia consists basically of a strip of land, connecting Savar to Uttara with most of the road oozing with trucks and buses. A careful eye can easily pick out the pockets of people huddling around little makeshift chotpoti stalls. A gawking eye can easily pick out all the pretty girls in the crowd. Such is the mixture of people who visit this site, not only for the scenery but the escape from the fumes and dust of Dhaka City. Here, people can hire boats and launches and enjoy the clean air since it is fast becoming a rarity.
Fantasy Kingdom
Fantasy Kingdom, the only theme park of the country, is adding a 3D film show for this Eid. It will of course, has its usual thrilling rides to cater to the young and the slightly reckless.

Nandan Park
For a great splash there is Nandan Park in Baroipara Savar, which will be open from 2 p.m. to 9 p.m. on Eid day and 11 a.m. to 9 p.m. the following days. The only new attraction for Eid at Nandan will be a "newly choreographed" musical dancing fountain with Bangla songs.
---
Eid in the Warmth of Old Dhaka
As in usual times Old Dhaka wears a different look from New Dhaka on an Eid day. Since Dhaka's population loses much of its weight on Eid, New Dhaka by and large assumes a lifeless and deserted look. The joyous festive mood is much more manifested in Old Dhaka. The celebration begins with crackers blasting right after the moon sighting on the chand raat. Preparation for the Eid goes on until late at night. Women start preparing spices, men are sent to the kitchen market with long lists, friends meet to decide where they would say the Eid prayer and discuss their plans in detail. The saloons are open until the small hours of the next day.
The mood of festivity is unmistakably present. Old Dhakaites popularly known, as Dhakaiyyas are socially and culturally close-knit; there is strong sense of belonging to the community. And this closeness gives Eid celebration in Old Dhaka much of its appeal.
During Eid Old Dhaka is full of colour, music and life. Children, young men and women in their new Eid clothes are a frequent sight on the streets of Old Dhaka. Eager Eid kolakuli (embrace), performed with great enthusiasm, are another common sight one would come across every few yards. Groups of youths wearing punjabis can be spotted almost in every alley blasting the recent hit Hindi film numbers or Bangla band songs and shops are decorated with colourful festoons.
If you are a New Dhakaite and have never seen Old Dhaka's Eid you might consider exploring it this time. The usual inextricable and messy Old Dhaka traffic jam is gone and stays this way for a few days after Eid day. All you need to do is hire a rickshaw for two hours, go around as you wish and you are sure to get a feel of Old Dhaka's Eid.
But there are also definite destinations to explore. One is Ahsan Manzil, the former palace of Dhaka's Nawabs which has been transformed into a museum. It's in Islampur, one of the furthest corners of Old Dhaka and is open on Eid day from 9 am to 5 pm. The entry fee is Tk 5. Articles of the Nawab family like chairs, beds, kitchenware, medical instruments and portraits of the Nawabs are on display in around one and a half dozen rooms in the huge two storied palace.
But if you are not an ardent museum enthusiast, you can still visit Ahsan Manzil. The large lawn with well-groomed neatly pruned grass-carpet right in front of the palace is quite inviting. One can also sit on the huge staircase to get a nice view of the river Buriganga, quietly flowing by the palace.
Baldha garden in Wari can be another option. It's also going to be open for visitors from 9 am to 5 pm. The entry fee is Tk 5. In a city where greenery is rare to come by Baldha Garden could be a good choice if you are looking to spend some time enjoying Nature's bounty. It's not as noisy as the parks in New Dhaka like Ramna or Suhrowardy Uddayan. Since one has to buy a ticket to enter there are no pestering beggars, tea vendors and badamwalas. Hundreds of rare plants and trees will greet you as you step into the garden. Eating is not allowed, but the guards are often indulgent enough to overlook it if you are suddenly caught with a few munchies. There is also a beautiful little pond with a quaint staircase that leads into the water.
A word of caution however - the large number of trees attract an equally large number of birds. And you know how uninhibited Dhaka's birds can be -- they scarcely miss an opportunity to target the head of an unsuspecting homo sapien, with the ultimate dropping!
---
Eye on the Tube
For our not-so-social couch potatoes, fear not, for this Eid (like every other) brings you an assortment of fun television programmes including dramas, tele-films, feature films, children's programmes, musical and magazine shows.
A few highlights . . .
The eve of Eid
A man with a lot of money wants to give it away to deserving villagers. So he shaves off the hair of those who pass his rigorous interviews and lets them join his group of bald men. But what are they really up to? Find out in Rezanur Rahman's comic drama Ektara Dotara
Featuring: Tania Ahmed, Ahmed Rubel and others
9:45p.m. on Channel i
Eid Day
The ever-funny and very popular "Nana-Nati" show, "Gombhira" on 8:30a.m. on ntv
Baul music programme "Mon Amar Shandhan Kori"
9:30a.m. on ntv
Musical programme "Kichhu Kautha Kichhu Gaan"
Featuring: Syed Abdul Hadi, Kanak Chapa, Sadi Muhammad, Rezwana Chowdhury Banya, Samina Choudhury, Ferdous Ara, Bappa Mazumdar, Subir Nandi and others
12:05 p.m. on ntv

A boatful of very different people sail their way to freedom in '71 amidst a turbulent tide of events and relationships . . . in
Humayun Ahmed's Bangla feature film Shyamol Chhaya
Featuring: Shaon, Riaz, Humayun Faridi, Ahmed Rubel and others
3:00p.m. on Channel i
Premiere show of Bangla film Prem Korechi Besh Korechi
Featuring Reaz, Rituparna, Poppy and Chankey Pandey
3:30 p.m. on ATN Bangla
Drama Missed Call
Directed by Humayan Ahmed and Abul Hayet
7:50 p.m. on ATN Bangla
A gentle, poetic NGO worker turns terrorist for the sake of love . . . in
Balak Balika, Written by Anisul Haq, Directed by Mostafa Sarwar Farooki
Featuring: Mahfuz Ahmed, Api Karim and others
7:50PM on Channel i
Humayun Ahmed's two-part drama Shedin Choitro Maash
Featuring: Riaz, Shaon, Jayanta Chattyapadhya and others
Day 1 and 2, 8:25p.m. on ntv
Musical programme "Purono Pop"
Featuring five first generation pop singers Fakir Alamgir, Ferdous Wahed, Pilu Momtaz, Lucky Akhand, Azam Khan
8:25 p.m. on ntv
Magazine Show "Paanch Phoron"
9:00 p.m. on ATN Bangla
Runa Laila's solo musical programme "Geeti Modhumoy"
9:40p.m. on ntv
Abdullah Al Mamun's drama ''Shokhi Tumi Kar''
Featuring: Ferdousi Majumdar, Abdullah Al Mamun, Jitu Ahsan, Ishita, Tarin, Shahiduzzaman Salim and Abdul Kader
10:30 p.m. on ATN Bangla
Day 2
Mustafa Munwar's special programme for children "Chander Moto Mon"
The theme: "Happiness is not for yourself but to be shared with others, like the moonlight that touches everyone."
9:30a.m. on ntv
Sonia keeps her windows shut because women across the street flirt with her husband. After months of doing this, she finally opens them up. Trying to see if she can do what the other women on her street do, she smiles at a man on the street and sets off an unprecedented chain of events herself . . . on
Eid tele-film Ingit, Written and Directed by Shihab Shaheen
Featuring: Api Karim, Intekhab Dinar and others
10:30a.m. on ntv
Solo Musical programme of Manna De anchored by Santa Islam
11:10 a.m. on ATN Bangla
Tele-film Babodhan, Written by Pantha Shahriar and Abdullah Al Mamun, Directed by Zahid Hasan
Featuring: Doli Zahur and others
9:00 p.m. on ATN Bangla
Premiere show of Bangla film Onno Manush
Directed by Kazi Hayet
Featuring: Kazi Maruf and Shabnoor
3:40 p.m. on ATN Bangla

Villages in North Bengal have seen hundreds of years of peace and communal harmony. Until the Pakistani army attacks in 1971 and a group of people from very different backgrounds, religions, etc., set sail towards, hopefully, peace and freedom . . . on
The World Premier of Jayjatra
Based on Amjad Hossain's novel Eshomoy Oshomoy, Directed by Toukir Ahmed
Featuring: Azizul Hakim, Mahfuz Ahmed, Shahed, Abdul Hayat and others
2:35p.m. on ntv
Drama Shopnoprapto Written by Masum Reza, Directed by Saeyd Awlad
Featuring: Abul Hayat, Toukir Ahmed, Tarin
7:50 p.m. on ATN Bangla
Drama Cox's Bazare Koekjon Written by Anisul Haque and Directed by S. A. Haque Alik
Featuring: Azizul Hakim, Tushar Khan and Moushumi
9:00 p.m. on ATN Bangla
Drama Naika Ashche, Script and direction: Mohan Khan
Featuring: Shahed, Jitu Ahsan, Mir Shaffin, Joy and ATM Shamsuzzaman.
10:30 p.m. on ATN Bangla
Roosters are better-looking than hens; bulls are better-looking than cows; lions are better-looking than lionesses; and peacocks are more beautiful than peahens. But which is the more beautiful sex among humans? Shubho, wannabe scientist who studies 20 hours a day, has his own theory . . . in
Eid drama Priyojon Proyojon, Written and Directed by Sohel Arman
Featuring: Shomi Kaiser, Mahfuz Ahmed, Rumana, Shahed and others
11:20 p.m. on ntv
Day 3
Mahmudul Islam Mithu's "Putulnaach"
9:05a.m. on ntv
A special Eid programme called "Bhindeshi Eid" will focus on how foreigners spend the Eid holidays.
11:10 p.m. on ATN Bangla
"Premer Tori" Songs of love by Asif and Kaniz, Topon and Shakila and others.
11:45 p.m. on ATN Bangla
Beauty Pagent Miss Bangladesh U.S.A. in New York.
12:30 p.m. on ATN Bangla
Anisuzzaman Tuku has a hard time providing for his family -- until he starts making money right and left by not-so-fair means. But luck favours him only for so long and soon life becomes a race he can't quite keep pace with . . . in
Dulabhai, Written by DA Taher, Directed by Shahidul Haq Haideri
Featuring: Abdul Kader, Abdus Sagor and others
2:00p.m. on Channel i
Love, marriage and finally divorce. With the parents, the children are also separated. But when the ex-Hubby wants to remarry, the couple again come face-to-face . . . in
Tele-film Dui Prante
Featuring: Subarna Mustafa, Bipasha Hayat and Humayun Faridi, among others
2:35p.m. on ntv
Telefilm Sonar Bikal written and directed by Ferdous Hasan

Featuring: Shahed, Srabonti, Tisa, Somapti Mashuh, Shahiduzzaman Sachhin and others.
4:10 p.m. on ATN Bangla
Well known singers such as Abdul Hadi, Farida Parvin, Kumar Bishwajit, Mamtaz and Shammi Akhter will sing their first song in 'Amar Prothom'.
6:20 p.m. on ATN Bangla
Drama Keherman, Written by Abu Sufian and directed by Mizanur Rahman Labu
Featuring: ATM Shamsuzzaman, Bonna Mirza, Abul Kalam Azad and others.
9:00 p.m. on ATN Bangla
Watch the sparks fly as one celebrity interviews another totally different one . . . in
Special Eid "anondo adda" in "Alochon"
Directed (and secret questions set) by Supon Ray and Kaushik Shankar Das
9:40p.m. on ntv
Copyright (R) thedailystar.net 2004