Habibur Rahman's Arcadian World
Artist Habibur Rahman left the country in the early 90s. He got married to an Indian woman, and due to procedural complications in becoming an Indian citizen, stayed there for ten years. Last year he had a group show at Drik. This year he is holding a show at the Gallery Chitrak. His style has gone through different phases, now it is nature that he is concern with. SWM talks with him in this regard.
SWM: There is an affinity towards fairytale in your recent pictures, tell us about it?
Habibur Rahman(HR): I have always been attracted to fairytales. And the ten years spent in Kolkata was a time that induced nostalgia for my homeland. I was born in Chapainawabganj, my recent preoccupation with my childhood memories reminds me more of the indigenous fairytales and folklore.
SWM: You used to be a politically inclined artist, what made you change course?
HR: That was when I was with the group Shomoi. My friends were into political art; I was too. During the autocracy we were witnesses to a lot of oppression and political unrest. Therefore, I, along with my friends attempted to reflect on political subject matter. Now that I am far removed from the reality of my homeland, I am less effected by the turn of events in the political arena of Bangladesh. My recent works are even thematically different from what I showed in last year's group show.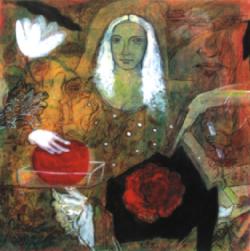 'Homage to Leonardo', Mixed Media.
SWM: Nature seems to have taken the centre stage now.
HR: Vegetation, birds and humans are in a harmony in my work. Birds are one of the prominent elements. Birds can freely fly from one country to another, this aspect has made me use them as leitmotif. Birds are the symbol of freedom of travel, of free movement. I often think that how restricting our existence is. Alongside birds and other elements I have incorporated words-- expressing my willingness to connect with my friends at home. I picked up lines from popular songs. "Friend, how are you, how have you been?" or lines from any other contemporary songs that can express my feelings and sentiment I put in writing. Sometimes I make them intentionally jumbled. These elements are drawn from real life, abstraction provides little attraction for me. If it comes naturally, I would not mind doing abstraction.
SW: You don't believe in formalism?
HR: If I ever feel like doing abstract pictures then I would. But, drawing or the play of line is something that I would never want to renounce. It is a quality that I picked from printmaking, a subject that I specialised in. You know those mediums-- etching, aquatint, lithography and woodcut. Except for lithograph they are all linear mediums.
SWM: Will you again be interested in making pictures that question the social or political order?
HR: I was concerned with politics when I was in Dhaka. But now that has changed. In Kolkata, I feel like an outsider. So, my concern with other things have taken over and nature is attracting me more.
'Drawing', Pen & Ink.
SWM: Have you any favourite artist?
HR: At home it was Zainul Abedin, Kamrul Hasan, Shafiuddin Ahmed and Mohammad Kibria, in the greater arena David Hockney always inspired me. At Baroda, when I went there to study, Golam Md. Sheikh and Bhupen Khakkar amazed me. Ganesh Pine of Kolkata too is one of my favourite artists. Picasso's linear way of representation was always an inspiration. I had this opportunity to see a grand Picasso show in India, I was moved to see how simply he could apply the lines. Rembrandt's linear work too was something closer to my heart. I did my Masters Degree dissertation on him.
SW: Line is where your interest lies. Rembrandt has an influence on you?
HR: That the spectators will say.
SWM: What about the social aspect of art?
HR: I feel that the artist should be committed to his own society. And by commitment I don't necessarily mean a political one. There is this 'feeling' for or a sense of belonging to a particular society. I have worked in the mode of the kantha makers. The way a kantha can be seen from all four corners. My recent works too is based on that mode.
SWM: Was there a conscious effort in connecting with your own society?
HR: I worked with Arong for many years. And this left a lasting imprint on me. That experience is surfacing in my work either consciously or subconsciously. When I paint pictures, the first thing that comes to mind is the human. I am a human, and I often feel that if a guy from the street is given my life to live, he would be able to be what I am, feel what I feel. I keep inside me the idea of the simple man alive.