The City of Peace: Bolivia
Nabeel Atique
In July 2003, I bitten the travel bug once more. This time it had hit hard. Summer was upon me and I was itching to go somewhere. Bolivia presented the perfect opportunity for adventure and exploration. It was a little off the beaten path, but still had a bit of tourist infrastructure to allow for relatively safe travel.
On July 18th I boarded a flight to Miami and was connected to another flight from Miami to La Paz, one of Bolivia's capitals. Bolivia's other capital is Sucre (the judicial capital). The legislative and executive branches lie in La Paz. Already Bolivia was sounding like a bit of an anomaly! Two capitals seemed a little unusual. It was the first of many unusual attributes in the days to come.
The plane landed on the outskirts of La Paz in the city of El Alto, (The Highest) at 13,300 feet above sea level. El Alto's airport is the world's highest international airport. People have been known to collapse at the airport due to the lack of oxygen, which makes them weak and unable to carry luggage. Altitude sickness is a common ailment for a lot of people during their first few days in La Paz. I descended by taxi to La Paz, a mere thousand feet lower at 12,000 feet. It was a bright Saturday morning and the sky was blue with a slight chill in the air. July in South America is winter. Looming over La Paz are several mountain ranges or "Cordilleras". The Cordillera Real (Royal Mountains) were the most prominent and accessible mountains from La Paz and they were indeed majestic, peaks of white touching the blue skies. My blood was pumping -- I was going to venture into the wild and do some climbing in the Condoriri Massif, a part of the Cordillera Real.
I checked in to the Columbus Palace Hotel at $25 a day it was a steal. It had all the amenities one could ask for: cable TV (in English), a nice restaurant and clean rooms. It was right by the football stadium in La Paz. This stadium is notorious among other South American teams. Being the highest stadium in the world, Brazilian, Argentine and other South American football players find themselves gasping for air and fall victim to the well acclimatised Bolivians.
I was certainly feeling sluggish and the altitude was affecting me. I decided to take a tour of the city of La Paz and take it easy for the rest of the day. My guide Mario spoke fairly good English and he took me on a tour of La Paz's many sites. La Paz means "The Peace" in Spanish and the name originates from peace achieved between two warring Spanish groups during colonial times. The city's most prominent plaza has a statue of Pedro Domingo Murillo: he was a martyr who was hanged for proclaiming independence from the Spanish. The plaza is surrounded by colonial buildings which could make one think they are in Europe and not South America.
Next, I was taken to see "La Valle de la Luna" (The Valley of the Moon). It was a small valley with interesting desolate rock formations. Behind this valley was the world's highest golf course. This part of Bolivia is situated on the "
Altiplano" (high plateau) and as a result has some of the highest things in the world. Among them is the highest ski lift in the world. The best part of my tour was visiting the market a colourful experience. You could buy all sorts of things at very cheap prices. Warm clothes, hats, bags, slippers, you name it! Also for sale were colourful cases and bags made of Alpaca wool. Llamas and Alpacas roam the mountainside here and their wool provides material for all sorts of items, even sweaters and other warm clothes.
The next day I met by my climbing guide Branko from Slovenia at 9 am. He seemed friendly and spoke fairly decent English. He took out a pack of cigarettes and offered me one. I declined the cigarette, and watched Branko smoke away as I huffed and puffed just trying to carry my backpack. I was already struggling with 40% less oxygen in the air--a cigarette would probably have knocked me out! Later on Branko told me he was NOT a professional guide, but worked at a software company in Slovenia. Great. The adventure was about to begin.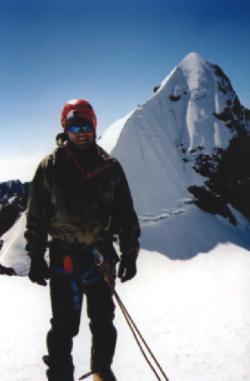 We picked up Benjamin, a young American and headed to the mountains in a jeep. The road was heinous and bumpy. But after three hours of rattling we were at the trailhead at a village called Tuni, near a lake of the same name. Here we loaded our gear onto donkeys and started hiking up to our base camp at 15,500 feet near another lake: Lake Chiarkota. The donkey herders were young native American women from the Aymara tribe. In fact, the majority of the people in La Paz are of Aymara descent. There are some people who are a mix of Spanish and Aymara.
After about 3 hours of hiking, the Condoriri Massif came into view. It was awe-inspiring. It looked just like a Condor with wings out-stretched. Surrounding the "Condor" were several other peaks. It is a climber's paradise one can choose from a variety of climbs, all leading to heights of about 17,500 feet. We settled into camp at about three in the afternoon. Benjamin and I shared a tent. We were resting inside when Branko made an announcement "Guys we cannot climb". I thought he was joking around. His look stayed serious. Apparently Marco, his boss, had failed to pack his sleeping bag with his gear. Temperatures were already sub-zero in the afternoon. Branko would freeze at night. It was an impossible situation. Branko looked helpless. I offered him my down jacket and Benjamin offered him his sleeping bag (what would Ben do?). Benjamin and I were certainly not up to quitting because Branko (or Marco) forgot the guide's sleeping bag.
Branko borrowed Alberto's sleeping bag. Alberto was our cook. He was an older Aymara man. A month ago Alberto had lost his son Vincente to the mountains. Vincente was guiding two North American diplomats up a mountain. One of the team slipped and the three of them fell to their deaths. After such a tragedy, Alberto was still on the mountain doing his job. Life is hard for the Aymara and they have to make a living. There is little time for mourning in this harsh existence. The Altiplano (High Plateau) is a far cry from the relaxed sea-side resorts of Chile. I never saw anyone enjoying a siesta in the afternoon in these parts.
It was soon dinner time. The first course was soup with the special Bolivian freeze-dried potatoes. The potatoes are boiled and stuck in the ground for several days. After that they can be eaten for years. The soup was excellent. I had made a request to exclude pork from the diet, while on the mountain. We were served spaghetti with red meat. No one was able to tell me what the meat actually was. It didn't look too appetising, as I watched Branko scarf it down. Ben took a spoonful and his face turned pale. I nibbled on a string of spaghetti and decided I would pass. I filled myself on bread and soup. I would lose a few pounds on this trip. Ben got diarrhoea from the food.
The wind howled most of the night. Temperatures plummeted. I barely slept. The altitude, lack of food and noise from the tempest outside kept me up. At 4:30 am Branko stopped by to tell us to get ready. I had some oatmeal and tea, layered up in the usual warm clothes, strapped my harness, helmet and headlamp on and we were off. We hiked up a moraine for about an hour and we were at the base of the Tarija Glacier. The glacier looked ominous. It looked like a mammoth slab of ice from the ice-age. Early rays of the sun were reflecting off it, displaying its icy nature. I strapped on my crampons and with ice-axe in hand, roped together we marched onto the glacier. The ice was so hard that my ice-axe would not penetrate at all. It merely served as a walking stick at this point. We crossed several crevasses and made our way up carefully. Every now and then we'd stop to catch our breaths. Branko wasn't challenged enough, so he would have a cigarette at each and every break. Now, when I think of the "Marlboro Man", Branko comes to mind. Complete with cowboy hat and an unshaved face.
At about noon we were on top of a small plateau. To reach the plateau we had to cross a gaping crevasse that was at an angle. I pretty much had to high-dagger the axe and pull and jump at the same time it was thrilling. We had another 30 feet of a steep exposed ridge and we'd be at the summit of Tarija. Branko, to his credit, set up a belay for us and showed signs of caution and safety (that any qualified guide should have). We were on Tarija at last. The views were incredible. Of all the mountains surrounding us, Pequeno Alpamayo stole the limelight and its steep pyramid looked magnificent. A condor was flying above and cast its shadow on the entire mountain. It was a perfect view from a successful summit. It was also a reminder to get down safely. I had no plans of becoming dinner for the condor!
The descent was trickier. We had to jump some crevasses and the ice on the glacier had started to melt with the rising sun. Water was trickling down and gave me an unnerving feeling. We were safely back in camp at about 4pm. Dinner that night was a welcome meal of trout and rice, which I enjoyed thoroughly. We were told that the trout had been fished out of Lake Chiarkota, next to our camp. The next day we hiked back to Tuni and were driven to La Paz.
The next few days were spent in Bolivia seeing sights and travelling around. My first stop was Lake Titicaca. At an altitude of 12,500 feet it is one of the largest and highest navigable lakes in the world. I took a speed boat ride in the lake and visited an island in the middle of the lake Suriqui Island. The island is famous for its his tory of boat construction. The famous Norwegian expeditioner Thor Heyerdahl came all the way to Bolivia to construct some of his expedition vessels. From Suriqui, I saw beautiful views across to Peru. I was followed around by two Aymara kids Wilson and Sylvia. They were trying to get me to buy miniature llamas. Wendy my guide, I and the two kids walked around the island. In the end I bought a llama. I also posed for photos with the kids and other kids joined in. Off course, it was purely a business transaction and the kids all got paid until I ran out of coins!
The next day I went to see the ancient ruins of Tiawanaku. I had no previous knowledge about this and it was a nice surprise to find pre-Inca ruins only a couple of hours away from La Paz. The Tiawanaku civilisation dates back to about 2000 years and displayed a budding civilisation complete with stone architecture (including pyramids) and tools, pottery and huge monoliths. Unfortunately the civilisation did not last because of droughts that shrunk Lake Titicaca to its present size and location.
El Camino de La Muerte (The Road of the Dead). This is
the name aptly given to an 80km long stretch of road from La Paz to Coroico. The moniker refers to about 25 accidents every year where a vehicle plummets off the road for about three thousand feet, killing most passengers. The Inter-American Bank has labeled this road as the World's Most Dangerous Road. Amongst all this hype, what's lost is the actual beauty and amazing scenery of the surroundings. I decided to mountain bike down this road at least I would be under my own control and it would make for a thrilling downhill about 11,000 feet. The downhill begins at 15,500 feet at a high mountain pass called La Cumbre. It was snowing at the top and I was wearing 4 layers to keep warm including my mountaineering jacket. Luckily I had brought a full-fingered pair of gloves and my new Alpaca hat. We sped down the slick road with a guide up front and a guide in the back. There were nine of us and two guides. We were followed by a support bus with spare bikes. Very soon two riders had had enough of the cold and wet and they decided to pack it up and ride the bus down. The rest of us stuck with it, and it was worth every foot of the descent.
From desert-like passes, we descended into lush tropical forests with steaming waterfalls. The road had turned to dirt early on and the ride was muddy and I felt quite at home having eaten mud many times on my local rides. I was completely drenched. The climate was warmer down here and the views were astounding. I could see the narrow road, winding away into oblivion, cut into the side of this mammoth mountain, lush with vegetation. One had to be careful about approaching vehicles and we'd stop or slow down to let the vehicle pass. Usually there is only room for one vehicle to pass. So, when two vehicles come face to face, it is quite a predicament and no doubt, many of the accidents occur then.
From 15,500 feet we reached Yolossa at 4,500 feet. Lunch was a welcome treat there. Interestingly enough, the ethnicity of the locals had changed somewhat. At Yolossa I caught my first glimpse of people of African decent. They were brought as slaves to work at the silver mines in Potosi, but had escaped to the tropical forests of the Yungus. Here they found a climate more favourable and similar to the home that had been stolen from them. I was told by my tour operator that I would be provided transportation to Coroico a resort town in the hills. I was placed in the back of a truck with local Aymaras and a Korean tourist. Sometimes I stood and sometimes I sat, but when it started to rain they pulled a blue tarp over us and I sat huddled next to an old Aymara lady and her bundle.
I was in Coroico in about half an hour and found my hostel: "Hostal Kory" within minutes. Coroico is very small and everything is within a few minutes walking distance. I met Migel there and he took me to my room on the 3rd floor. I had a room with windows on three sides and my own bathroom. All for a whopping $8 a night! The views into the valley of the Yungus were simply amazing. Green forests clouded in mist. It rained on and off (mostly on) the next day and I enjoyed kicking back, sleeping in, and walking around with my new $2 umbrella.
The day I was to leave the sun came out and I took a guided tour of some waterfalls by jeep. Carmelo my guide was very enthusiastic and showed me how coffee beans are extracted from the trees and showed me legal coca plantations from which coca leaves are taken to make tea. They are grown on terraced hillsides. Also grown in the Yungus are bananas, oranges and sugarcane.
The bus ride back was nerve-wrecking. But our driver was cautious, and we arrived safely back in La Paz at about 3:30 pm. I went for a walk around La Paz and felt sad at having to leave. Bolivia was South America in its most primitive form. Bolivia is one of those magical places that draws you back again and again. For me, the seed had been planted …