Nepalese Communist Leader Bharat Mohan Adhikari (L) stands with a Sadhu (Holy man) as they prepare to strike a historic be
ll on the eve of International Peace Day, at the Hanumandhoka Temple in Kathmandu, 21 September 2003. Some 8,000 people have died since the Maoists launched their "people's war" against the Nepalese government in 1996.
Palestinian leader Yasser Arafat listens to delegates from Shaf Amer village at his compound in the West Bank city of Ramallah 21 September 2003, where he has been holed up in his compound for the past 20 month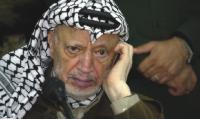 s.Arafat yesterday thanked all the United Nations member states that voted in favour of a resolution urging Israel to drop its threat to "remove" him.
Surrounded by his supporters, Mongolian grand champion, or yokozuna, Asashoryu (C) is all smiles as he holds his ne
wborn daughter and the Emperor's Cup after his 13-2 victory on the last day of the 15-day Autumn Grand Sumo tournament in Tokyo, 21 September.
Photos :AFP