The Samaritan Healer
Kajalie Shehreen Islam
Most people do not know the Hippocratic Oath by heart, but what they do expect from their doctors is dedication and compassion. In our fast-paced and increasingly materialistic world today, these and a host of other qualities expected in doctors often come at a rather high price, if at all. Dr. Abdul Quader is an exception to the norm. Though relatively few people know of him, those who truly need him find their way to him from far and wide, and once they do, they are never disappointed.
On any weekday morning, the Gulshan 2 market, usually frequented by the rich of the area, can be seen crowded with all kinds of poor from all over the city. The Balaka Pharmacy becomes a temporary haven for the underprivileged who seek the unconditional help of Dr. Abdul Quader.
Ram Shona works as a domestic help in Kathaliya, Badda. When her three-year-old son Joy's eyes grew yellow and he wouldn't eat properly, she brought him to Dr. Quader. "I've been coming to him for years," she says, "from even before I was married. He is very good."
Mohammed Tayebur Rahman, a carpenter, has also been consulting Dr. Quader for over twenty years. "I come all the way from the Cantonment," he says. "I've taken medicine from elsewhere, but this is where I have always been healed. The doctor has a good name and he is very good in his work."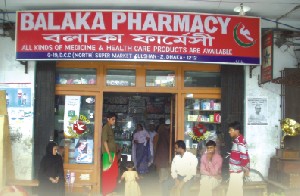 Dr. Quader established the Balaka Pharmacy and his own small chamber in a corner of the Gulshan 2 market in 1974. "I had wanted to help the poor from when I was a student," he says, "and when I opened my own pharmacy and chamber, I put up a sign on the very first day saying I would see poor patients free of charge."
Gulshan at the time was not as huge as it is today, but patients from many nearby areas came to see him and they still do. "Drivers, rickshaw-pullers and all kinds of people working and living nearby come here," says Humayun Kabir, an employee of the Balaka Pharmacy for the past eighteen years. "We have patients coming to us from as far off as Badda, Tongi, Norshingdi, Munshiganj and even Mymensingh," he says. "They crowd at the door even before it is open early in the morning."
Dr. Quader's father, Abdur Razzak, was a landlord in Norshingdi. His mother, Ayesha Akhter, a 'Minor Pass', equivalent to Class 6, in the 1920's -- which was very rare for women at the time -- encouraged him and his brothers to pursue their studies. "My mother always wanted one of her sons to be a doctor," recalls Dr. Quader, "one an engineer and one a professor. That is exactly how it is," he says happily.
"I myself remember wanting to be a doctor from when I was in Class 9," says the 70-year-old General Physician. He had contracted typhoid at the time. "The nearest MBBS doctor was five miles away from where we lived," he recalls. "Though he advised my parents as to how to treat me, he wouldn't come over and see me himself. I recovered but I lost a lot of weight and was very broken down by the ailment. It was then that I decided to become a doctor, available to everyone."
Dr. Quader completed his LMF (Licensing of Medical Faculty) and later, in 1972, his MBBS from Dhaka Medical School. He had worked at a government job for a while prior to that, and during the Liberation War, practiced in Shivpur. He recollects the difficulty in maintaining neutrality during the war. "The Pakistani army and the Mukti Bahini would each accuse me of being on the other's side. I only tried to heal any wounded who came to me."
Dr. Quader has no fixed rates. While foreigners and local, more "solvent" parties pay relatively more, the poor and underprivileged remain the majority of his patients. They pay whatever they can, from Tk. 50 to Tk. 10 to nothing at all. The wife of a trawler operator and herself a domestic worker, Ram Shona cannot afford to pay much. "The doctor takes whatever we give him," she says. "Sometimes I pay Tk. 20, sometimes, Tk. 30." Those who can pay nothing are given free medicine or the money to buy medicine by the doctor.
The poor aren't his only patients, however. "I started consulting Dr. Quader in 1985," says M. Aminul Islam, a retired Secretary and Ambassador. "I found him to be very patient and an attentive listener to his patients' problems. He only suggests medicine that you really need to be cured. For example, he won't prescribe strong antibiotics for coughs and colds that would heal anyway. I received results from his treatment which is why I often consult him when unwell. He is so experienced that sometimes he can just tell what's wrong without doing extensive tests. And when I learnt of his services to the poor, I knew that he was not only a good doctor but also a very good man."
The doctor sees around fifty to sixty patients a day and does not have rigid visitation hours. Though his business card claims his office hours to be from 8 a.m. to 12 p.m., if there are patients to attend to, he stays well beyond noon, and the patients keep pouring in. Helal, an employee at the Balaka Pharmacy says, "The doctor will only leave after the last patient does. If a patient shows up even when the doctor is at the door on his way home, he will turn back and see him. He never says no to a patient, and often ends up leaving at 3 or 4 in the afternoon."
"He is one of a kind," adds employee Humayun Kabir affectionately.
In a time where most doctors are some of the richest people in the city and who do not hesitate to charge unreasonably high visitation fees for 5-minute consultations, how does Dr. Quader afford to run his chamber and pharmacy as well as to invest so much time and energy?
Maintaining the establishment is not a hardship, he says. "Instead of distributing clothes among the poor, I invest all the money I need to pay as zakaat in my poor patients. I even have a considerably large poor fund from which I help pay for patients' medical tests and operations."
As for medicine, many doctors get free samples from the various pharmaceutical companies. "I get almost Tk. 10,000 worth of sample medicine from the various companies," he says, pointing to some drawers in his desk filled with medicine. "I give these for free to the poor and some to the Central Dispensary." Most other doctors sell it off.
The Balaka Pharmacy also sells medicine at the price at which they buy it from the companies. So while other pharmacies sell medicine originally worth Tk. 10 for Tk. 12, buyers at Balaka get it for less. "The companies also make huge profits," says Dr. Quader, "and claim to give it to charity which they very well might, I don't know. But I give directly to those who come to me in need."
"A 60-year-old widow came to me today," says Dr. Quader. "Her only son won't let her live with him and she has no place to stay. When she fell sick, he gave her 50 Taka and sent her to me. Another patient had arthritic pain and I suggested she not do unnecessary tests, but she was adamant. The results were as I thought -- osteoporosis. She did not have the Tk. 350 that was due. Women and children are the majority of my patients," he says, "as they are, in effect, the poorest. Mostly they suffer from malnutrition, gradually resulting in a variety of ailments from diarrhoea and pneumonia to allergies, bronchitis, asthma and rheumatics. If necessary, I refer them further to doctors and specialists, the ones they can afford."
Are there other doctors like him in the city? Dr. Quader smiles at the question. "I am not special," he says. "I am not any different from the others. Only, money is not my prime concern." A novelty indeed in today's world.
"Some poor patients tuck a note into my hand," says the physician, "and after they leave I see it is 10 Taka. I don't mind. I even pay for operations if they are not minor operations that I can do for free," he says.
Before everything became so specialised, Dr. Quader performed minor surgery. Today, he supervises operations. But when a poor woman on her way to a wedding has her earring snatched and her ear lobe torn, or a poor man has a nail or a thorn and fear of infection in his foot, Dr. Quader stitches the wounds.
When it comes to major surgery, he refers them to Dr. Chowdhury Habibur Rahman, recently retired from the Holy Family Hospital, says Dr. Quader. Dr. Rahman does operations for much less than the usual rates, if not for free, and Dr. Quader fills in the rest from his poor fund for patients who cannot afford them.
There are, of course, some problems the doctor faces. "On principle," he says, "I never give false certificates. There are people, even secretaries and ministers who perhaps do not want to appear in court, for example, who request them, and, though I still refuse them, I am put on the spot."
"Other prominent people, as well as local thugs, break the queues to see me, sometimes causing a havoc at the pharmacy."
Before, Dr. Quader used to go on house calls to see patients. Now, however, he only goes to families of whom he is family physician, in and around Gulshan, Banani and Baridhara. "Some people who are well enough to come to my chamber ask me to go see them," he says, "when I have patients who need to be attended to at the pharmacy. Going on house calls has also become risky. Sometimes you are given addresses that are not even houses, and when you go there, they'll point a gun to your head and strip you of any valuables you may have on you."
In countries abroad, each area has its own family physician, says the doctor. "We have set up a similar Academia of Family Physicians here." Dr. Quader believes this is very important. "Many families need not only medical treatment," he says, "but also emotional advice." There are problems between parents and children and so on, the physician has noticed, which later lead to health problems, such as heart ailments and high blood pressure from extensive worrying. "These families often need emotional counselling rather than medical help to get things into perspective and themselves correct what cannot be done medically," says Dr. Quader.
espite having helped the poor so generously over so many years, Dr. Quader does not have to live frugally and he does not complain about the difficulty of making ends meet. He lives in one of his own set of apartments in Nikunja, and associates with people from all walks of life. "I have always maintained a simple, middle-class lifestyle," he says, "so that anyone at all can come to me, from ministers and secretaries to rickshaw-pullers and domestic workers."
He has definitely succeeded. The Balaka Pharmacy is crowded with patients from all social classes though the needy make up the majority. They feel at ease with the soft-spoken, compassionate doctor, willing to listen, and trying to heal to the best of his ability.
His son, Dr. Lutful Karim, a chest specialist, also sees patients at Balaka in the afternoons and evenings. "I hope my son will be able to go by the ethics I have tried to maintain," says Dr. Quader. His daughter-in-law and two sons-in-law are also doctors.
"Most doctors today take up medicine with the objective of making money," he says. Dr. Quader's only message for young doctors today, as well as his suggestion for setting up medical facilities for the poor, is to be humane."
Many doctors," he says, "will prescribe a number of unnecessary tests, and get a 40 to 50 percent margin of the profits at the end of the month." We do not have enough doctors, medicine and medical facilities, he believes, but if we could make honest use of those we do have, health care in this country would not be in such a miserable state. Unfortunately, we are extremely corrupt. The medicine, gauze and bandages are often missing from hospitals also, stolen by the nurses themselves, he says.
"Money isn't everything," says Dr. Quader. "Humanity is. I don't ask doctors to do charity work. But if each of them would at least see 20 or 25 percent of poor patients for free or nominal fees, it would make life much easier and better for many of the poor in our country."
Like everything else in our world today, medical treatment and healing have become expensive, sometimes even exploitative, commodities. It is difficult to find doctors like Dr. Quader who will take the time to listen to a patient's problems and suggest remedies that will actually work, while at the same time considering whether the patient can or cannot afford to pay the doctor's fees. It is even more rare to find a doctor who will expect and accept even nothing in return.
"I don't have hordes of money, but I am very satisfied with my life," says the doctor, also a proud grandfather of thirteen. "I am comfortable, I am happy. I don't need a high life. I spend my free time praying at the mosque and playing with my grandchildren."
Photos by: Zahedul I. Khan and Imran H. Khan