Shehab Uddin Ventures
'Into the Bird's World'
SRABONTI NARMEEN ALI
Sounds of chirping birds and fluttering wings came from the speakers located near the ceiling of the Bengal Gallery of Fine Arts. For this particular exhibition that ended last week, AKM Shehab Uddin used a thirty-five millimeter camera. Not all of his pictures, however, were the conventional 2 by 3 size. "I wanted to break the norm a bit, " says Shehab. "Some of my pictures are 2 by 3 but I tried to experiment a little and try something different."

Breaking the convention seems to have worked out well for Shehab. The exhibition devoted solely on the birds of Bangladesh, was delightful and artistic. Professor Hashem Khan of the Charukola Institute of Art says, "Shehab [Uddin] paints pictures with his camera."
According to Shehab Uddin, there were two birds in particular that he found very challenging to photograph: the red water lapwing and the purple sunbird. "The purple colour of the sunbird is almost impossible to capture," Shehab says. "I took over one thousand pictures of the sunbird before I could get his colour just right. Purple is generally a very difficult colour and sometimes instead of purple it turns out dark or black. For this particular bird it needs to be a bright, soft but diffused kind of light --after rain lighting is perfect. I finally got the perfect picture on June 30, 2001. I was with a friend of mine and it had just rained, and I told him, 'today is the day I am going to get that purple sunbird.' So I followed him around all day, and managed it."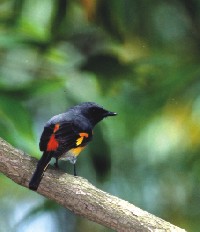 Shehab Uddin, originally from Khulna, wet his feet in the artistic world as an actor. In 1987 he took an interest in photography and began learning under Sohel Mahmud, a photographer in Khulna. In 1988, he took a basic course in photography at the Begart Institute of Photography, in which he is now an instructor. "I love taking pictures of life and expression," he says. "I originally started with all kinds of life forms and then started to focus later on." He has been taking pictures of birds since 1995 in areas such as Jahangirnagar, Khulna, Dhaka and the Sundarbans.
Shehab Uddin, a staff photographer at the Daily Sangbad in Dhaka, is also a three-year old member of the Allok Group of Photographers, comprising of over fifteen well-established and creative photographers from Bangladesh. The group meets every month and gives each other feedback and constructive criticism on each other's works. They have at least one project a month and sometimes hold competitions within the group.
Shehab Uddin is well established both on the international and national spectrum. He participated in exhibitions in Chittagong, Dhaka and Japan. His photography is in various publications such as the Banglapedia in 2003, Bangladesher Pakhi in 2000, and Nogor Nisarga, Dhakar Gachpala in 1999. He has also won numerous awards including the Gold Medal in the 61st Asahi Shimbun Award in the International Photographic Salon of Japan in 2001 and the second prize in the Environmental Photo Contest and Exhibition by Bangladesh Paribesh Andolon (BAPA).
Through his exhibition, Shehab Uddin wanted to "synchronise and combine" photography, fine arts and arts. "I want people to enjoy my pictures," he says. "I want them to feel the same kind of passion that they feel with art such as paintings and sculptures.
He also feels that the copyright laws in Bangladesh with regards to photography are not firm enough to protect the rights of the photographers. "You will see that a lot of times, a picture is used in a publication without the permission of the photographer," he says. "People have to understand that a lot of work, time and energy goes into picture taking and it is not fair on those of us who work day and night to not get the proper protection we need to get credit for our hard work."
Shehab Uddin is now working on a new project, entitled "the daily life of the jatra artist" perhaps to capture the moments of his life before photography, when he was an actor himself. But capturing moments on camera is as close as he will get to his previous profession.
"There is a thrill in photography that I did not get with acting," he says. "When I take a picture it seems as if I am doing something worthwhile. Capturing moments on camera is so rewarding because the impact is long-lasting. It is important for me too that other people can share my emotions. It is kind of like freezing my emotions and displaying them for other people."