In a World Cup campaign marred by injury scares, there was one certainty in the Bangladesh team -- that despite crippling injuries, skipper Mashrafe Bin Mortaza would play. After a 28-run defeat to India on Tuesday knocked Bangladesh out of the semifinals race, even that seemed to have become uncertain yesterday, ahead of today's final World Cup game against Pakistan at Lord's.
Having nursed a hamstring injury throughout the World Cup and not taking part in practice yesterday, there were questions over whether Mashrafe would play today's dead-rubber match -- which would be his last World Cup game. There has already been speculation about whether he would retire from cricket after the World Cup, and the whispers were given a fresh lease when the 35-year-old did not show up for the pre-match press conference at Lord's yesterday. It was instead Bangladesh coach Steve Rhodes who walked into the press conference room and soon enough, was fielding questions about Mashrafe's international future.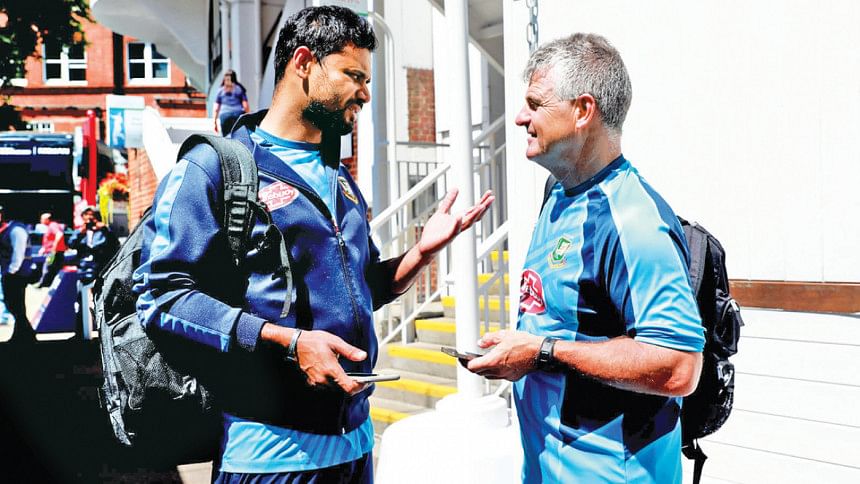 While the coach's words implied that Mashrafe would be playing today's match, they were uttered around eight hours before the team meeting that would help determine the playing eleven. Closer to that time, those close to or involved in the decision-making process could either not be reached or those who could be would not commit even off the record to saying that there was no doubt surrounding Mashrafe's participation in his last World Cup match.
"The one thing about Mashrafe with the players is that they respect him incredibly. I often use the word 'warrior'... he goes to war for the team and people respect that, understand that, and they love him because of that," Rhodes said. "The players in the dressing room do love Mash, and this is -- he has said it's his last World Cup, and it will be emotional for him.
"Let's understand and respect Mash's situation regarding his last game in the World Cup but then concentrate on the cricket. Hopefully, the boys will give him the right sort of respect playing his last game in the World Cup, but then most importantly, we'll concentrate on the match."
Mashrafe was quoted as saying, during the five-day break between the matches against Afghanistan and India, that he was not thinking of retirement and that he would not retire after the World Cup.
He then told The Daily Star that he would make a decision on retirement only after the World Cup ends. Muddying the waters further has been his meagre bowling returns in this World Cup. Hampered by a hamstring injury that he has been carrying throughout the event, Mashrafe has taken just one wicket from seven matches and has often struggled to complete his quota of 10 overs.
It could be that Mashrafe has been trying to avoid further questions about retirement, and so did not come to the press meet. However, it would only take a repetition of what he said earlier -- that he will decide only after the World Cup is done and once he is back home -- to quash speculation for the time being. There is precedent of him announcing retirement during a press conference, as he did when he called time on his T20 career in April 2017 in Sri Lanka. He however had told The Daily Star last week that since this announcement would end his cricket career as a whole, it could not be taken so hastily and would have to be taken after consultation with family back home.
Bangladesh are set to tour Sri Lanka for an ODI series after the World Cup, and the coach did not say anything definite about Mashrafe's involvement.
"He's our leader. If he's on that plane to Sri Lanka, fine. If he's decided different, then fine, we move on. I want to explain that. Bangladesh has to move on eventually without Mash, and whether it's after this tournament or whether it's in a year's time, at some stage Bangladesh has to move on and we have to do without. It can be a difficult void to fill."
Right now, it seems only Mashrafe knows what his future, immediate and long-term, holds.