Interview
A Man of Culture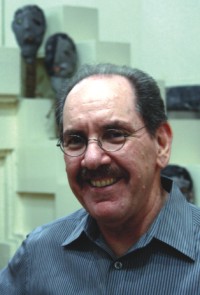 Ralph Samuelson
Nader Rahman
Ralph Samuelson is a name that should be very familiar in the Asian art world. Having worked with the Asian Cultural Council for over thirty years, 17 of which were as director of the organisation he has become somewhat of a bridge that many artists wish to cross. Arranging grants and exchanges within Asia as well as to and from the US he has taken Asian art into the heart of the west. A graduate of Cornell he went on to do his MA in musicology from Wesleyen and then found his real calling at the Asian Cultural Council. Having visited Bangladesh for the first time last week under his new designation as Senior Advisor he talks about Asian and Bangladeshi art.
For those of us who don't know, could you explain what the Asian Cultural Council does and its history?
The Asian Cultural Council is a foundation supporting cultural exchange in the arts between the United States and countries in Asia. It was established in 1963 by John D. Rockefeller the 3rd but today is supported by a wide variety of donors in the US and Asia. Mainly, individual fellowships are awarded to artists, scholars and arts professionals in Asia for research, study, and creative projects in the US; and for Americans travelling to Asia. Similar grants are also made for cultural exchange fellowships from one country to another within Asia.
Having been associated with the cultural council for so long, could you explain to us the changes in Asian arts and culture you have witnessed first hand?
For one thing, the arts community in Asia used to always look to the west--US and Europe--for validation and learning. Today, artists and scholars have more confidence and understanding of the values of their own cultural traditions as inspiration and foundation for their work.
How have Western attitudes changed towards Asian art?
I assume we are speaking of contemporary art and if so, yes indeed. Twenty years ago curators, critics, and art lovers in the West did not understand or appreciate the different points of view expressed in contemporary art from Asia. Today such points of view are welcome and admired. So, the West has grown up and matured a lot!
What would you attribute that change to?
I would attribute that change to the growing role of Asia in all spheres of global activity--economics, politics, and culture. As the place of Asia in international affairs continues to grow in importance, Europeans and Americans learn and respect him more about Asian arts and culture.
This has been your first trip to Bangladesh, what do you take back from the trip and what if anything have you learned?
In the present time Bangladesh does not seem to be capturing international attention and what is known about the country has primarily focused on traumas of politics, poverty, or natural disaster. The rich legacy of Bengali culture and the vibrant contemporary cultural scene in visual arts and performing arts is so impressive; the integrity and honesty of arts workers is inspiring; and the people's optimism and positive outlook under challenging circumstances is most impressive to me.
How would you rate Bangladeshi art in comparison to Asian art and in context of world art?
I do not wish to compare or rate art activities in different countries. What strikes me about the art of Bangladesh is, as I said before, the honesty and integrity of the work, which to me is the most important component of artistic expression. I am also struck by how the work of contemporary artists is so clearly a reflection of the cultural milieu from which it springs, and how artists address contemporary issues in their work.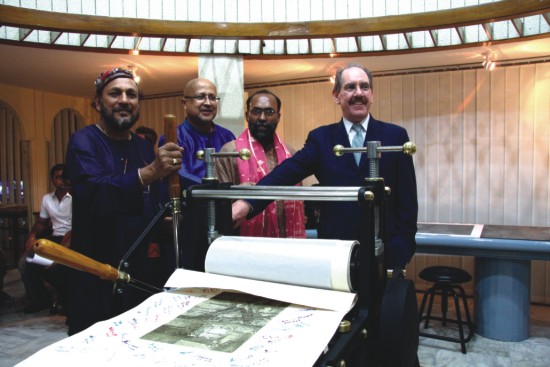 Artist Kalidas Karmakar, Enayetullahh Khan, owner of cosmos Centre, Sadeque Hossain who created the first Bangladeshi-made print machine (in the picture) and Ralph Samuelson at the inauguration of the gallery Atelier'71 in Cosmos Centre.
Ideally, where do you see Bangladeshi art in the next decade?
I very much hope that the contemporary art of Bangladesh can be brought to greater international attention; that art lovers throughout the world can learn more about the vibrant and important work that is being created here. And I hope that the artists of Bangladesh, as they achieve more international recognition and more international opportunities, will continue to hold on to the values that are so clearly reflected in the work of today.
Copyright (R) thedailystar.net 2009