Exhibition
Tribute to DeBeers diamonds and Arpels pearls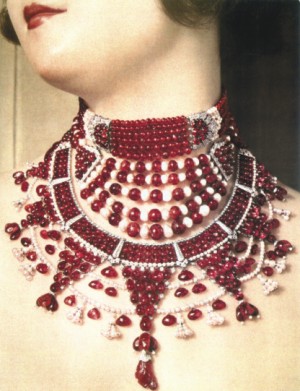 Three ruby-ball necklaces by Cartier

Fayza Haq
Going by the fanfare and the gleeful celebrations seen at the gallery at Alliance Francaise on the weekend, one would imagine that the jewels of the Arabian Nights are on display. The exhibition presents the exotic, eye-catching gems made by Cartier, Van Cleef and Arpels, which have adorned the Indian aristocracy and royalty from the 1930s till today. Although seen as photographs and videos, yet the impact is remarkable and rare. The mines of India combined with French skill and sophistication presents this unique display of priceless royal finery. Some of the pieces maybe traced back to the Napoleonic war and the ancestors of the rajas. The royal princes were often educated in Europe; their preferences matched with the taste and choice of French jewellers, who often toured India.
Sita Devi of Baroda is linked with two rare diamonds called the star of the south and the English Dresden

Yadavindra Singh, the Maharajah of Patiala, wearing a famous necklace.
The scintillating diamonds, and other fascinating gems that decorate the throat and wrist of Sita Devi of Baroda are breathtaking. The majesty of the gems goes hand in hand with the incredible poise of the royalty. Mind-boggling too is the portrait of the Maharajah Yadavindra Singh of Patiala, wearing the necklace created for his father Sir Bhupindra Singh in 1928. (The picture is taken in 1940 and is courtesy John Fasal collection).
Jewellers to the royalty in India, the French jewellers were established in the 18th century. They catered also to the crowned heads of the rest of Europe, as that of Spain, Portugal, Russia and Greece. They also supplied to Siam, Egypt and Romania, and were patronised by the Kind Edward VII.
Precious stones have also conferred power and wealth to its owners, who wore them with accordance to strict codes. The jewellers too have won international fame for their creativity and curiosity. Parisian jewellers, in their work, combine their knowledge of the exoticism of the past with the instinct for the glamour of the present.
Copyright (R) thedailystar.net 2009