Endeavour
Wall of Anguish
Syed Zain Al-mahmood
It's hard for Papia Selim to bring out a single sentence without bursting into tears. Her eyes brimming over, the 40-year-old housewife stands in a corner of the convention hall clutching a picture of her son. "He was only 18," she says, choking up with sobs, "he was a sportsman at BKSP, the apple of my eye. He was so good at everything. He was learning to drive, but during his first time out on the highway a truck veered over the dividing line and hit him. No parent should have to bury their child."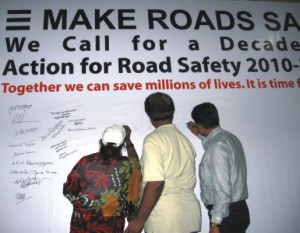 The message board on National Road Safety Day filled with messages of support and remembrance.
Picking up a marker she scrawls a few lines of poetry on the white board at the front of the hall. "I dove beneath the waters and found a pearl, a black hawk swooped in the blink of an eye and snatched the joy of my soul."
Adnan, 36, has no tears, only a deep quiet sadness. Adnan lost his younger brother Farhan five years ago to a road crash. "He was a brilliant student, a final year student of Dhaka Medical College," says Adnan. "That day he argued with our mom and left for Sylhet saying he wanted to clear his head. My mother asked him to eat before leaving. She had cooked his favourite dish -- beef with daal. But he said, Ma I will eat if I come back."
Farhan never made it back. 11 Km from Sylhet, the driver of his bus dozed off and the vehicle hit an electric pole. Farhan was pulled from the vehicle and taken to hospital in a critical condition. He died the next day.
''He had a real love of life," recalls Adnan, as he and his family huddle together in front of the message board. ''He was a great person and always willing to help people."
The wall-to-wall board was set up at the Mahanagar Natyamancha in Gulistan as part of the daylong events organised to mark National Road Safety Day on October 22. Intended for signatures supporting a UN Decade of Action for Road Safety, it turned into an emotional sounding board for those who had lost loved ones in road crashes. As the board filled up with messages and signatures, the tragedies put a human face on the statistics presented by the speakers inside the seminar hall.
Road crashes are the second leading cause of death globally among young people aged five to 29 and the third leading cause of death among people aged 30 to 44 years. 1.2 million people are killed in automobile crashes annually across the globe, 3000 lives lost per day. A staggering 90percent of these casualties happen in developing countries. A large proportion of those killed and injured are pedestrians. The WHO predicts that without effective safety measures, the death toll will double in twenty years. Low and middle-income countries will bear the brunt of the carnage.
But although statistics spell out the length and breadth of the problem, they do not reflect the human trauma that results from road traffic injuries. It is impossible to grasp the horror of a road traffic injury unless one has witnessed it first hand. One moment the victim is hurrying towards his or her destination, thinking of everyday tasks and getting on with life. The next moment their lives are brutally interrupted. The overall human cost is devastating. What makes the situation even more painful is that most victims are young and economically active.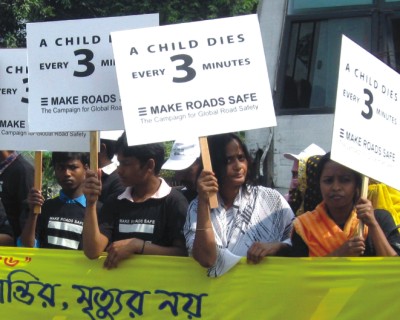 Hundreds of road safety activists join a rally demanding action on road safety.
'Life, or death rather, can come at you pretty hard," says Adnan. ''We can't bring Farhan back, but we can fight to avoid this in the future."
The heart-rending stories are a stark reminder of the physical, psychological, emotional and economic devastation that lie behind the statistics. These stories deepen our understanding of the enormous suffering behind each of the estimated 10,000 deaths and 50,000 injuries that take place in Bangladesh every year.
"In a split second, a traffic crash transforms forever the life of a family. Behind each statistic, there are fathers and mothers, sons and daughters, brothers and sisters, grandchildren, colleagues, classmates and friends," notes Dr Etienne Krug, Director of the WHO Department of Injuries and Violence Prevention. "For every death or injury, there are scores of people who must cope with the physical, psychological or economic aftermath."
Survivors of road accidents often endure the painful and at times long-term consequences of their injuries, including disability requiring lengthy and expensive rehabilitation. Family and friends have to struggle with shock, disbelief, anguish and even anger. In many low- and middle-income countries, the death of the primary breadwinner pushes a family into poverty.
Yet the fact remains that these are all preventable tragedies. There are many available and affordable interventions, which can save lives and prevent injuries and disabilities. These include legislation, enforcement and sharing of information about the use of seat-belts, helmets, and child restraints and about the dangers of speed and drink-driving as well as improvements in road design and infrastructure and emergency trauma services.
The October 22 event, coordinated by Nirapod Sarak Chai (We Demand Safe Roads), a road safety advocacy group, and backed by Make Roads Safe, a global road safety campaign, echoed the call for 2010 - 2020 to be declared the UN Decade of Action for Road Safety. Experts at the seminar demanded that road safety should not be regarded as a mere transportation issue but should be considered as a public health and sustainable development problem.
Concerted Efforts are underway to stem the tide of death and disability. Make Roads Safe, the global road safety campaign established by the FIA Foundation with the aim of securing political commitment for road traffic injury prevention around the world, has played a leading role in arguing for and securing the first ever United Nations Ministerial Conference on global road safety. "Every six seconds someone is killed or maimed on the world's roads," says Lord Robertson, former British defense minister, chair of the Make Roads Safe campaign and himself an automobile crash survivor. "Every six seconds we have another powerful reason to demand that the international community works to make our roads safe".
High hopes are pinned on the Moscow Ministerial. The global conference, due to be held in the Kremlin Palace November 19-20, will be the first of its kind and it is hoped that it will give added impetus to the global efforts to fight the scourge of road traffic injury. The slogan for the conference: 'Time for Action'. Road safety advocacy groups such as Make Roads Safe are calling on governments across the world to support a 'Decade of Action for Road Safety' along the lines of the UN campaign to roll back malaria. .
The cries of pain inscribed on the white board at the Natya Mancha are echoed ten thousand times a year in Bangladesh. They are a call for action -- and they demand a response.
Copyright (R) thedailystar.net 2009