Voicebox

"Our main aim is to ensure people's maximum welfare. We will do everything so that people do not suffer from anything during the upcoming holy Ramadan."
SHEIKH HASINA
prime minister
at a cabinet meeting.
"I can't tell you why. All I can say is things did not work out the way I wanted. Now I don't want to embarrass anyone. I would rather wish everyone best of luck. "
TANJIM AHMAD SOHEL TAJ
Awami League lawmaker and former state minister for home affairs.
He has also said, "I tried to work sincerely to implement our charter for change even though it required me to stay away from my family in the US. But I couldn't continue as I didn't want to compromise my principles, dignity and family values."
"I was enrolled at the university in 1992-93 in philosophy department. But it was not possible to keep the studentship for such a long time."
ABDUL MATIN
convener
Dhaka University unit of Bangladesh Nationalist Party (BNP)-backed Jatiyatabadi Chhatra Dal's (JCD). According to a Daily Star report, a group of JCD leaders allege Matin was involved in the politics of Islami Chhatra Shibir when he was a student of Dhaka Alia Madrasa and was an accused in the murder of Alia Madrasa JCD leader Khokon.
"Don't bow down. Don't get afraid. You [government] are not alone. We (opposition) will be with you if the national interest is upheld. People will also be with you."
KHALEDA ZIA
BNP chairperson
to the government
urging the government to play a 'bold' role on the Tipaimukh dam that India plans to build in its north-eastern region.
"World leaders stand united."
The cartoon won an award at the 16th International Visual Art Festival for Youth in Iran this year.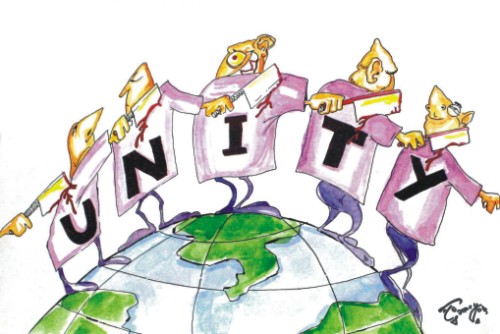 Cartoon by Tanmoy
Copyright (R) thedailystar.net 2009