Book Review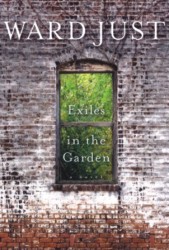 Exiles in the Garden' Shows Author's Growing Flair

Curt Schleier

Ward Just's writing is like a river a day or so after a hard rain. The tempest has moved on, but the current still packs punch. Put a boat on the water and the river will take it - and you - for a ride.
It's an imperfect metaphor, but Just's words are that river, and they invariably carry me along from the opening paragraph of anything he writes. His latest, "Exiles in the Garden," is no exception.
Alec Malone's father was a famous U.S. senator, at one time a close adviser to FDR. But Alec is the antithesis of his old man, apolitical to a fault. "He and his father were fundamentally estranged, had been estranged for decades, a question of temperament, different ideas of how a life might usefully be lived."
Alec became a photographer, first for a newspaper, later as a freelancer. Late in his life, he looks at a collection of his work that hangs on a wall of his home. These are the photos that he most admires, and he notices they have a common theme: the absence of conflict.
It is perhaps the best way to describe the life he led. He marries Lucia, a beautiful Czech-born daughter raised in Switzerland by her socialist mom, who had regular salons for the radicals of her day. Alec and Lucia live a relatively conventional life, until a count and countess move next door. They, too, hosted salons of exiles and émigrés, which seemed to remind Lucia of her youth.
It is there that she meets Nikolas, a Hungarian professor of literature whose "aim was to sweep away the arthritic hand of the Soviet occupation and install true socialism . . . Lucia did not truly understand his politics, though many of his phrases were reminiscent of her mother's salon."
Entranced, she runs off with him and her daughter, sending Alec a letter from Europe, "explaining the facts of the matter . . . If he refused to understand - well, that would be shortsighted of him."
It didn't occur to Alex to try to win her back. That would have been conflict. And so their lives continued, until the confluence of two events. Alec's father, suffering from dementia, was dying. And as part of their rapprochement, he sits in the nursing home, telling his father, the story of his life.
Also, he receives a call from Lucia. She has received a note from Andre, the father she believed dead. He lives in a D.C. nursing home. Will Alec come with her to visit? He does and returns time and again to listen to the stories of Andre's exploits as a resistance fighter - during the war and afterward.
These discussions - with father and former father-in-law - force him to re-evaluate his life. He'd turned down an assignment to Vietnam. "I have often wondered if I missed an opportunity when I refused to go to Vietnam . . . there's sort of a shame attached."
Alec "supposed he could be described as having had a sidelines sort of life, peaceable for the most part. Wasn't it Orwell who observed that pacifism was a respectable idea, so long as you were willing to deal with the consequences."
Just's denouement, when it comes, is perfect. "Exiles in the Garden" is Ward Just at his best. It is a serious and thoughtful book written with a page-turner's flair.
This review first appeared in The Milwaukee Journal Sentinel.

Copyright (R) thedailystar.net 2009