Interview
Nordic Breezes on Stage
The director with a performer.
Un-Magritt Nordseth has worked for several years in the Norwegian Stage Community. After finishing The Oslo National Art School of Norway in 1984, she ran her own dance-theatre company in Norway for more than ten years doing several independent stage productions including collaborations with music festivals (Ultima and Music Factory) and the International Festival of Bergen. In 1998 she started choreographing for the main theatres of Norway with the Black Rider production of Robert Wilson. From then on she has continuously choreographed for the Norwegian Theatre and National Theatre and have done more than ten main stage productions. She was invited to open The Art Museum at Lillehammer (Winter Olympics 93) and she choreographed the official celebration of the turn of the century in Norway 2000. Since 2002 she also worked regularly for The Ibsen Theatre, both as a director and choreographer.
She has also worked with several family productions for the young audience, including art for small children. The production has been shown in London, Hungary, Paris, Germany, Egypt and has been performed more than 150 times. In 2008 she directed and choreographed The Lady from the Sea for Centre for Asian Theatre in Dhaka. She Speaks to Rahad Abir about her experiences.
When did you start your theatre life?
My education is from dance. At the age of five in a Ballet School in Norway and when I was twelve I danced in a stage production. I continued dancing and went to The States Ballet School of Norway. My focus was Modern Dance and Dance-Theatre. For many years I have been working as a choreographer for theatres in Norway and since 2006, during the Henrik Ibsen 100 years jubilee I started directing for the Ibsen Theatre.
Tell us about your experience working with young Bangladeshi artists and how you managed to stage The Lady from the Sea in Bangladesh?
The Centre for Asian Theatre has some hardworking and highly skilled actors full of artistic creativity. They were open minded and willing to work in a different way than they were used to. They were eager to learn and wonderfully creative in the process concerning both building a character and the interest in a physical approach.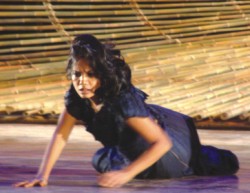 A scene from the lady from the sea.
Since my cultural background obviously it was very different, I wanted to find some elements that we had in common. The set design and music are examples of that, a mixture of Nordic stylized architecture and contemporary music based on Bangladeshi materials and instruments. But first of all, it is Ibsen's play. The moving story is about the troubled married couple striving to keep their marriage. Henrik Ibsen makes us question how we live our lives and Ibsen's piece is about making human choices. And that is also what direction is about to make choices. I do believe we succeeded in making a universal performance, which can communicate both in Bangladesh and in other parts of the world.
What were some of the biggest challenges you faced in developing this play here?
The language!
How is a play formed in your mind before rehearsals start, and what kind of criteria become important when you select a play to stage?
The most important work is the script. I worked for several months with my dramatic adviser and later on with the translator Khairul Alam Shabuj. The script was shortened and modernised to make more visual, and to modernise the language. Before this I already analysed the play and the characters. And I needed to be clear about my aim.
When I was first asked to direct in Bangladesh I had just done A Doll's House in China, and therefore I considered The Lady from the Sea being a natural follower. The main character in The Lady, Ellida Wangel, is a complex and interesting woman who has elements of Hedda, Rebecca and the more famous Nora. She is, as many of Ibsen´s women, in need for independence and values her life beyond relationship to men. They are all in the need for being a human being making independent choices for themselves. And I did think this matter would interest the Bangladeshi audience as well as me.
What advice would you give new directors?
The most important thing to know is why? Why do you want to be a director? What is your contribution to the art field? Do you have something important to say? About life? About your society? And then remember the actor is the gold of your performance. And to develop a good creative team. I do not believe I am superior in every way. I do believe in building teams with high skills in every field music, light, set design and costumes.
How can a play be successfully staged?
There is no answer to that. Or it is only one: the script has to be good. Otherwise I do not like the term successful. How can I know what is a success in Bangladesh? In my opinion there should always be room for diversity. There are so many ways. But if you ask me what I prefer to see on stage, I will say; please do surprise me, and move me. And I prefer honesty and concern for the humans. Just like Henrik Ibsen.
Who are your favourite playwrights and directors?
Henrik Ibsen, Tsjekov, Shakespeare and the modern Norwegian playwrighter Cecilie Løveid and the more famous Jon Fosse. My favourite director must be Robert Wilson. And I must mention the German dance-theatre choreographer Pina Bausch, who absolutely changed my life after having seen her pieces during the 1980s.
What is Performance Art?
Performance art is a term reserved to refer to a kind of usually avant-garde or conceptual art, which grew out of the visual arts. In the end of the 1950's a new art form was developed. Instead of painting, making sculptures or writing plays or making dances the artists started to question the modern art. By moving out of the theatres, into the galleries or just moving outside. And above all questioning the body on stage. Making theatre or choreography with ordinary people. The movement is called postmodern and the term event or happening is from that period. In a performance there needs to be a performer, but it does not have to be an actor or a dancer. In Norway there are many artists doing performance art that is about staging yourself your own body or your own life or parts of your life. The art is the artist, the act is the actor or the dance is the dancer is very much a postmodern term.
Performance art genres include body art, flux, happening, action poetry, and intermediary. Some artists, e.g. the Viennese Actionists and neo-Dadaists, prefer to use the terms live art, "action art", intervention or "manoeuvre" to describe their activities. These activities are also sometimes referred to simply as "actions". Performance art activity is not confined to European art traditions; many notable practitioners can be found in the United States, Asia, and Latin America.
Can you talk a little about contemporary Norwegian theatre?
The most important new writer for stage is Jon Fosse. He is translated into more than 30 languages and is often performed in and outside of Norway. He is often called the new Ibsen. We have also a non-verbal theatre maker who is originally a choreographer. Jo Strømgren, who is actually the most exported artist in Norway after Henrik Ibsen. The established Theatre Houses of Norway represent a lot of classics, like Ibsen, Tsjekov and Shakespeare, but always dressed in new stage forms. The National Theatre has succeeded with both the more experimental stage and their classics and recently have been influenced by German theatre (Schaubühne) and have presented several new German directors. Recently there was a new artistic leader coming with a Russian background and we are already starting to see a more Russian influenced repertoire. The contemporary stage field is represented with their own theatre, Black Box Theatre, and they do present a mixture of national and international performances. Norwegian modern stage art is mostly inspired by European theatre, especially Germany and France. And "cross over" is still important. Visual art like video and references to performance art, dance and other art forms are often made as important as the text. The text has been de-constructed and post-dramatised.
How do you evaluate Bangladeshi theatre?
I was often asked that question when I was in Bangladesh. I worked so hard during my period in Dhaka I had seldom time to see theatre. But I did have the chance to see CAT performance the Amputation and the Bhelua Sundari. CAT has an international level and also an interesting approach to traditional Bangladeshi theatre forms which show their strong identity. The most interesting thing for me is of course their use of Norwegian playwrighters like Ibsen and Bjørneboe. Why Henrik Ibsen? I do think that reflects the need for independence and freedom that is reflected in all his pieces. Ibsen had a deep concern for the humans. And without freedom Ibsen could not live. (Letter to Georg Brandes) Since I am a strong believer of human rights and the freedom of expression for men and woman I do think that the Bangladeshi Theatre has an important task in their society.
Copyright (R) thedailystar.net 2009