Art - Making an Art out of Found Objects
Making an Art out of Found Objects
Fayza Haq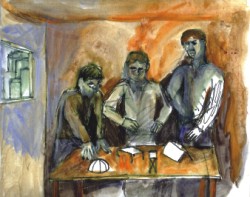 Lil, Babylon untitled sketch.
Robert Knowles, a visiting artist from Canada came to Bangladesh for some weeks doing residency with Britto Art Trust. His specialty lies in quasi-architectural designing which leads to sculpture installations. He also goes in for photography and videos to explore ideas in different mediums, with strong interest in architecture. He works with his two friends John Knowles ( no relation) who lives in Montreal, and Michael Eddy who lives in Beijing.
"We meet during residencies and studio environment. We began in 2004, in Halifax, inspired by a book on military camouflage techniques for hiding buildings. We create objects of small architectural proposals which could be camouflaged in streets and towns. We experiment with waste and found materials and fashion them into architectural type designs," says Robert.
In one of the creations one finds a base made from a beer can, on which is a little house of corrugated cardboard. On top of this is a round tin, on which sits a plastic coffee cup. "We are playing with found shapes and their resemblances to building designs," says Robert.
The other creation brings in a rectangular cardboard creation. Buckminster Fuller pioneered this. Below this are containers, one being blue and another red. The base is a painted 7-inch vinyl record, atop some plasticine. This too is a small- scale architectural model and also includes the subject of reuse of waste into something that has potential.
Another creation is an ironing board with some fast-food packaging, along with some found text from a newspaper, mounted on cardboard. There are also some cola cans with cityscapes printed onto them. This again is a model and is not meant to suggest anything else. This appears like a tower leading on to another tower.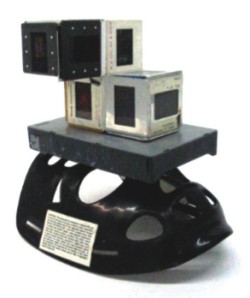 Robert's collection includes a scene from Chittagong sea beach with blue empty plastic chairs and a small round table. "This relates to relaxed social environment which inspires one to generate ideas by working together. This restaurant environment is both soothing and invigorating," says Robert.
Scenes from shipwrecking beaches from Chittagong are also carefully saved up for projects in the future.
" One of the things that I've been really been interested in is in learning about the process of producing 'Nakshikanthas' during the monsoon season. We are also keen in the social aspects that go along with making objects," says Robert. He is also collecting a variety of different coloured fabrics that he finds in Dhaka. He hopes to stitch various designs into them in future, creating a relaxed environment in which people can think and work together.
Robert who says was always interested in art even as a child, was inspired by his grandfather, a car radio designer. He did his bachelor's degree from the Wimbledon School of Art, London. He has done various residencies and courses since then in Banss Centre at Canada, and, more recently the Ratti Foundation at Italy. He has taken part in different exhibitions in Milan, New York, London and Rotterdam.
Giving his impression of his trip to Bangladesh, Robert says," It's really been extraordinary, as this is the first time I've been outside of Europe or North America. This is something so different from what I've experienced before. What struck me the most is people's ingenuity for recycling and reusing materials. In my culture there's a lot of waste. Here people reuse and refashion almost anything, which would be unthinkable in a more affluent society. It was also interesting to meet a number of Bangladeshi artists and to discuss what their interests are. The National Museum brings in the history of craft woodwork and stonework. The ceramic work too is very impressive. It's all very inspiring."
In fact, his works, some inspired by images seen in Bangladesh, will be displayed in Montreal on May 5.


Copyright (R) thedailystar.net 2009