Postscript

A Touch of Sweetness

Aasha Mehreen Amin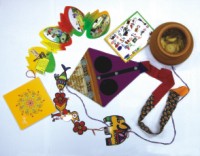 It's been a very distracting few days leading up to the much-hyped Pahela Baishakh. The distractions I am talking about are hardly unpleasant; in fact they are rather sweet. Sweet to the point of sickness, nausea and horrifying guilt. How could I? Didn't I know what would happen afterwards? Why can't I exercise a bit of self-control? This is the kind of refrain that batters my brain as I sneakily put my hand where it should not be. Got you alert right? I mean the clay hari (pot) that some corporate angel just handed to me out of the blue, a beautiful container filled with exquisite sweets - melt-in-your-mouth paera made with thickened milk, crumbly shonpapri and delicate, diamond-shaped cashew borfi. Only a few minutes before this I was interrupted by a Baishakh enthusiast with a box of batasha which is pure, unadulterated sugar melted and hardened into little flying-saucer-like shapes. He also got a whole kilogram of lovely green mangoes that looked sour enough to get all the lice in your hair running for cover (appreciate the drama instead of speculating) but actually tasted mildly sweet.
Baishakh is definitely here and it's not just the sudden darkening of the skies followed by a Kalboishakhi or the unexpected appearance of multi-coloured flowers and greenery where it was dusty brown only a few days ago. Corporations, NGOs and just about everyone seems to have caught the Baishakhi fever defying all the depressing squabbles in the parliament and disturbing discoveries of terrorist hangouts. (This I write before Pahela Baishakh, in the fervent hope that nothing untoward will happen).
It started a few days ago actually. In the middle of a rather trying day when everything gets delayed by traffic or procrastination, a big clay dish adorned with all kinds of Bengali desserts - gurer patishapta with khirsha (molasses pancake with creamy filling), humungous lalmohon and roshogolla, sugary goja and ornate nakshi pitha (crispy rice cake), the works was delivered to us. It was such a wonderful surprise (even though this particular NGO has been sending this treat for the last two years or so) and such a welcome diversion from our daily routine that it took no more than a few minutes before the elegant platter was reduced to a ravaged utensil that had managed to survive the onslaught of apparently starving humans.
But it is not just the sweet temptations that are forcing me to get into the Baishakhi spirit. My desk is flooded with colourful cards with folk motifs, reminding me of the flamboyance with which we celebrate this season. Just as with the traditional sweets, there is a deliberate effort to try and come up with authentic expressions of ethnicity. I have in front of me a card from a designer wishing me Shubho Noboborsho but along with that is a multi-coloured miniature kite with her signature, something I presume can be hung up on the wall.
Most innovative and rather touching gift though, is a package from Social Marketing Company (SMC). No it's not what you're thinking believe me. The collection consists of a card with an illustration by an autistic child and a small note on how important it is to help autistic children to integrate into society through special education. There is also a hanging decoration made with paper folk motifs and another one with pictures of children playing various traditional village games such as Danguli, Iching Biching (lost in translation) and taking rides on a palm frond cart. Little descriptions in Bengali and English are given below the pictures.
Thus there is a concerted endeavour to promote all that is Bangladeshi, it is not a desperate attempt to bring about a forced sense of identity. Rather it is a rediscovering of ourselves, a realisation that whether we like Rabindra Sangeet or Bangla rock, whether we wear a Tangail tanter sari or a handloom fotua, we are deeply connected to this land of heartbreaking disappointment and endless opportunity; this hard-earned place we call home.

.Copyright (R) thedailystar.net 2009