Special Feature
Their Souls Will Go On
Srabonti Narmeen Ali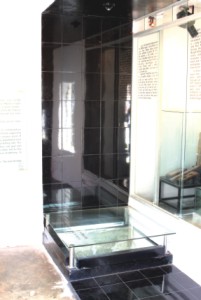 It is hard to believe that less than four decades ago this same venue
was filled with the screams of our martyrs, a house of torture for
Bangalis, a place where countless people were murdered by the
Pakistani Army and its collaborators.
The sun shone brightly on Mirpur's famous Jalladkhana Killing Field Memorial on June 21. A group of young men and women sang the national anthem, which served as a kick-off for an emotional concert commemorating the one-year anniversary of the memorial's opening, organised by the Liberation War Museum.
It is hard to believe that less than four decades ago this same venue was filled with the screams of our martyrs, a house of torture for Bangalis, a place where countless people were murdered by the Pakistani Army and its collaborators.
The Jalladkhana, which in English means "Butcher's Den" got its notoriety in 1971 for being one of the more famous places where hundreds of Bangalis were tortured and eventually killed. The fact that it was originally an abandoned WASA pump house made it ideal for the Pakistani Army and its collaborators since after they brutally mutilated and killed their captives, they could throw the dead bodies into the water-filled pit -- thereby wiping away all traces of their cruelty as well as eliminate evidence of the fact that what happened to Bangalis during 1971 was indeed nothing short of genocide.
"The problem is that a lot of people doubted that there was a genocide," says Museum Trustee Akku Chowdhury. "And it is not only the Pakistanis that deny this. Unfortunately there was an overall international denial of what happened in 1971. This memorial is living proof of the cruelty shown by the Pakistani Army towards our people."
Chowdhury and the rest of the Liberation War Museum trustees have been working on this project since 1999. They excavated two different places within the same area -- one was obviously the slaughterhouse now known as Jalladkhana and the other was the Nuri Mosque -- finding about 70 skulls and 5392 pieces of bone as well as various kinds of personal belongings, some of which are on display in the pump house. The famous sewer in which the Pakistani Army dumped the dead bodies is still there, its water black and murky, covered with a square piece of glass.
Mirpur's Jalladkhana Killing Field Memorial is a reminder of the gruesome murders that have still gone unpunished for all these decades. Photos: Zahedul I Khan
All around the triangular courtyard situated just outside the pump house are the names of killing field victims from not just these two places, but other areas of Bangladesh as well. To show solidarity for all victims of genocide there are signs on the far walls of the courtyard which display the names of the different countries that have faced genocide in the 20th century, such as Nazi Germany, Vietnam, Afghanistan, Sudan, Cambodia, Armenia, Indonesia, Rwanda, the former Yugoslavia, Guatemala and East Timor. Incidentally, the Holocaust in Germany had the highest number of victims at 11 million, while Bangladesh and Vietnam have the second highest, both with three million casualties. On another wall facing the pump house is a mural by Rafiqun Nabi and Muniruzzaman, entitled 'Jibon Obinoshwor,' depicting a rising sun over mutilated bodies, in order to symbolise the souls of the martyrs going on.
For Akku Chowdhury, who actually went down in the sewer to find the remains of the dead and helped to exhume the bodies -- an experience that he found both exhilarating and horrific at the same time -- it is important that people know what happened to those who were martyred in 1971. The Museum has, as a result, created a kind of park around the pump house so that people can come and reflect on what happened there. Some might call this morbid, glamourising a place which has seen so much pain and violence, but Chowdhury believes otherwise.
"It is not that we want to go back, but we need to be able to look behind in order to move forward," says Chowdhury. "We have to give the families of the shaheeds some sense of peace. I remember when we were finding all these remains it was almost as if these souls were waking up and were saying 'what took you so long?' I don't know how but I felt their presence with me, almost guiding me and saying 'look at what happened to us.'"
For Sheikh Sharikul Islam Bablu, one of the only survivors of the Jalladkhana killings, the memory of the place holds a different meaning altogether -- one of survival and second chances. Bablu was taken by force on July 28, 1971 to the Jalladkhana by Bihari men whom he had previously lived side-by-side with. They recognised him from the mosque and threatened him with a knife until he had no choice but to follow them to the pump house. He was 15 years old at the time and clearly remembers walking in and seeing blood everywhere. Mingled with the blood were bits and pieces of clothing (saris, gamchas and shirts), broken pieces of churis (glass bangles) and torn sandals. Perhaps what makes his case so unique is that when they slit his throat after beating him and torturing him for four hours, the knife didn't go any further and only succeeded in making a superficial cut.
"They tried a few times but for some reason, it just wouldn't go further," says Bablu. "Only God knows what happened but I was not killed and eventually one of the Bihari boys named Nasir helped me escape."
Whatever happened to prevent the knife from going further and whatever made Nasir have a change of heart and help Bablu escape, he is here today, an eyewitness who is able to remember what happened and talk about it. He lived to tell just one of the hundreds of gruesome tales of the Pakistani Army and its collaborators.
It is these stories that unfortunately need to be served as proof of what our people went through during those nine long months in 1971. We are constantly having to fight claims that our country did not suffer as much as we claim, whether it is with propaganda-filled foreign academics such as Sarmila Bose attempting to rewrite our history; or men that claim to be citizens of this country, such as Jamaat leader Mojahed stating on television that what happened in 1971 was only a civil war, thereby denying outright that there was a genocide. We are constantly denied our history and the suffering of our people and the fault does not lie in a wayward academic trying to break new grounds with a cock-and-bull story, or a man who seems to be completely deluded in his beliefs. The fault lies in us. Whether it is just plain ignorance, or whether it is indifference and complacency, the fact remains that the majority of our population does not understand just how important the sacrifices of our martyrs are to us and what they stand for. It is memorials like the Jalladkhana Killing Fields Memorial that urge us not to forget, that force us to open our eyes, that shame us into demanding justice for those who gave up their lives and families.
Copyright (R) thedailystar.net 2008