Human Rights
A Scalding Wake-up Call
Fourteen-year-old Ratna who worked as a maid for the last 10 months reveals the horror stories of how she faced demonic torture by her employer, the wife of Sylhet's Chief Judicial Magistrate. If this is the way his home is run, how can he administer justice in the courts?
Hana Shams Ahmed
Ratna used to be one of the many faceless girls working in one of the homes in Bangladesh. Ever since she entered the house of Wahida Akhter Shanta on August 21 2007, she has been trapped in what can only be called a medieval torture chamber.
One of six daughters to a near-blind father, Ratna's family had no choice but to send her to work as a maid at the house of Chief Judicial Magistrate of Sylhet, Rafiqul Alam. Ratna had to do all the work in the house -- cleaning the house, preparing breakfast, getting Wahida's son's school tiffin ready, and washing clothes. "She used to fix a time limit for me," says Ratna, "if I failed to finish the work within that time or if she wasn't satisfied with the work, she would beat me up." Wahida got hold of a bamboo stick to beat Ratna up and at one point she managed to break the stick on her back. "She would tell me that if I dared to talk about what she did to me, she would put my whole family in jail," says Ratna, "she always scared me by saying that they were very powerful people."
Ratna was under constant fear, for herself, and for her family. She was not allowed to speak to anyone outside the family and interaction with guests at the house was always kept to a minimum. Her every move from when she woke up at 6 in the morning to when she went to sleep very late at night was watched and controlled. Sometimes Wahida beat her in her sleep if she ever woke up late. As submissive and terrified as Ratna became, Wahida was not satisfied and the beating got worse. "She used to take a hot khunti (flat iron cooking spoon) in her hand and scald my buttocks with it if she wasn't happy with my work," continues Ratna. She gave the interview while sitting in her hospital ward at the MAG Osmani Medical College Hospital with scald marks all over her body ever since she managed to escape from her prison of 10 months. At one point her employer poured hot oil down the front of her pyjamas. Wahida tried to stifle her screams by putting cotton in her mouth. From time to time she would hit her in different parts of her body with a rolling pin. One day Wahida scalded her on her cheek, which left a deep scar. "When he [Rafiqul Alam] asked about it, mami [Wahida Akhter] said, 'Why do you care about the bandi [derogatory term for a house maid] of the house, do you want to marry her?' and he never asked about me again."
Not satisfied with her torture methods, Wahida moved on to more 'sophisticated' techniques. A couple of months ago, Wahida took a pair of pliers, put it to Ratna's breasts and tore off one of her nipples. She bled for days but was never taken to the hospital. With no other body part left unscathed, Wahida once put a hot cooking spoon on Ratna's tongue when she didn't do her work 'properly'. She continued to tell her that she would have Ratna arrested if she ever spoke to anyone about what she was doing to her. The reasons for the abuse were always the same -- not doing her work properly and on time.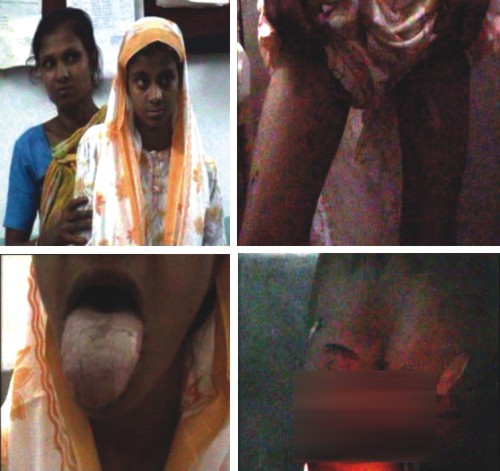 Ratna with her mother at the hospital -- her tongue, legs and buttocks bearing the marks from the torture endured at the home of Sylhet's Chief Judicial Magistrate Rafiqul Alam.
On June 5, 2008 Ratna could not complete her breakfast duties on time, which drove Wahida into a fit of rage. She hit Ratna with a rolling pin and burned her buttocks with a hot khunti. "When I started crying and screaming, she tried to smother me with her hand and bit me on the right side of my cheek," says Ratna. That morning Ratna's sister and mother came to take her away for a few days holiday. Wahida refused to give her time off for so long and said she would have to be back by 6:30 in the evening or risk getting arrested by the police. "My sister kept asking me about the marks on my face and I tried to make excuses about them," says Ratna, "but when she opened my clothes and saw all the scald marks inside she was shocked."
Ratna's mother and sister took her to Kotwali police station. The policewoman there took off her clothes and checked the marks on her body but refused to file an FIR, for fear of reprisal by the powerful Magistrate. "The police asked me to go to the hospital for treatment and come back to the police station afterwards," says Ratna. A local journalist informed Ain O Salish Kendra (ASK) lawyers of the incident. ASK sent letters to the IGP of police, Home Secretary and the Police Commissioner to take immediate legal actions. None were taken, as the conspiracy of silence widened. A three-member team of lawyers reached Sylhet in the afternoon on June 9, and a case was finally filed at the police station.
This magazine has highlighted many horror stories of what goes on behind the four walls of civil society. People like Wahida do not have criminal records, they do not have malevolent appearances. They are the mothers of young children whom we meet at social gatherings and discuss rising prices of essentials. Their position in society gives them immunity from whatever cruelty they inflict on the invisible millions who are at the very bottom of the pyramid. Members of shushil samaj have even 'objected' to highlighting these cases in the media. In an astounding article that appeared in the women's page of Prothom Alo (Nari Moncho, June 11, 2008), Sufia Ali wrote, "These people [domestic servants] have a class-resentment towards the rich. They derive great pleasure by getting us into various problems". Such talk is rampant at social gatherings but if they start appearing in the 'feminist' pages of national dailies, that indicates our denial of this problem is widening.
In 2006, <>The Star<> magazine highlighted a case where two maids, Madhabi and Moni, were pushed off a building by their cold-blooded employer Kalpana Majumder. Little Moni died on the spot. To date, not a single person had been convicted for torturing or killing a housemaid in this country.
Ratna is in pain. She can't walk or talk properly. The burn marks on every single part of her body are painful. What psychological effect 10 months of inhuman torture has had on her, no one knows. Whether she will ever be able to lead a 'normal' life again is doubtful. But she is still lucky to be alive and out of that house. But there are many others who are still trapped. Unless the justice system stops defending the powerful, while they abuse the invisible millions, these stories of medieval torture will keep coming back, and then forgotten just as quickly.
Copyright (R) thedailystar.net 2008