Special Report
Driven to Their Deaths

Kamran Reza Chowdhury
(L) Crowds gather around the grisly scene. (R) The diaries of the deceased and Anwar Darbesh's declaration of his new religion.
"People of this village have inflicted inhuman torture on us for six years. They have taunted us calling us Christians. They used to throw stones on tin-shed roofs and made holes in them. Rainwater flooded our house. My children cried in pain. They attacked my family members with sharp weapons. They have stopped my source of income and I and my family members are starving. Zakir, Totun, Zia, Tuhin, Anis, Dulal, Firoz, Feku and other villagers beat up my children and tried to burn my house as my children attempted to bury me as per my instruction.
Zakir and his associates threatened us to kick out and occupy our house... We have done nothing. We have recorded everything in our mind..."
These are some of the statements written in diaries left by members of a family before they plunged to their deaths under a running train. The five diaries left by the deceased gives details of torture of neighbours that led them to take their own lives. The written accounts also tell a bizarre tale of how the head of the family, Anwar Hossain alias Anwar Darbesh the father who had died before, had established a cult called 'Aadom Religion" which proved to be the deciding factor in their terrible fate.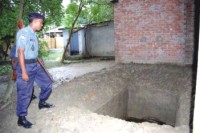 They had dug out their graves before carrying out their terrifying plan.
On July 11, Anwar's Wife Hena (65), four daughters Akhteri (40), Murshida (33), Rahat (22), Shabnam (17), son Arif (30), grand son Moula (11) and grand daughter Moon (9) stood in front of a running mail train which cut all of them into pieces. Leena, a disciple of 'Aadom religious' cult, had also joined the eight who had decided that this was the only way to get a 'free life' after death. All the deceased were well educated as proved by the writing in the diaries.
The only surviving member of the family is Meherunnesa Mobi who was in Brahmanbaria when the incident took place. Mobi says that this was a 'planned murder' by some neighbours and relatives.
It was around 3.30 pm local time. A mail train G-M (Bahadurabad Ghat-Mymensingh) was heading for Mymensingh station from Mymensingh road station. When it reached Kashor, a quiet place, the nine stood in the middle of the line and died within seconds.
"I saw some people walking along the rail line. I blew the whistle to alert them. But they were not getting away from the tracks. Suddenly, I saw some people standing in the middle of the line hugging each other. I could not even imagine that they would jump en masse," relates Shah Muhammad Enayet Hossain Khan, the train driver. He stopped the train for a while but the assistant of the driver sped the train away fearing public wrath.
Hundreds of people thronged the accident spot, at best 30 feet away from the tin-shed home of the deceased, and started screaming in fear. It was a grisly scene: body parts strewn over the tracks, a hand was found three kilometres away from the accident spot. There was human brain and hair scattered on the stones of the rail tracks.
An empty coffin at the house of the deceased.
The police and locals entered the house and saw that there was a grave-like square ditch (east-west) in the western side of the house. In a bedroom, there were five diaries and an old paper on which Anwar Darbesh wrote the declaration of his 'Aadom Religion'.
The diaries are a testament to the strange and pathetic tale of a family caught up in a cult mania and ostracised by society that chose to victimise them for being different.
Anwar Darbesh, a former non-commissioned member of the Pakistan army, retired from service before Bangladesh's independence in 1971. He was fluent in Arabic, Urdu and Persian and very committed to Islamic doctrines until 1995. He was also known to have clairvoyant powers: he could foresee the future and soon acquired the name of Darbesh (saint). People from different districts used to come to him for blessings or to be cured of some disease.
After retirement from service, Anwar Darbesh invented a hair oil named Heem Kushum that had high demand in the local market. He gave advertisements in local cinema halls. He earned a good amount of money by selling the herbal hair oil. It was his only means of earning.
But in 1985 the sale of the hair oil was stopped as it was not patented. Anwar Darbesh and his family members believed that some envious neighbours and relatives incited the authorities to ban the hair oil. This was the beginning of the family's impoverishment. With a wife, five daughters and two sons, Anwar started passing days in great hardship.
Anwar started studying books on Islam, Christianity and other religions. He had many followers and they used to make small donations that helped the family to survive. His followers used to live in his house too.
In 1993, Anwar's elder son Golam Mohiuddin Abdul Kadir alias Maehi went to Dhaka to support his family and pursue his studies. Maehi, who used to say prayers in mosques, stopped saying prayers. When questioned about this by his friends he used to refer to the Holy Quran saying, "your religion is to you and my religion is to me", says one of Maehi's junior friends Aminul Haq.
"From 1995, Anwar Darbesh started making anti-Islamic comments in public and stopped saying prayers. All of the family members followed him. He used to ask what benefit will you get by saying prayers," said Toriqul Alam Tuhin, a nephew of Anwar's wife Hena, who had close ties with the family.
His anti-Islamic comments made local people angry, but they mixed with the family, he said. Maehi supported his father to maintain the family as he used teach at various private educational institutions in Dhaka.
By 1995, the whole family had become the followers of the cult 'Aadom Religion'. Anwar Darbesh before his death, instructed his family members not bury him as per the Islamic rites. Instead he told them to bury him inside the house without the common Islamic rites such as the final bath.
The declaration of the Aadom cult is mainly centred on aspersion on Islam's greatest prophet Mohammad (SM). Besides, it also criticised Hinduism, Christianity and Buddhism. Anwar Darbesh said there was no true religion in the world other than his 'Aadom Religion'. He claimed himself to be the Aadom (Adam) who created the universe.
According to Anwar Darbesh's declaration, his house was the place where the first human being Aadom (Adam) came at the beginning of the creation of the human being. Darbesh's daughters, sons and grand children were the descendents of Aadom who was the 'original Allah who created this universe'. Anwar Aadom claimed that in his first life he was born as Aynal Haq in Multan, Pakistan who claimed himself to be Allah in Multan and was hacked to pieces for this blasphemy. According to the diaries, Anwar Darbesh's soul had once again come into the body of his grandson Moula. Anwar Darbesh in his diary said all the mosques, madrasa, temple, pagoda are illusions. He said every human body is body of Allah.
"I am Aadom now living a humble life in Mymensingh. We have led a very miserable life and even starved. I could not manage to buy clothes for my children when they needed them. I have taken my son Maehi and will take other members to me," Anwar wrote in his diary.
According to the cult, not only Islam, all of the religions including Christianity, Buddhism and Hinduism were controlled by Prophet Mohammad.
"We want to leave the world to free the world from the clutches of Mohammad", Murshida wrote.
"…Our time is running out and we will go to our father to free the world from all torture tyranny. The world will have a new birth with our exit from the world." She concludes.
On July 10, 2000, Anwar Darbesh died of cardiac arrest at BIRDEM hospital in Dhaka. Tuhin and Maehi took his body to Mymensingh. Instead of burying according to Islamic rites, his family members tried to bury him inside a room of the house without cleaning the body as per the instruction of Anwar Darbesh. Darbesh in his written instruction said his body should be rested in the grave keeping the legs in the west. But the local people threatened to burn the whole family alive and beat up Maehi and his brother Arif, according to the diaries. Muslims consider the west as sacred side and place dead bodies towards north-south direction and so Darbesh's instructions were contrary to Islamic principles.
At one stage, Maehi told people that they had converted to Christianity, Christians bury people keeping legs in the west. But the local church father confirmed that they were not Christians. Then, the locals with the help of police took away Anwar Darbesh's body and buried him as per Islamic rituals at Kalibari graveyard in Mymensingh.
That one lie (that they were Christians) made life hell for the entire family. Some people thought that they were anti-Islam, so they should be tortured and boycotted socially. This incident made the family members hostile to the neighbours and vice versa.
Meherunnesa Mobi, the second daughter of Anwar Darbesh, lived in Brahmanbaria leaving her sons Moula and Moon with their grand mother. She claimed that her family members were Islamic in nature and had never converted to Christianity. "This is not a suicide, this is a pre-planned murder", she says and adds that she did not believe in her father's religion.
Murshida writes in her diary how the family was regularly threatened and tortured:
"When my father died and we tried to bury him according to his instruction, the local people did not allow us to do so. Zakir and his associates threatened to occupy our house by kicking us out.
"All the people of the village used to taunt us by calling us Christians when we came out of the house. We do not believe in any religion let alone Christianity. Most of the time, people used to throw bombs at us at day and night and it rocked our house.
"We were suffering from mental and physical trauma since my father left. But we got peace and new lease of life when he came to our family through my body. Nobody knew my father. They called him ghost (jeen) and heretic and hurled abusive words.
Another diary, possibly that of Anwar Darbesh's wife Hena says: "The villagers attacked my children with sticks, knives, cleavers and other weapons. They threw stones like rain and made holes in the tin shed of the house. The villagers have been torturing us for six years and still doing it. They taunt us calling Christians. My daughters and sons cried but could not do anything. We will soon take revenge".
Anwar's disciple Leena, who came to the family with her mother and sister in 2000, writes in her diary, "I have been with the family since 2000. I don't have any relations with those I knew as mother and sister. Coming here, I have gained a new life. I don't want to live in a world where the Aadom family will not be. They are taking me with them, this is my greatest achievement".
In September 2004, Maehi, who served the East West University as Director (admission) by changing his name, was murdered in Dhaka. Meahi adopted the name Galen M Sany in Dhaka. The police found forged certificates of the University of Washington and University of Leicester that belonged to Maehi. His death only multiplied the family's financial hardship as there was no one left to support the family. Following Maehi's death, his brother Arif apologised to the relatives and the neighbours and insisted that they were Muslims and had committed mistakes in the past. The neighbours buried Maehi in Kalibari graveyard. After his death, Maehi's younger brother Airf went to Dhaka in the hope of getting a job to support the family. He used to teach in coaching centres to support the family. Thus there were no men living with the family and the neighbours continued to taunt and harass them.
So what really led to so many members of a family to take their own lives? Anwar Darbesh's delusions seem to have affected other members of his family. Economic hardship had made the family rely more and more on the cult founded by the father. But it was the intolerance and hostility of the community towards a family who dared to go against the religious norms that drove the family to a point of no return. The belief that they would gain free, better lives after death was their way of justifying their terrible decision. With two of their male members dead, economic hardship and social ostracisation, death seemed to be the only way out.
--bd News 24, Photos: Jewel, bdnews 24
Copyright (R) thedailystar.net 2007