Sci-tech
SK Telecom Cleaning Robot Controlled by Cellphone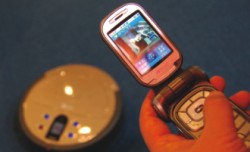 Sometimes we just want to tell our Roomba what to do, but we can never find the remote. Well SK Telecom has decided to fix this problem: by developing a cleaning-robot that is controllable via your cell phone. Not only can you decide where the little bot cleans, but you can also see what it's doing via the built in camera. Personally, we'll just live with the few spots that our Roomba misses, rather than having to control the stupid thing with our cell phone.

TimeCap USB Drive is a Digital Urn
Instead of keeping Aunt Edna's ashes on the mantelpiece, why not just put her digital essence into a TimeCap Digital Urn, a small USB drive designed to last a lifetime. At first we thought this was a hollowed-out container to carry someone's ashes around your neck, but perhaps that would be too morbid. So what is stored inside this thing? Designer Cherif Morsi's idea is more akin to a digital time capsule than an ash-carrying urn. The idea is to load up this USB drive with videos, sound clips, photos and any other digital memorabilia inside its hardened shell, showing the dearly departed in happier times. This design concept, not for sale anywhere yet, might appeal to funeral directors, who might be able to capitalise on someone's grieving state, selling them an item that normally might cost $10 for perhaps well over a thousand.
Underwater Holographic Monsters + Catwalk Models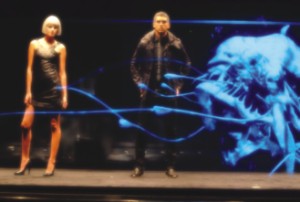 Fashionistas and animators made these holograms of freaky underwater creatures floating around sexy models at the Diesel Spring/Summer '08 show, celebrated a few days ago in Florence. The creatures were created by Diesel's creative team, Barcelona animation studio Dvein and Danish multimedia production agency Vizoo. The latter created the technology for the projection, which is still a bit of a mystery: "The visuals are projected through a series of 'foils' into mid air, so you see the images in mid-air. The models can then interact with them and walk through them. We used plastic foils placed at 45-degree angles so that the projected light from the ceiling goes onto a foil, is reflected on to another and then into the air. We worked it so it had a real catwalk feel and so that you could view it from both sides: You can see the models, the holograms and the public from both sides. It's never been used this way before as the technology has just been used in the corporate world before, for sales presentations, and the visuals have always just been viewed from one side. So we set up two rigs instead." Seems to me like they are not real holograms but according to the people at the event, the effect is quite stunning when you watch it live.
Compiled by IMRAN H. KHAN
Source: New Scientist, Wired and Webindia123
Copyright (R) thedailystar.net 2007