Event
Masters of Creativity

Farhat Mustafa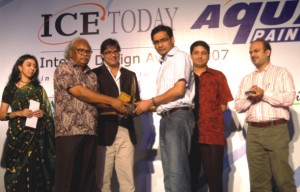 Rafiqun Nabi and Faisal hand over the award to team leader of KMNR ltd. Mahmudul Anwer Riyaad, for designing Paan Shupari
The ICE Today-Aqua Paints Interior Design Award is the first biennial Award in Bangladesh that aims to recognise interior designers who have excelled in their field in terms of creativity, innovation and overall performance. It was launched in February 2007 to recognise and promote the creativity of Bangladeshi interior designers. This year, contestants were allowed to submit their projects in both the residential and non-residential categories. Submissions and rules were the responsibility of a panel of judges chosen by the Institute of Architects Bangladesh, ICE Today and Aqua Paints. The Award consisted of prize money of Tk. 25,000, crests and commendation letters.
The brains behind this gala event are Sajedur Seraj of Aqua Paints and Ziaul Karim Editor of ICE Today. They planned the country's first Biennial Award for interior designers recognising, the creativity of individuals who specialise in making homes and offices look good.
'We were talking about interior designs and how it makes a difference in the way we work. And, while thinking about the best interior designs in Dhaka, we realised there was not much official recognition given to them. And that's when we thought of initiating this award ceremony,' declares Seraj.
The Awardees
Amidst the razzmatazz and in the presence of a high profile audience, the Gala Night was held on July 14, 2007 at Hotel Radisson. Ziaul Karim from ICE Today, Mobassher Hossain from IAB and Ranjan Siraj from Aqua Paints spoke at the event. They emphasised how creative interior design will enable Bangladesh to compete more aggressively in the global arena. They also stressed the importance of interior designing and hoped that recognising such talent would lead to more innovative ideas. The speakers believed that this Award would encourage this relatively new industry to flourish by rewarding projects that show creativity and innovation. In the long run, it would enable Dhaka to take larger strides in the great globalisation marathon.
Once the opening speeches were delivered, the award programme began. Mohammad Sazzad Hossain won the title in the residential category, while Abu Anas Faisal of Dcon Design, Mahmudul Anwer Riyaad of KMNR Ltd, and Nasreen Zamir of Nasreen Zamir and Associates won awards in the Non-Residential category. Among others, Architect Mazharul Islam, singer Fahmida Nabi, renowned artist Rafiqunnabi and model Faisal Ahsanullah presented the trophies and cheques to the winners.
Nasreen Zamir, also a graduate in Interior Architecture from Canada, noted, 'I am very happy to win this award. I believe it has boosted not only my confidence, but the morale of my entire team. The award has recognised the relentless effort that my team puts into every project. We are hoping to contest for the next award and we promise to bring more innovative projects in the future.'
Mohammad Sazzad Hossain, was awarded for his design which focused on the interrelationship between a building, climate and the landscape to offer a sustainable living environment. 'Every bad deed should be punished and the good must be rewarded. As I worked very hard in this project, I feel very happy to be awarded. Now, I will be more motivated to work on my ongoing projects. Also, I feel that this award has had a great start and will inspire the young designers and help bring out the hidden talents in Bangladesh' adds Sazzad.
Interspersed among the official parts of the award presentations, were performances by Gourob from the band Ajob, Elita and Arnob, singers who enchanted everyone with their superb musical performances. A well-choreographed Fashion Parade, where the city's top couturiers presented the very best of their artistic endeavors, also entertained the audience.
Copyright (R) thedailystar.net 2007