Sci-tech
Microsoft Unleashes Zune

Microsoft's new Zune music player is shown in brown, black and white at RCS Electronics in New York City mid November. "Zune is either going to take off like a rocket or it is not going to go anyplace," analyst Rob Enderle of Enderle Group in Silicon Valley told AFP "There is no middle ground. It is different enough that it could surprise Apple." Each Zune has a 30-gigabyte media player and is priced at $ 250, on par with an iPod with an equal amount of memory space. Music for the devices will be sold on the Internet at Zune Marketplace in a manner similar to the exclusive mating of iPod and Apple's online iTunes shop.
Wall-mountable Fireplace
Feels like everyone's mounting their flat panels on their walls these days, so what better way to one-up your neighbour than with this wall-mountable fireplace. The fireplace's creators (West Country Fires) claim it automatically cleans up after itself so you don't have to worry about any harmful gases filling up your apartment. At $2,500 dollars, it's a little too close to the price of a real plasma, no matter how many "burn-in" jokes you can get out of it.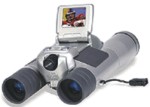 Digital Camera Binoculars
Here you go, you little creepy pervert. The Pro Viewer BinoCam is a 3-in-1 set of binoculars capable of proving a zoomed view that can also take pictures and record AVI video clips. The binoculars themselves have an 8x zoom. The pictures and video are stored on SD memory cards and can be viewed via the attached 1.5-inch LCD. The product description says that the binoculars record images video at 2.1 megapixels and 5.0 megapixels. A good buy at $200 for all types of voyeurs.


Mirror with Zoom Button
The Power Zoom Vanity Mirror does just that - zooms. I'm not a nuclear engineer, so I have no idea how it works, but this mirror is capable of zooming up to five times with the push of a button. The mirror itself is five inches in diameter and operates off AA batteries. If you weren't self-conscious about your looks before, this could surely do the trick.
Thomson Black Diamond PMP

Oooh, black, shiny and scratches easily - must be a PS3. Close, it is the Black Diamond EH308 PMP from Thompson. This PMP is decked out in a high-gloss black finish with a light touch of blue around the button area. Other than the looks it is a ho-hum PMP. 1.8-inch OLED screen, 8GB memory, touch-sensitive controls, 15-hour rechargeable battery and support for the basic media files - MP3, WMA, WMV, MPEG4, etc. This PMP will go for a solid $300. If it were me, I'd stick to the iPod or the new Zune.
Compiled by IMRAN H. KHAN
Source: AFP and Gizmodo Online.
Copyright (R) thedailystar.net 2006