Cover Story


For the Land and its People
Shamim Ahsan
A weekly half-an-hour slot on BTV was all he had and in doing so he has changed the country's agricultural scenario for ever. There are few who haven't heard his name and fewer who haven't seen him in his discernable green half-shirt standing in the middle of a crop field, sporting an unassuming sun hat. For 16 long years from 1980 to 1996 he appeared on the screen every Friday at 8.30 pm and in some 582 episodes he almost literally laid the path the country's agriculture would be following. The programme was Mati O Manush (MOM) and the man Shykh Seraj. He was not an ingenious agriculture scientist who made extraordinary discoveries. But he was a man of vision who had the tenacity to turn that vision into reality, something that has made this man a hero among the farmers of Bangladesh. With his informal style of interviewing and a charming demeanour that put even the most shy farmer at ease.
It was the late seventies. Like many other young men, who were excited yet somewhat unsettled about what to do with the new found independence of their motherland, Seraj was also anxious 'to do something' for the country. His calling did not take too long to come. "I have always had interest in agriculture and I knew I could best serve the rural poor if I could contribute to agriculture," says Seraj.
Seraj worked out his plan of action focusing on two major aspects of agriculture agricultural products and the definition of a farmer. He knew from his years of experience that by agricultural products the common farmer only understood rice and jute. Traditionally, agriculture in their perception was just a means of fulfilling their most immediate demand. They were interested in rice mainly to secure their food supply and jute because they could use pathkhari as fuel and the fabric as thread, an essential item for building any sort of structure, say a macha or shanko. Since they could sometimes collect vegetables from the neighbourhood and also catch fish from the nearby pond they simply did not see any rationale behind cultivating vegetables or fish. Besides vegetables and fish were not essential as rice. They simply did not see the comercial prospect and that's what they saw and learnt from
their ancestors.
Seraj had his prescription ready to change this frame of mind. He began to talk about diversifying the agricultural products. He told them to go for high value crops like onions, sugarcane, mushroom and corn etc that fetch good money.
Seraj spoke of integrated farming to the farmer. "I attracted his attention to the space lying open and unused just behind his house. I asked why don't you cultivate vegetables here? I drew his attention to the neglected water body just 20 steps from his house, which had been there for ages. I told him what no one else had told him before. You can clean up the doba and cultivate fish here. I pointed out to him that the cow-dung he throws away everyday can be used to produce biogas," he elaborates. Then came the question of how to cultivate them. In one episode Seraj just took a farmer to the local government agriculture office and nursery where one can get seeds, fertilizer, as well as learn the cultivation procedure from the concerned agriculture officer.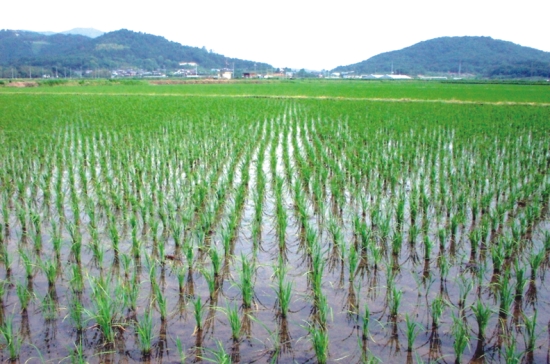 Through his innovative show, Seraj made farmers aware of the benefits and services they could take advantage of from the government's agricultural department
Officials of field level agriculture department seldom make their required field visits on a regular basis. So when Seraj showed in MOM of taking farmers to agriculture offices, it created a huge pressure on them. Farmers grew aware of the existence of such an institution in the first place and they now knew what services they were entitled to receive. The programme helped the farmers to receive the benefits of the agricultural department.
Of course, a few episodes of MOM did not persuade the millions of farmers to embark upon what is being called integrated farming. Seraj also provided another very crucial suggestion -- how the farmers could market their products. "I knew farmers won't do what I was saying if they didn't see any financial benefit in their effort," Seraj says.
For over 16 years, Seraj has been championing the cause of the farmers
Seraj's second most significant accomplishment was to bring in the huge reservoir of educated but unemployed youth in the agriculture sector. The picture of a farmer that emerged in the popular mind was that of an illiterate, half-clad helpless man, who has made poverty and hunger his lifelong companion. "I ventured to rectify the wrong perception people generally held on to; they thought it was disrespectful for an educated person to do farming. Such low esteem for the job of farming was largely due to the poor economic condition the average farmer was in. I knew I could attract these educated young people into farming if I could show this profession had good income prospects," he explains. Besides, Seraj also clarified that being in agriculture did not necessarily mean going to the field and digging and sowing braving the sun and rain. "You can raise poultry and set up dairy farms," he would suggest adding that it requires no big land or huge capital. One could do it on the rooftop or veranda or other small space available. He also gave tips on exactly where they could get chicks, poultry feed and cages. He showed poultry farms in his programme, explaining which cages were the right size and which ones were too congested for the chicks to move along and grow properly. He discussed the common diseases, the symptoms and what to do in case of a particular disease. The result of such tips was quite remarkable. Suddenly there were tiny poultry farms springing up in house corners in Dhaka and other cities as well as the bigger ones in the suburbs, notably in Savar and Gazipur.

Seraj is known for being right in the heart of rural Bangladesh
Looking back he has every right to feel delighted with the results of his initiative and hard work. The extent of that success can be seen from the fact that after one and a half decades since the first batch of poultry farms were established in the early nineties, there are now about one-lakh poultry farms. It has now grown into an industry worth Tk 6,000 crore, and perhaps the biggest one after garments, which directly and indirectly employ five lakh people. Again, new business opportunities like those supplying poultry feed, manufacturing cages, etc have been created centring around these farms.
In 1996 the curtain fell on MOM. Seraj embarked upon a new venture. Along with his long time friend Faridur Reza Sagar he established Channel I, where he is now a director and chief of the news section. Meanwhile things have changed. He is now a national figure. His changed status and influence keeps him occupied in thousands of jobs he would not perhaps do if he had the option. So when he started, rather resumed the programme, under the title of "Ridoye Mati O Manush" (RMOM) after a gap of eight years, he surprised a lot of people. For Seraj it had always been in his scheme of things. "I still foster the same passion and commitment I had during the BTV days," he claims and it is difficult to disbelieve when one considers the sheer amount of time he needs to invest to run a weekly programme of this kind. It not only requires a lot of research, but also regular tours to villages in the remotest corners of the country. "I usually set out at 5 in the morning to avoid the traffic congestion and return at mid-night after a full day's labourious shooting," he gives a sample schedule of his tour days.

A heart to heart talk with a farmer
In RMOM Seraj shifted his focus from what-to-cultivate and how-to-cultivate to policy issues. His decades of experience has convinced him that the ultimate success in agriculture would continue to elude the country until there is a long-term national policy in place. It will have to address all relevant issues and provide a sense of direction, which is missing, Seraj regrets. Successive governments have always dealt with the agriculture sector on an ad hoc basis. Till today Bangladesh has not been able to develop an effective and transparent distribution method of fertilizer. "There has been some sort of trouble every alternate year, if not every year, with fertiliser. Shameless politicisation of dealership has seen artificial crisis of fertiliser time and again. Consequently farmers were forced to buy fertiliser at a much higher price than the real. The governments saw all this and did nothing," Seraj complains. The subsidy different governments have allocated in
Integrated farming has been a major innovation that Seraj has advocated
the budget to help farmers have never reached them. For instance, subsidies were given in the last budget so that the farmer can afford irrigation at a cost that is lower than the market price. But the government dispensed the subsidy money to the pump owners instead of directly to the farmers, expecting the pump owners to distribute it among their farmer clients. In reality, the farmers got nothing, Seraj points out.
For Bangladesh, with its four-fifth population directly or indirectly dependent on agriculture, all policies should be pro-agriculture, Seraj claims. "Look at the budgets, taxes on luxury items like cars, fridge, alcohol are reduced, but governments become miserly when it comes to giving subsidies into the agriculture sector, he says.
He in fact made a separate programme titled "Krishaker Budget" right before the budget for 2006-07 was announced. Seraj put the local level government officers as well as renowned economists like Prof Hossain Zillur Rahman face to face with farmers. What transpired from the ensuing conversation was that the common farmers had no clue about the subsidy, let alone receive any. They also said that they had heard about the budget, but had no idea what it actually meant or how it was relevant to them, Seraj reports.
Seraj believes that this is where the government and media intervention are needed. Farmers will have to have access to necessary information and be made aware of issues that directly concern them; Seraj says he has raised the matter repeatedly in RMOM. The onus is on the government, particularly the thana or upazilla level agriculture officials. Instead of sitting idle in the office and waiting for the farmers to come to them for information or other services, they should visit the fields under his or her command area. Again the critical responsibility of taking the new technologies to the farmers also falls on their shoulders.
With Haripada, who discovered the high-yielding Haridhan breed of rice
Seraj brings out a rectangular piece of paper around 5 inches tall and 2 inches wide. It's called "leaf colour chart" which has four varieties of green. The farmer will have to match it with the leaf of his corn field and after deciding the right match he will accordingly decide about the timing of applying fertiliser, he elaborates.
Seraj feels the greatest challenge of the agriculture sector at the moment is that the farmers are becoming landless. A farmer is now cultivating a piece of land which he once owned, but does not anymore. Many of the small farmers lost their land to Mahajans to pay off loans during hard times such as during floods or monga, a famine-like situation when there is no harvest. Referring to the Communist Party's staying in power for over three decades in West Bengal Seraj says it is due to the land reforms that the party had initiated. The cultivable land will have to be returned to the farmer, he suggests. The government can begin by allocating the Khas land as well as jolabhumi to the farmers and this again is a matter of policy decision. Seraj also believes that the farmers will have to form associations so that they have a voice and be in a position to realise their demand.
Seraj also attaches great importance to the establishment of agro-based industries, which will not only provide a secure market for the farmers, but since such industry has a huge local market, not to mention the foreign one, it will add a great momentum to Bangladesh's economic growth. Seraj gives the example of Pran as an ideal model of agro-based industry and hopes such ventures will be replicated by others. "Pran today uses around 100 agro products, so you can imagine the potential of the local market which has remained largely unexplored," he laments.

Although now wearing different hats - Channel i's director and chief if the news section, he continues to promote better techniques in agriculture through his 'Ridoye Mati O Manush' programme
Bangladesh has more failures than successes. And Seraj believes one of its major successes is the development of the agriculture sector. After liberation, Bangladesh had to import rice to feed only 7.5 crore people. In 2006, Bangladesh stands very close to food autarky, though the population has doubled and the cultivable land has reduced by more than half. The once very expensive rui and pangash fish are now sold at Tk 40 to Tk 50 per kg. Vegetables are no longer winter crops, but available almost throughout the year. Seraj is proud that he has played a significant role in making this huge difference. He has every right to feel that way.
Copyright (R) thedailystar.net 2006