New Flicks
Stranger Than Fiction
Harold Crick isn't ready to go. Period
Genres: Comedy / Romance Sci-Fi
Director: Marc Forster
Distributors: Mandate and Sony Pictures
Starring: Will Ferrell, Queen Latifah, Emma Thompson, Dustin Hoffman


One morning, a seemingly average and generally solitary IRS agent named Harold Crick begins to hear a female voice narrating his every action, thought and feeling in alarmingly precise detail. Harold's carefully controlled life is turned upside down by this narration only he can hear, and when the voice declares that Harold Crick is facing imminent death, he realises he must find out who is writing his story and persuade her to change the ending. The voice in Harold's head turns out to be the once celebrated, but now nearly forgotten, novelist Karen "Kay" Eiffel, who is struggling to find an ending for what might be her best book. Her only remaining challenge is to figure out a way to kill her main character, but little does she know that Harold Crick is alive and well and inexplicably aware of her words and her plans for him. To make matters worse, Kay's publisher has dispatched a hard-nosed "assistant," Penny Escher, to force Kay to finish her novel and finish off Harold Crick.
Casino Royale
James Bond's first mission.
Genres: Action / Adventure / Thriller
Director: Martin Campbell
Distributors: Sony Pictures
Starring: Daniel Craig, Judi Dench, Mads Mikkelsen, Eva Green, Jeffrey Wright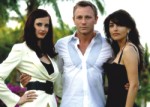 James Bond's first 007 mission takes him to Madagascar, where he is to spy on a terrorist Mollaka. Not everything goes as planned and Bond decides to investigate, independently of the MI6 agency, in order to track down the rest of the terrorist cell. Following a lead to the Bahamas, he encounters Dimitrios and his girlfriend, Solange. He learns that Dimitrios is involved with Le Chiffre, banker to the world's terrorist organisations. Secret Service intelligence reveals that Le Chiffre is planning to raise money in a high-stakes poker game in Montenegro at Le Casino Royale. MI6 assigns 007 to play against him, knowing that if Le Chiffre loses, it will destroy his organisation. The marathon game proceeds with dirty tricks and violence, raising the stakes beyond blood money and reaching a terrifying climax.

---
Top at the Box Office
1. Borat
The search is on
Genres: Comedy / Adaptation
Starring: Sacha Baron Cohen, Kenneth Davitian, Luenell , Pamela Anderson

2. Santa Clause 3: The Escape Clause
His time at the North Pole is about to go South.
Genre: Comedy / Family
Starring: Tim Allen, Elizabeth Mitchell, Judge Reinhold, Wendy Crewson

3. Flushed Away
Someone's Going Down
Genres: Comedy / Animation
Starring: Ian McKellen, Andy Serkis, Hugh Jackman, Kate Winslet, Bill Nighy

4. Stranger Than Fiction
Harold Crick isn't ready to go. Period
Genres: Comedy / Romance Sci-Fi
Starring: Will Ferrell, Queen Latifah, Emma Thompson, Dustin Hoffman

5. Saw III
Sometimes Rules Are Meant To Be Broken.
Genres: Suspense / Horror
Starring: Tobin Bell, Shawnee Smith, Bahar Soomekh, Angus MacFadyen, Dina Meyer
Source: IMDB and YahooMovies
Copyright (R) thedailystar.net 2006