Books
New Thriller Releases
Wild Fire
Nelson DeMille
Warner Books, Inc.; November 2006


Set in October 2002, bestseller DeMille's can't-put-it-down fourth thriller to feature ex-NYPD detective John Corey (after 2004's Night Fall) involves an American right-wing plot to suitcase-nuke two U.S. cities. The idea is to provoke an existing government plan called 'Wild Fire' that automatically responds to nuclear terrorism in the homeland with a nuclear attack that will wipe out most of the Middle East. That such a plan probably exists, according to an opening author's note, heightens the tension. Corey and his FBI agent wife, Kate Mayfield, set off to find antiterrorist agent Harry Muller, who has disappeared after being assigned surveillance duties at the Custer Hill Club, a rich man's hunting lodge in upstate New York. John and Kate are a wisecracking, affectionate, deadly duo, with a new resolve born in the tragedy of the World Trade Center bombing. This tour de force of relentless narrative power neither stops nor slows for twists or turns, but charges straight ahead in the face of danger.
---
Thriller
James Patterson
Mira; June 2006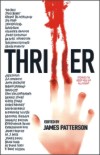 The aptly named Thriller anthology is noteworthy for two reasons: it's the first short story collection ever dedicated strictly to thrillers, and it's the first publication from International Thriller Writers, Inc. Included within this monster 576-page compilation are 30 stories from a jaw-dropping gathering of the genre's biggest stars (and all ITW members): Gayle Lynds, John Lescroart, Lee Child, Eric Van Lustbader, David Morrell, Michael Palmer, James Rollins and Steve Berry, to name just a few. Noteworthy selections include Lynds's 'The Hunt for Dmitri,' which finds former CIA operative Liz Sansborough thrown once again into a life-and-death adventure involving her father, the infamous assassin known as the Carnivore; and Child's 'James Penney's New Identity,' a story about a Vietnam vet on the run that includes a cameo from Child's signature character, Jack Reacher with a brilliantly twisted ending that is on its own worth the price of the book. Like Legends and Far Horizons, the historic science fiction and fantasy anthologies released in the late 1990s, Thriller features a dream list of genre superstars. But this is more than a who's who of great writers. It's a genuine publishing event and, one hopes, just the beginning of many more collections of adrenaline-laced nail-biters.
---
One Good Turn
Kate Atkinson
Little, Brown & Company; October 2006


Whitbread Award winner Kate Atkinson struck pay dirt with her fourth novel, the breakthrough Case Histories, a dazzling thriller that introduced the engaging detective Jackson Brodie. Now, to our everlasting delight, Atkinson returns her protagonist to active duty in this stunning sequel that opens rather spectacularly with a shocking incident of road rage on an Edinburgh street. Witnessed by Brodie and a motley crew of bystanders, this episode triggers a chain of bizarre events linking everyone-victim, attacker, and spectators in startling, unexpected ways. As in her other 'literary' novels, Atkinson digs deep into her characters' lives, rifling through their sad and sinster secrets and exposing complicated relationships with deft precision. Suffused with wit and gentle humor, and enlivened by a folksy, 'entre nous' prose style that turns readers into co-conspirators, here is One Good Turn that surely deserves another.

Compiled by SANYAT SATTAR
Copyright (R) thedailystar.net 2006