Trivia
Almost Had The Role
Dennis Quaid read with Debra Winger for the title role in "Urban Cowboy" (1980), and was assured that he had the part of Bud. But soon after, director James Bridges had to break the bleak news to him that John Travolta was interested in the role. Travolta's successful track record in films at that time meant $33 million in advance film rentals for "Urban Cowboy." Quaid was out, Travolta was in. Being replaced in the film embittered Quaid for a number of years, as his movie career was going nowhere fast at the time. It didn't improve matters for Quaid when "Urban Cowboy" was a hit at the box office.
For the role of Jake Brigance, a white lawyer defending a black man in the big-budget film "Time to Kill" (1996), Hollywood newcomer Matthew McConaughey was selected after Kevin Costner, Brad Pitt, Ralph Fiennes, Bill Paxton, Aidan Quinn, Woody Harrelson, and Val Kilmer had been seriously considered. McConaughey convinced Hollywood executives that he was not only talented, but also had an extra dimension of that illusive "star quality."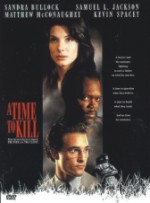 Ali MacGraw was a huge success in the blockbuster tear-jerker, "Love Story" as the tragic, sassy Jenny Cavilleri. As a result, "golden girl" MacGraw was the first choice to play Daisy in Paramount's upcoming "The Great Gatsby" (1974). She turned down the plum role because she was soon to wed Steve McQueen, whom she'd met and fell in love with during filming of "The Getaway" (1972). Macho McQueen made it clear that he expected his young wife-to-be, not yet divorced from Robert Evans, to cut back on her film commitments once they were married. Ultimately, the part went to Mia Farrow. Critics weren't impressed nor kind in their appraisal of Farrow or the film. Time magazine cruelly ripped her performance apart, calling it "...a catastrophe. She works up a mannered creature with bulging eyes and squeaky voice who never suggests Daisy's strength, her greed, or even her gaiety and charm." The film had a mediocre showing at the box office. It's tempting to speculate as to whether MacGraw as Daisy would have saved the film, or if she, too, would have been grilled mercilessly by reviewers because of the bland script.
Charles Laughton gave a brilliant performance as Captain Bligh in MGM's Academy Award-winning "Mutiny on the Bounty" (1935), but he almost didn't get the part. The meaty role was originally slated for character actor Wallace Beery. Laughton was nominated for a Best Actor Oscar, but lost to Victor McLaglen in "The Informer." Laughton was, however, honored by receiving a Best Actor New York Film Critics Circle award.
Tina Turner was the first choice to play the part of the provocative blues singer in Steven Spielberg's "The Color Purple" (1985). After she turned it down, the role of Shug went to actress Margaret Avery, who was nominated for a Best Supporting Actress Oscar.
Meryl Streep won the Best Supporting Actress Oscar, Golden Globe, and New York Film Critics award for her poignant portrayal of Joanna Kramer in the film "Kramer vs Kramer" (1979). However, the role of the deserting mother was originally intended for Kate Jackson, a hot property at the time due to the success of TV's The Rookies and Charlie's Angels. Jackson turned down the part. Streep was still not well known in the industry, but had turned in an elegant performance as Inga Helms Weiss the previous year in the acclaimed TV mini-series "Holocaust" For that role, she won the Emmy for Outstanding Lead Actress in a Limited Series. Her performance in "Kramer vs Kramer" catapulted her film career into stardom.
Sources: coolquiz.com
Copyright (R) thedailystar.net 2006