Reflections
Bomb threats live on
Shamim Ahsan
Exactly 46 days after the countrywide near simultaneous bomb blasts, another series of bomb attacks were launched in the district courts of three different districts in Chittagong, Chandpur and Lakkhipur. All the three attacks were carried out at around 12 o'clock, in an eerily similar fashion as was done on 17/8. The five bombs ingeniously nestled in a book and a geometry box hurled aiming the judges killed two and injured 40, including a judge. The most significant dissimilarity between the two rounds of bomb attacks (one on 17/8 and another on 3/10) is perhaps, unlike the 17/8 bomb attacks where bombers acted on the sly, the executioners this time did not bother to hide themselves. The attackers simply entered the courtroom and threw the bombs aiming the judges in full view of the policemen, court officials, attending people. They willingly ran the risk of getting caught and anything that might happen subsequently, including "death". If anything, it goes to show the strength of their resolve and determination to their cause. But then the second series of attacks are also a proof of JMB's capability, which many of us thought to be on the verge of collapse.
The one and a half months long police operation, perhaps the biggest ever in the history, following the 17 August country-wide bomb blasts has not apparently put the JMB operatives on the run. The October 3 bomb attacks show that JMB still has the organisational capability, logistics and "absolutely brainwashed" foot soldiers to launch more attacks. Intelligence agencies are also anticipating more attacks in the days to come.
The investigation looks like going on in full swing. Not a single day passes by without a few being arrested and police hoping to extract significant leads from them. The significant leads however do not come out, or at least the general people do not learn of them, and neither any big fishes, or JMB leaders or higher echelon are being netted. The police operation seems not to be going beyond rounding up of JMB cadres of the lowest tier. And the end looks nowhere in sight.
There has been one precious capture though in the form of Mufti Hannan, who is charged to have planted a 76-kg bomb in Gopalganj's Kotalipara where the then PM Sheikh Hasina was scheduled to address. A top leader of Harkatul Jihad, another militant Islamic group formed with Afgan War veterans, has consistently denied of his involvement either on 17/8 or 3/10 bomb blasts. He however revealed something not less precious than those of bomb related information. He disclosed of a section of BNP and Jamaat leaders who tried hard to get his name off from the charge sheet on the attempted murder case of Hasina. Sate minister for Water Resources Advocate Goutam Chakravarty's name came up as a signatory on Hannan's mercy petition. Former Home Minister, now Commerce Minister, Altaf Hossain Chowdhury was also reportedly approached for the same purpose. Hannan himself however did not approach Altaf but forwarded his plea through Muhiuddin Khan, a leader of a split part of Islami Oyikkajote and editor of monthly Modina . While Altaf summarily denied even of his knowing anything about it, Muhiuddin termed the news involving him with Hannan as information terrorism, while Goutam admitted adding that he usually recommends any such petition if they bear the signatures of the concerned district's BNP leaders.
Meanwhile the interrogation cell's officers have not yet managed to draw out anything valuable from Hannan whose arrest gave police renewed hope of wrapping up the investigation in no time. Hannan was careful enough to limit his revelation to fighting for Afgan Mujahidden for less than a month and of receiving a bullet injury in his left hand that forced him to come back home.
Hannan also categorically denied of his involvement in 17/8 or any other previous bomb attacks. The investigators however are convinced that Hannan's Harkatul Jihad (Huji) actively took part in the 17/8 bomb attacks in some part of the country, citing the confessional statements of some HZ cadres.
True, Hannan's attempt to get his name dropped from the accused list ultimately failed inspite of a number of BNP leaders, including a couple ministers', not to mention a number of Jaamat MPs all-out attempts. But that in no way exonerate BNP and its alliance partners from the accusation regularly labelled by the opposition especially the ALthat the government has been playing patron and giving shelter to the Islamist extremists. BNP and its alliance's endeavours to secure release for Hannan shows that they have knowingly tried to save (and also shelter as Hannan himself testifies to his interrogators) a dangerous extremist who attempted to murder no less a person than the PM.
The way the government, particularly two lesser ministers and an MP staked their heart and soul to save Bangla Bhai only last year, is also there to freshen the memories of the sceptics about the government' strong fondness for these militants groups to reap petty political dividends.
The idea seems to have been, as long as these fanatics are targeting AL, or the political parties or civil or cultural associations who upheld secular beliefs, BNP is more than glad to play silent spectators. Now that these fanatics have grown so ambitious and so daring they are no more willing to exclude their former patrons' interests and it has finally jerked the government into action.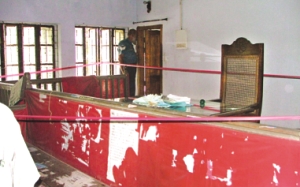 Police also netted an assistant security officer of the Parliament secretariat Abu Taleb Babu Ansari, who had links to JMB and had reportedly co-ordinated the 17/8 August bomb blasts in Jessore. Meanwhile BDR Director General Major General Jahangir Alam's comment at a press conference in New Delhi on September 30 that Indian and local criminals jointly staged the 17/8 bomb blasts was another development that at best worsened the India-Bangladesh relationship. The Bangladesh foreign ministry's subsequent clarification that BDR chief's comment was distorted by the Indian press apparently did little to assuage the Indian anger. Which means the government does not endorse the BDR boss' comment as it was reported in the Indian press. Whatever exactly he said, experts on foreign relations have been unanimous that General Jahangir had a lot of other pressing issues to deal with than to indulge in a subject that does not fall into his jurisdiction.
Babar, state minister for home, is routinely assuring the countrymen that they are fully prepared to face any future attacks by the militants, but following the 3/10 attack on the courts and the police's failure to nab JMB leaders of the higher echelon are forcing the people to anticipate more attacks. It's not exactly a comfortable situation.
Copyright (R) thedailystar.net 2005