New Flicks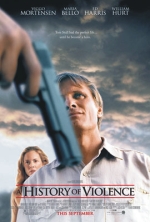 A History of Violence
Tom Stall had the perfect life... until he became a hero.
Genre: Crime / Drama / Thriller
Director: David Cronenberg
Distributor: New Line Cinema
Starring: Viggo Mortensen, Maria Bello, Ed Harris, William Hurt, Ashton Holmes
"A History of Violence" stars Viggo Mortensen as a pillar of a small town community who runs a diner and lives a happy and quiet life with his wife (Maria Bello) and two children. But their lives are forever changed when Mortensen thwarts an attempted robbery and is lauded as a hero by the media, attracting the attention of some mobsters (William Hurt and Ed Harris) who believe he is someone else.
Serenity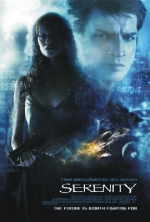 Can't stop the signal.
Genre: Adventure / Sci-Fi / Thriller
Director: Joss Whedon
Distributor: Universal Pictures Distribution
Starring: Nathan Fillion, Alan Tudyk, Adam Baldwin, Summer Glau
Captain Malcolm Reynolds, a hardened veteran on the losing side of a galactic civil war, now ekes out a living pulling off small crimes and transport-for-hire aboard his ship, Serenity. He leads a small, eclectic crew who are the closest thing he has left to family - squabbling, insubordinate and undyingly loyal. When Mal takes on two new passengers - a young doctor and his unstable, telepathic sister - he gets much more than he bargained for. The pair are fugitives from the coalition dominating the universe, who will stop at nothing to reclaim the girl. The crew that was once used for skimming the outskirts of the galaxy unnoticed find themselves caught between the unstoppable military force of the Universal Alliance and the horrific, cannibalistic fury of the Reavers, savages who roam the very edge of space. Hunted by vastly different enemies, they begin to discover that the greatest danger to them may be on board Serenity herself. This is the feature film version of the late, lamented sci-fi cult TV series "Firefly."
Top at the Box Office
1. Flightplan
How can Someone Vanish Into Thin Air?
Genres: Thriller
Starring: Jodie Foster, Peter Sarsgaard, Erika Christensen, Sean Bean, Haley Ramm
2. Serenity
Can't stop the signal.
Genre: Adventure / Sci-Fi / Thriller
Starring: Nathan Fillion, Alan Tudyk, Adam Baldwin, Summer Glau
3. Corpse Bride
Rising to the occasion
Genres: Action / Family
Starring: Johnny Depp, Helena Bonham Carter, Emily Watson
4. A History of Violence
Tom Stall had the perfect life... until he became a hero.
Genre: Crime / Drama / Thriller
Starring: Viggo Mortensen, Maria Bello, Ed Harris, William Hurt
5. Just Like Heaven
It's a wonderful afterlife.
Genre: Comedy / Romance
Starring: Reese Witherspoon, Mark Ruffalo, Donal Logue, Dina Waters
Source: Hollywood, IMDB and YahooMovies
Copyright (R) thedailystar.net 2005