Books
Music Biographies

Chronicles
Bob Dylan
Simon & Schuster Adult Publishing Group; September 2005
This book deals a lot with Dylan's desperate desire not to be anyone's spokesperson, let alone everyone's. The most moving parts of the book, however, come when Dylan talks about his childhood and family in Minnesota. He often refers to his brown-skinned grandmother who smoked a pipe and seems to have been the genetic impetus for young Robert's word-slinging savvy. There is a certain honesty in his telling here that makes us feel like this time and these people are the only things in his life that he never needed to lie about, regardless of whether or not he ever did. It's one of those rare cases where the realities of these things are actually more remarkable than he could have made them up to be. If nothing else, Bob Dylan sure can turn a phrase. He engages the reader (as he does the listener) with his seemingly accidental forays into absolute down-home clarity. He uses metaphor in his distinctly recognisable way, so that we know this book is pure Dylan. Who else could come up with, "My haystacks weren't tied down, and I was beginning to fear the wind." If anyone else had said that, we would call it "Dylanesque."
---
Bono: In Conversation with Michka Assayas
Michka Assayas
Penguin Group (USA); April 2005
Bono's career is unlike any other in rock history. As the lead singer of U2, Bono has sold 130 million albums, won 14 Grammys, and played numerous sold-out world tours, but he has also lobbied and worked with world leaders from Bill Clinton and George W. Bush to Nelson Mandela on debt relief, AIDS, and other critical global issues. He has collaborated with the same musicians for nearly three decades and has been married to his childhood sweetheart since 1982. His life, at all turns, resists the rock star clichés. In a series of intimate conversations with his friend Michka Assayas, a music journalist who has been with the band since the very beginning, Bono reflects on his transformation from the extrovert singer of a small Irish post-punk band into one of the most famous individuals in the world; and from an international celebrity to an influential spokesperson for the Third World. He speaks candidly about his faith, family, commitment, influences, service, and passion. Bono: A Self-Portrait in Conversation is the closest we will come, for now, to a memoir from the iconic frontman of U2.
---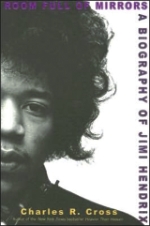 Room Full of Mirrors: A Biography of Jimi Hendrix
Charles R. Cross
Hyperion; August 2005
In this in-depth account of Jimi Hendrix's life, bestselling author and music journalist Charles R. Cross paints a far deeper, more compelling portrait of this musical genius. Beyond his legendary sex appeal, his drug use, his onstage presence, and his backstage magnetism, Room Full of Mirrors captures the whole man, from birth to death - a view of Hendrix unlike any revealed before. Coinciding with the thirty-fifth anniversary of Jimi Hendrix's death in 1970, Room Full of Mirrors is the definitive biography of rock 'n' roll's greatest guitarist. Meticulously researched, it is based on more than three hundred interviews with those who knew Hendrix best - more than half of whom have never spoken about him before. Unlike any prior biography, this book recounts the entire arc of Hendrix's life: from his troubled childhood in Seattle's projects and the early loss of his mother, to his struggles against racial prejudice as a young musician and his rapid ascent to the top of the swinging London scene, and finally to the apex of his career headlining Woodstock in 1969, with his death a year later. Drawing on never-before-seen documents and private letters, Room Full of Mirrors unlocks the vast mystery of one of rock's most enduring legends - a man who, in 27 short years, managed to rise from poverty, set the world aflame, and inadvertently extinguish his own burning talent.
(Source: Bookworm)
Compiled by: Sanyat Sattar
Copyright (R) thedailystar.net 2005