JCB (Junior Chamber of Bangladesh) a voluntary organisation played host to the 3E summit for young entrepreneurs. During the summit a three-day long seminar, workshops and an exhibition was held in Dhaka Sheraton. It was inaugurated on September 24. A multicultural bonanza marked the opening night. Dubbed the International Night, it was a cultural show where the embassies, various foreign organisations in Bangladesh and artistes came together to delight the audience.
Guests from all over the globe get on the floor for a Scottish dance.

(L)A taste of rural Bangladesh. (R)A colourful number from members of Indonesian Women's Welfare Association.
Korean Embassy staff perform a flute and piano duet.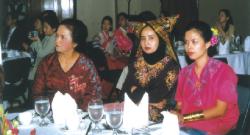 Guests in colourful national dress at the International Night.