A Jatiya Oikyafront delegation led by Dr Kamal Hossain yesterday walked out of a meeting with Chief Election Commissioner KM Nurul Huda for what they said was "discourteous behaviour" of the CEC.
The CEC and leaders of the opposition alliance comprising BNP and some other parties were locked in a heated exchange at the meeting over the role of police during the electioneering.
"When we began to complain about the police role, he [CEC] took their side," Nazrul Islam Khan, a standing committee member of BNP, told reporters before leaving the Nirbachan Bhaban.
"We don't expect such behaviour."
BNP Secretary General Mirza Fakhrul Islam Alamgir too said, "His [CEC's] behaviour was discourteous."
Later at night, the Oikyafront at a press conference demanded immediate resignation of the CEC and appointment of a "neutral person" to the post for the sake of a free and fair parliamentary election.
The alliance said it complained to the Election Commission with evidence of police showing unconstitutional and aggressive attitude, physically assaulting opposition candidates and supporters, harassing leaders and activists going to their houses and obstructing campaigns.
It added that the opposition leaders were not only outraged but also surprised and upset as the CEC rejected the allegations making indecent and biased statements.
The meeting, which lasted for about two hours, came amid the civil society's concerns about the absence of a level playing field and continued attacks on the opposition camps in different parts of the country.
The BNP and other opposition parties have long been alleging that a congenial atmosphere for polls is absent.
Even Election Commissioner Mahbub Talukdar twice said there was no level playing field. But the CEC never agreed on this and the discord between the two hogged the headlines as they publicly spoke against each other over the issue.
According to media reports, motorcades and campaigns of at least 45 candidates of Oikyafront and the BNP-led 20-party alliance have been attacked allegedly by AL men.
And over 1,050 people, mostly BNP men, have been injured in the electoral violence since campaigning began on December 10.
The BNP also alleges that its leaders and activists are being harassed and arrested throughout the country even while campaigning. The party has lodged a few dozen complaints with the EC.
FROM INSIDE THE MEETING
Yesterday's meeting began around noon.
Dr Kamal Hossain, who was leading the 10-member delegation, started briefing the CEC and other commissioners at the beginning of the meeting.
He alleged that the opposition leaders and activists were being arrested, attacked and even their posters were being torn in different parts of the country, several meeting sources told The Daily Star.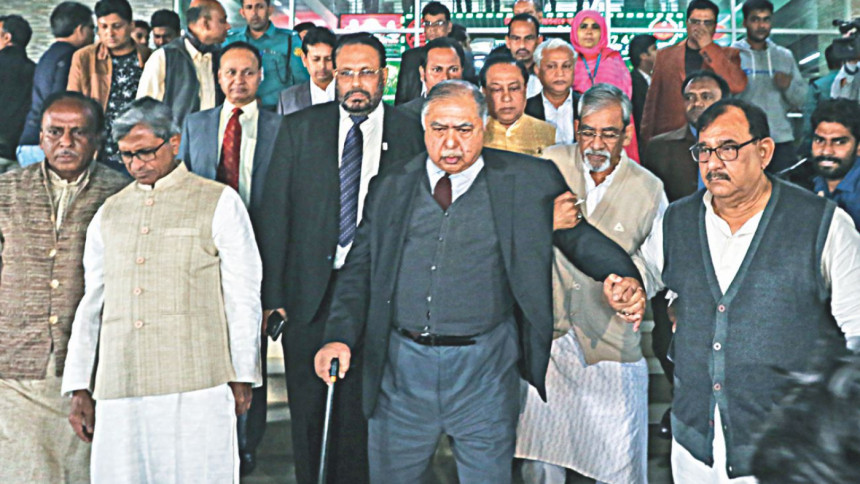 The eminent jurist also said the opposition candidates came under attack by ruling party men and the role of police was questionable.
"You are the chief election commissioner. Right now you are more powerful than the prime minister with regard to election," he said, according to multiple sources.
"I am begging you that please take steps to hold a free and fair election. Save the country and uphold democracy.
 "I had the privilege to do politics with Bangabandhu Sheikh Mujibur Rahman. I never saw such an election atmosphere in my life."
He also said some police officials were acting like "beasts".
The CEC told Dr Kamal, "You cannot label a force in such a way. Whatever police are doing are within the legal framework. Who do you think you are?"
Other commissioners tried to calm him down.
Dr Kamal then said, "You are the judge. You are not a witness. You should investigate the incidents and take action. You should not take any side.
"If you don't take any action within a day or two, I may get killed. But don't you attend my namaz-e-janaza."
DEMANDS, COMPLAINTS
After this altercation, Oikyafront leaders demanded withdrawal of four police officials -- officers-in-charge of Muradnagar and Nangalkot police stations and Detective Branch of Dhaka and a sub-inspector of Keraniganj Police Station.
BNP leaders Mirza Fakhrul, Abdul Moyeen Khan and Mirza Abbas, Gonoforum leaders Mostafa Mohsin Montu and Subrata Chowdhury shared their experiences.
They sought EC's intervention in ensuring a free and fair election and "restraining the police from terrorising and intimidating the opposition candidates"
The leaders cited 88 cases of attacks on candidates by the AL "where no protection was provided by the police", the meeting sources said.
Gonoforum leader Mostafa Mohsin Montu, a candidate of Jatiya Oikyafront for the December 30 polls, talked about police excesses and showed the CEC injury marks in his hands.
BNP leader Mirza Abbas said he has never gone to anyone with complaints before. "But now I came here with complaints. Please take some steps."
Abdul Moyeen Khan said, "I never say anything to anyone. I want to campaign as a gentleman. My men were beaten up before my eyes. I could not save them at this age."
Hearing all this, the CEC said, "The allegations against police are baseless. If there is any such incident, show me."
Then a member of the delegation said, "Let's go to any constituency and see for yourself."
The CEC then responded, "I am rejecting your allegations."
Dr Kamal right away stood up and said, "I will not stay here anymore and will never come to you."
The delegation then left the conference room.