"I will be the real game changer at the next election."
HM ERSHAD
Jatiyo Party Chairman
about the possibility that he would become the deciding factor to form government in the next election and might become the premier.
"We have been running Grameen Bank effectively. Three and a half crore taka has been embezzled from the government-owned Sonali Bank. Allow us to run Sonali bank and then watch how effectively we run it."
ROJINA BEGUM
former board member of Grameen Bank
about the change in the managing director selection procedure of Grameen Bank by the government.
"I will give you some examples to describe the problematic behaviour of it. They eavesdrop illegally, do warmongering, which is totally, totally, totally unacceptable."
AMA MUHITH
finance minister
about World Bank's integrity vice presidency terming it as a jihadi institution.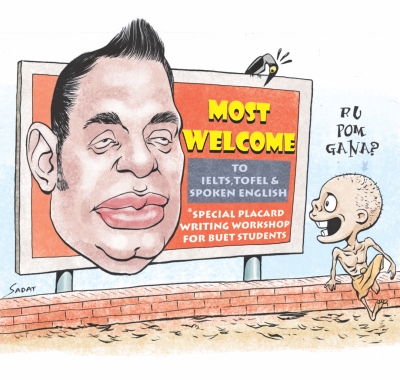 "(Are) you pom (from) Gana (Ghana)?", "You think Bangla chhobi (films) hero means they are uneducated?" "You are living in Bangladesh, ok, man, you have to respecting Bangladesh because you are eating food from Bangladesh."
ANANTA JALIL
Dhallywood action movie star
to a bunch of youths who pointed him out at a restaurant.
"Hall-mark's Tanvir seemed like a very good person when I talked with him. Thousands of people work for him. How could I have known then that he is a thief? Say for example I am smiling and talking with you, if I come to know later that you are different, what can I do then?"
SYED MODASSER ALI
health adviser to prime minister Sheikh Hasina
when asked about his relationship to Hall-mark's managing director Tanvir Mahnud, involved in the Sonali Bank fund embezzlement scam.
---