Cover Story
The Cycle of Impunity
The latest attack on Limon, the murder charges against his family and the police report clearing the RAB of all charges highlight, once again, the state's ruthless disregard for the rule of law in its determination to ensure impunity and immunity of its law enforcement agencies.
| | |
| --- | --- |
| | |
| Photo: Star File | |
Sushmita s Preetha
With tears of frustration in her eyes, Limon's mother, Henoara Begum, asks the question that has been haunting the conscience of every discerning citizen of Bangladesh, "When will they leave him alone?"
Eighteen months ago, the young college student, Limon Hossain, from Sathuria village, Rajpur, was shot by the Rapid Action Battalion (RAB), and subsequently, maimed, allegedly on the suspicion that he was a terrorist, despite repeated protests by Limon and people who knew him in his hometown, that he was innocent. Time and again, he was brutalised, harassed and humiliated by multiple state institutions, including the Home Ministry – so much so, that he finally cried out, "Give us poison, please let us just die." Meanwhile, two false cases were pressed against him for illegally possessing arms and ammunition and obstructing law enforcement agencies from discharging their duties. The RAB claimed that Limon's bullet injury had occurred during a shoot-out and that he was an associate of a local criminal named Morshed.
The RAB's elaborate conspiracy – an intricately-woven story that has quite a few inconsistencies – against the 16-year-old might have succeeded had it not been for the vigilant stance taken by the media and civil society both in Limon's hometown, Jhalokathi, and all around Bangladesh. Limon was in the headlines of every major newspaper in the country; there were human chains, protests, petitions and Facebook campaigns demanding 'justice for Limon' and an end to his sufferings. National and international human rights organisations lent their support – legal and otherwise – to ensure that Limon would not be relegated to the sidelines. Limon became a national hero. As a result of the tremendous pressure exerted on the state by the citizens of Bangladesh, the government formed five different committees to investigate the incident.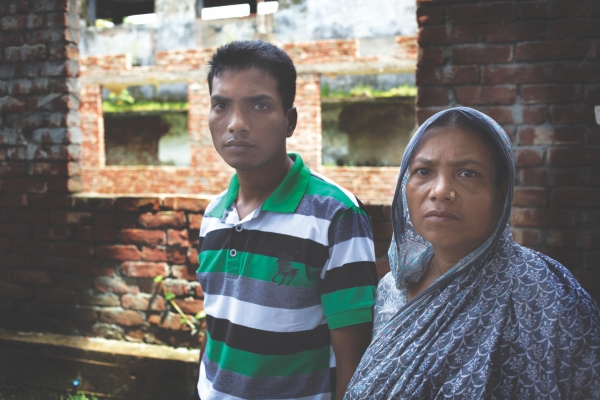 Over the last 18 months, Limon and his family has had to go through endless difficulties,
Photo: Taslima Akhter
| | |
| --- | --- |
| | |
| | Photo: Star File |
For a while, it almost seemed as if justice would prevail. "I began to hope again," recalls Limon, despite the false cases and continuous threats against him and his family. "After I lost my leg, I thought I would rot in jail. I couldn't even imagine leading a normal life again. Thanks to the efforts of organisations like ASK (Ain O Shalish Kendro), the media and the people of Bangladesh, who protested in every corner of the country for me, I started to believe that I could go to college again, interact with my classmates and pursue my dreams, be able to lead a healthy and proper life," says Limon.
But fate – or perhaps it would be more appropriate to say, the state of Bangladesh – had other plans for him. The day before Eid, on August 20, the Sub-Inspector of Rajapur Police Station, Halim Talukder, who investigated the case filed against RAB by Limon's mother, submitted an investigation report to the Senior Judicial Magistrate's Court of Jhalokathi, clearing the RAB of all charges. "The allegations brought against the RAB were not proved in the investigation," Taluker said confidently. "The plaintiff did not provide enough information to substantiate allegations made in the case."

In other words, according to the police report, the RAB did not shoot Limon. This contradicts not only the eye-witnesses' accounts, the findings of ASK's investigation unit and reports of countless journalists who conducted independent inquiries in the area, but also the statements of the government and high-up RAB officials, at different times admitting that Limon was an accidental victim. In fact, the director general of RAB, Mokhlesur Rahman, had initially said that Limon was an unintended casualty of a shootout between RAB and a criminal gang; a few days later, however, his tune changed as the government issued a statement claiming that Limon was a terrorist, involved with the criminal group. More telling was the police report submitted last November by Sub-inspector Shafiqul Islam, which stated, "It was learnt during the investigation that Limon Hossain, son of the plaintiff, was injured in Rab firing…."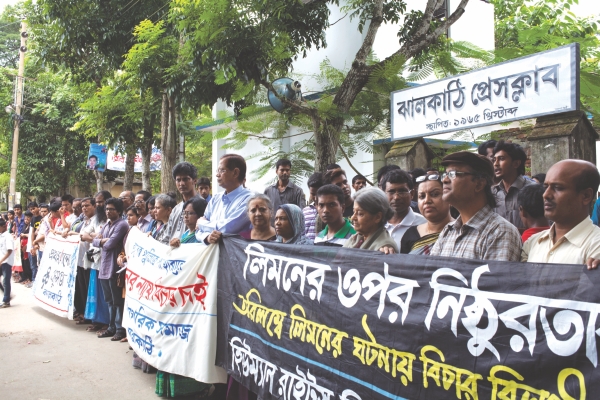 A group of activists, writers and academics from Dhaka joined the local human rights defenders and
well-wishers in a human chain. Photo: Taslima Akhter
Meanwhile, in June 2011, the Prime Minister Sheikh Hasina herself commented that there was no evidence to show that Limon was in any way involved in terrorist activities. She also ordered an investigation of the RAB officers implicated in the incident. What is interesting – and deeply troubling – is that her statement was withdrawn within four hours, even though by then it had been widely circulated by the media.
Human rights defenders and activists involved with the case are convinced that the police report is false and that the state itself, along with its other institutions, are going out of their way to protect the interests of the RAB. "If the RAB did not shoot Limon, who did? The cows grazing on the field?" asks an enraged Hameeda Hossain, prominent human rights activist and chairperson of ASK. She points out that, although five commissions have been formed, as of date not a single report or document has been released or published for public scrutiny. The committees, chosen exclusively by the government, inevitably tend to be biased, perpetuating the half-truths posited by the powers-that-be.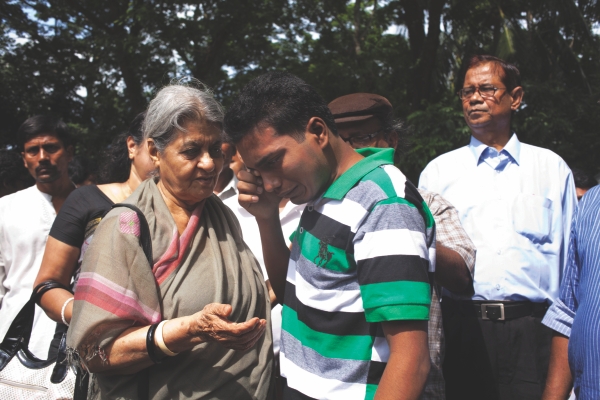 A visibly upset Limon turns to Hameeda Hossain for comfort. Photo: Taslima Akhter
On a similar note, one can question the authenticity of a police report presented by a police force that had initially refused to accept the case filed by Limon's mother against six RAB personnel. As such, Henoara Begum, who has determinedly fought to protect her son's rights, submitted a no-confidence petition before a Jhalakathi court on August 30 challenging the police final report. The court fixed October 17 as the date of hearing for the petition and instructed the police to submit all the documents and papers related to the case.
If the report published on August 20 wasn't disgraceful enough, Limon and his family were attacked the very next day by Ibrahim Howladar, widely known as a RAB source. It was Eid and Limon had come back home after a long time to be with his family. "Since my treatment, I haven't been able to return home because of repeated threats. In order to remain safe and to continue my studies, I live in a rented place elsewhere. But my uncle went to bring me home because it was Eid, even though we weren't really in a mood to celebrate after the report submitted by the Rajapur thana police," shares Limon. According to Limon and his family, Ibrahim started to curse them in indecent language while they were taking photographs in a nearby field. "When I told him not to behave that way, that we were leaving, he hit me so hard that my ear drum got ruptured; he also attacked my family when they tried to stop him," says Limon.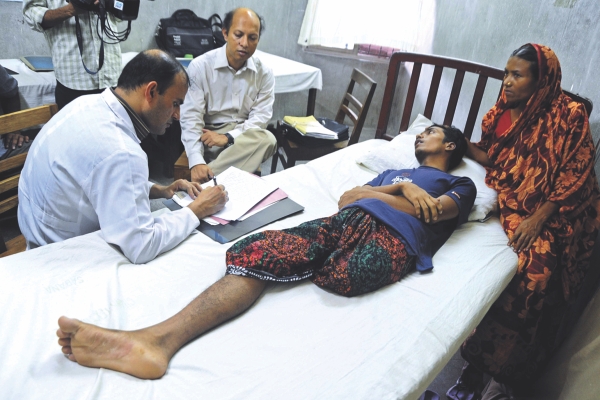 Limon has become a symbol of the state's failures. Photos: Star File
| | |
| --- | --- |
| | |
| Photos: Star File | |
Ibrahim maintains that it was Limon and his family that attacked him and that he was merely acting in self-defence. In addition, he filed a murder case against Limon's family, claiming that they beat his brother-in-law, Forkan, to death. Right after Forkan's death, however, Lily – Ibrahim's wife and Forkan's sister – had filed an unnatural death case with the Rajapur Thana Police Station. Her case statement reads that her brother had fallen sick while running to Idurbari Bridge area on hearing that Ibrahim had been "attacked" by Limon's family members. The doctors declared him dead when he was taken to the hospital. Ibrahim says that his wife had merely signed the statement that had been drafted by the police.
Jhalakathi police superintendent Md Mazid Ali says that they need to conduct further investigations before they can make any conclusive remarks about Forkan's death. According to the post-mortem report, however, there were no marks on Forkan's body to suggest that he had been beaten. The police also confirmed that it was, indeed, Ibrahim who had attacked Limon and his family.
The local people of Jhalokathi say that Ibrahim is involved in a wide range of illegal activities and is publicly known as a RAB informant. RAB, however, denies any connection to Ibrahim. The Home Ministry, too, has backed the RAB's statement, with Sahara Khatun reiterating that law enforcement agencies are not involved in any capacity in the new cases against Limon.
If the RAB's claim is true, then the question arises as to why it is letting Ibrahim run free, knowing that he has been impersonating a RAB source. Besides, what gives people like Ibrahim the courage and the opportunity to continuously harass Limon and his family if there isn't at least a tacit agreement between them and law enforcement agencies? The attack on Limon was not an isolated event; it was the culmination of a series of threats and verbal assaults against him and his family since he was shot last year. This signifies a grave failure on the state's part to protect a citizen who has already been subjected to such injustice.
As Limon asks, "I am only a child, I am a citizen of this country. Why this torture, why this injustice and inhumane behaviour against me time and again? All this time, at least I was the one suffering from insecurity but now my whole family is insecure and vulnerable. We are seeing that those who are poor and vulnerable, there is no law for them in this country. The state has robbed me of my leg, but there is no one to bring the perpetrators to justice, how is this possible?"
| | |
| --- | --- |
| | |
| | Ibrahim Howladar, the RAB informant, who allegedly attacked Limon and his family. |
Human rights activists are livid at the latest developments and believe that the physical violence and murder case against Limon may be an attempt to intimidate and silence him. The fact that the police report rids the RAB of all blame speaks volumes about the impunity and immunity enjoyed by the elite forces, and shows the extent to which the state would go – and the sacrifices it would make – to protect their legitimacy. Despite countless reported and unreported cases of crossfires, disappearances, torture, violence and other human rights violations, the RAB continues to be held unaccountable for any of its actions.
"Fourty-two years after independence, is this what we have really achieved? That our law enforcement agencies will not accept or admit their mistake of shooting a 16-year-old child?" says Junayed Saki, political activist and coordinator of Gonoshonghoti Andolon. "At first they admitted their mistake, but later they realised that if they admit to one wrong, people will challenge them and want justice for all their gross violations. So instead they framed Limon as a terrorist, to hide their own wrongdoings."
Limon has now become a symbol of the failure of democracy and the rule of law; simultaneously he also presents the possibility of a new movement towards establishing peace, justice and security. "Through Limon, we are also challenging the fact that the RAB is above the law," comments Hameeda Hossain. She points out that before the RAB, there was Operation Cleanheart, and before that, the Rokkhibahini, which had impunity to shoot on sight. There was no accountability. However, as Khushi Kabir, Coordinator of Nijera Kori, argues, "If we allow a law enforcement agency to be above the law, then what is the point of having laws or courts or a sovereign state?"
Rahnuma Ahmed, writer and activist, states that it is up to us, to social and political activists, to carry forward the beacon, to build up a social movement, around the whole issue of the impunity provided to RAB. "We must remember that a blanket impunity has been provided not only by this government, but the military-installed caretaker government, and the preceding BNP-Jamaat government, which had formed this elite force in 2004," she says.
Henoara Begum's no-confidence petition challenging the
police final report was accepted by a Jhalokathi court.
Photo: Taslima Akhter
Ahmed also highlights the gross injustices carried out by the elite forces over the years. "Limon has survived to tell the tale, others haven't, such as, Rasal Ahmed Bhutto, a 34-year old shopkeeper, who was picked up by RAB, brought back to his neighbourhood and shot dead. Or, Mohiuddin Arif, the young surgery technician at Apollo Hospital, who was picked up by the RAB, and tortured to death. Then there's Kaiser Ahmed Bappi, a model, and the numerous members of underground left parties, killed in purported 'encounters.'"
In order to counter 'terrorism', the state itself is engaging in acts of terrorism, argues Arup Rahee, cultural activist and singer. "'Crossfire', 'encounter,' and 'gunfights' can only address some of the symptoms of 'terrorism', not the conditions that give rise to 'terrorism'," he says.
Following the report and the attacks, a group of activists, writers and academics from Dhaka went to Jalokathi on August 30, to join the local human rights defenders and well-wishers of Limon in a human chain demanding an end to all injustices against the now 17-year-old.
They demanded that a judicial commission be formed with people dedicated to the task of upholding human rights to identify and punish the perpetrators through the judicial process. They also demanded that all harassment against Limon be stopped immediately and the rights to life and security be guaranteed to Limon by the high-ups in the government. In addition, they argued that all extra-judicial powers of law enforcement agencies should be curbed, and they should be restructured to act as protectors of the constitutional rights of citizens.
| | |
| --- | --- |
| | |
| Will there be many more Limons if we continue to provide impunity to our law enforcement agencies? Photo: Star File | |
Elite forces have come under the scrutiny of national and international human rights organisations time and again for their unapologetic violations of citizen's rights. On July 4, 2012, Human Rights Watch (HRW) released a report documenting the serious abuses by RAB, which was immediately dismissed by RAB spokesperson Commander Sohail as "baseless and intentional". He blamed some "local upstart human rights organisations" for helping HRW to conspire against Bangladesh. State Minister for Law Qamrul Islam said, "The people, who wanted to make the country dysfunctional, have a link with the HRW report. This is high time to take stern action against the NGOs responsible for publishing the baseless report." Even our Human Rights Commissioner, Mizanur Rahman Khan, excused the state-sponsored terrorism, arguing that the US army too engages in similar practices.
Whether the HRW was sanctimonious in its criticism of Bangladesh is a different discussion; what is more relevant is the reaction of different quarters of the government to allegations of grave human rights violations by its own institutions. Instead of using the age-old excuse of accusing someone of tarnishing the image of the country, the government could have investigated the allegations and taken steps to rectify their mistakes.
Elite forces in the country have become so powerful that no one dares to challenge them anymore. Any resistance is met with aggression and threats – or worse, with enforced disappearances. Such acts of oppression are expected to occur under authoritarian regimes, not in a democratic country like Bangladesh. The only hope lies in the fact that no government, not even autocratic ones, however strong, can withstand the might of the people.
The people are undoubtedly on Limon's side – and maybe that's why he is such a threat to the powers-that-be.
---