Event

An Artiste of the Broken World
Akram Hosen Mamun
| | |
| --- | --- |
| | |
| | Photo: Courtesy |
"She brought with her a breath of Oxford Street and Regent Park. She was dressed very tastefully—the colours coordinated with painted dark nails and Italian shoes and expensive crystal sparkling jewellery. Her perfect enunciation and her voice held me spell bound," said Professor Rebecca Haque, the chair of the Department of English, Dhaka University (DU), as she remembered the time when she first saw literary stalwart Razia Khan Amin in early 1974 at the Arts Faculty, talking about "The Rime of the Ancient Mariner" with her favourite student Dr Selim Sarwar. Later, during her MA courses, she got to meet Razia twice a week for a full year.
Razia taught Shakespeare's Twelfth Night to MA students at that time. "With her perfect intonation and dramatic rendition, she was at once the serene, sincere Viola, then she was the coy Olivia, then she was the drunken Sir Toby; and when she did parody, it had her and us rollicking in laughter," she said. Then she went on to name all the things Razia Khan is: "a dramatist and actor with unique genius and a writer of poetry and fiction– dimensions of her personality touch all spheres of academia, culture and the arts. She was also a very potent member of a creative writers' association, she was a member of the Film Censor Board." Rebecca Haque also showed the first editions of some of Razia Khan's books and read out some poems.
The occasion was Razia Khan's 76th birth anniversary. On February 16, renowned intellectuals got together to go down the memory lane, not to grieve her passing but to rejoice in the memory of literary stalwart Dr Razia Khan. Academics of the Department of English of different universities, journalists, and theatre personalities talked fondly about their memories of the litterateur.
The programme was titled, "A Colourful Life Intensely Lived". The discussants gave a nostalgic flashback into the 60s, 70s and 80s, but their humourous anecdotes kept eliciting laughter in the audience. Emeritus professor Serajul Islam Choudhury, considered a rather serious personality, recalled amusing encounters with Razia Khan and could hardly conceal his own mirth.
Razia Khan joined as a lecturer at the Department of English, University of Dhaka (DU) in 1962 and became a professor of the department in 1997. As a result, most of the professors who teach at the department now are her former students and colleagues.
She was a contemporary of Serajul Islam Choudhury, Basanti Guhathakurata and AKM Aminul Islam. Choudhury noted, "Of the four of us, only I am still here, among you." But as he kept remembering the old times, his mood transformed.
"Razia's husband Anwarul Amin and I were classmates. The schools were in Sadarghat. He took the murir tin (beat up public buses) to Lakkkhibazar, and then we walked to school together."
He also observed that meritorious literature students hardly make good writers. But Razia Khan was an exception. She wrote "Bottolar Upannas" at age 18. She won a PEN literary award in '56. The novel also won her a Bangla Academy Award in '74.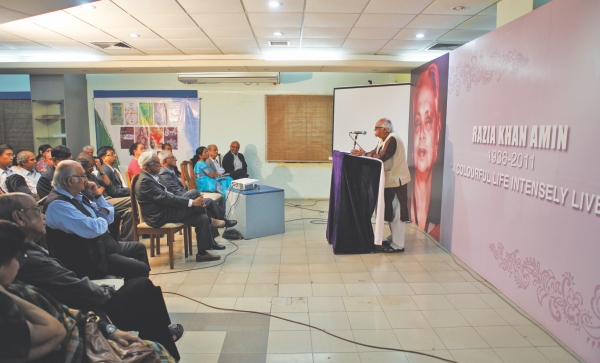 Professor Zillur Rahman Siddiqui, former VC of Jahangirnagar University recalls the time when Razia
joined as lecturer of the Rajshahi University where Siddiqui was head of the English department.
Photo: Star File
Former secretary, Mohammad Asafuddoula said that Razia's Bangla was perfect. At that time the people who wrote Bangla prose, lacked sophistication. But her prose was sophisticated and urbane. Choudhury remembered that whenever somebody used wrong Bangla expressions, Razia was quite incensed and seldom refrained from expressing her frustration.
Back in the days when female actors were a rarity on stage, Razia made quite a name as a spontaneous and talented actor.
Choudhury recalled a funny incident in which Zillur Rahman Khan was playing tennis at the tennis court at Dhaka Hall (now Shahidullah Hall) one day. All of a sudden, dramatist Nurul Momen called him up. Momen was staging a play on the second floor. But the actor, who was supposed to play the protagonist, had suddenly fallen ill. Momen probably assumed that Zillur was familiar with the plot. But that was not the case.
| | |
| --- | --- |
| | |
| | Emeritus Professor Serajul Islam Chowdhury recounts a funny incident about his contemporary Razia Khan. Photos: Courtesy |
| | |
| | Dr Rehman Sobhan remembers a few 'Razia moments'. |
Before realising what was happening, Zillur saw that he was being made up and pushed on to the stage. Naturally, he made a mistake in the very first dialogue. Razia, who was the female protagonist, came up to him and said—sotto voce—"Zillur Bhai you are my husband, not lover". It was her ready wit that saved the day for Nurul Momen.
Professors of the English department, DU Serajul Islam Choudhury, Kaiser Haq and Syed Manzoorul Islam were of the opinion that Razia Khan did not like being labeled a feminist but always declared that women were equal to men in all respects. She also regretted that the kind of liberty that boys used to enjoy was barred from girls.
Asafuddoula asserted that Razia was a feminist. He remembered with fine details how Razia and he grew up in the same neighborhood in Faridpur. "Her mother passed away when she was quite young. Since her father was involved in politics, he was terribly busy most of the time. So Razia was rather lonely during her childhood," he said sadly.
However, Professor Zillur Rahman Siddiqui and Dr Rehman Sobhan appeared to be in a mood for fun and jokes. "Everyone amongst us has had their 'Razia moment'," said Sobhan making everyone laugh at the witty comment.
Dr Rehman Sobhan was introduced to her by Professor Abdur Razzaque. "He, of course made the usual encomiums to Raju. But he also cautioned me about her to 'handle with care'," he said. At that time, Razia was moving away from Rajshahi. "I asked her, 'So what do you intend to do now?' She said, 'Mr Sobhan, that is neither yours nor any one else's business'." From that Razia moment, Sobhan always remembered Razzaque's cautions.
Later, in 1969, when Sobhan started a weekly called Forum, he asked Razia to be a regular columnist. Sobhan said that she wrote a series of pieces on Bangla literature with brilliant and evocative titles like "The Myth of Sisyphus" and "The Gift of Parnassus". The contents were equally eloquent.
Ramendu Majumder was a student of the Department of English, DU from 1961-65. "It was the time of Dr Syed Sajjad Hossain," he said, "Those of you, who are his students, know the harsh and almost heartless rules we had to follow. I was unfortunate to have to take tutorial classes under him for two years." He remembered with horror, how terrible it was when Professor Hossain insulted them in front of the girls. "However, the humiliation was compensated at Razia Khan's tutorial classes," he said. In the drama classes, she asked students to read the dialogues. And in the last15 minutes she discussed the play. "This technique of hers proved to be very effective," he concluded.
Professor Syed Manzoorul Islam and Kaiser Huq are both renowned for their own writing. They are also among the most influential academics of literature. They asserted that Razia was one of the teachers who played a major role in developing their consciousness. "She taught us how to teach in the classroom" said Islam. "She taught us some of the most difficult texts by Milton and Dryden. I never imagined that Paradise Lost could be taught with so much fun," he said remembering that at one class Razia asked students why Eve got tempted by Satan. The students could not answer. Razia explained: "Adam was fond of his wife but he was the kind of husband who took his wife for granted. Nowhere in Paradise Lost does he praise her. And in came the Satan and showered her with all the praise, so I'm not surprised that she was tempted."
Kaiser Huq has a good reputation for his keen sense of humour. Although he was a student of Razia, once he had to be the supervisor of her doctoral dissertation. As Huq narrated the story, everyone broke into spontaneous laughter.
Noted journalist Syed Badrul Ahsan concluded that most of the people in the audience were his teachers. He confessed that he felt nervous though this didn't fail to amuse them and the rest of the audience with his usual wit.
The speakers gave a wonderful glimpse into the multifaceted personality that Razia Khan Amin was. As Sirajul Islam Choudhury, in a rather serious note concluded his speech said, "Razia Khan's birth and life is many times more significant than her passing."
---