Star Diary

Isn't it unfair?
A few days ago, on my way to a restaurant, I noticed something distressing. My uncle and I were sitting in the car, when a little boy came up to the window, begging for money. My uncle, however, did not pay the poor boy; rather he scolded the helpless child, and rolled up the window. I felt bad about what he did but I did not say anything, as after all, he was my uncle and older to me. However, when we arrived at the restaurant, we sat at the table and enjoyed the food despite the thought of the poor child still lurking at the back of my mind. But what was really heartbreaking was when it was time to pay the bill. I saw my uncle giving the waiter Tk 30 as tip. This really troubled me. If he could give the waiter Tk 30, then why couldn't he give even a single taka to the starving child? Or at least buy the child a meal for a day? Tk 30 seems like a big amount when giving to any poor beggar, but enough to give as a tip to a waiter.
Niloy Rashed
The Aga Khan School, Dhaka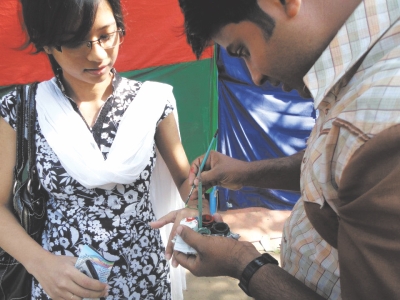 Unfair Demand
Last Saturday, we were taken on a trip to the Ekushey Boi Mela from our university. Having never been to the book fair before, I was fairly excited. I roamed around the stalls, admiring the books and the surroundings, when I saw a girl getting the Shaheed Minar painted on the back of her hand. I felt that as a "newbie" to the book fair, I should get it done too. I asked my friends how much it cost to get it done, and they said it should not cost much around Tk 10, maybe Tk 20 at the most. So I got a flag painted, but when I was about to hand a Tk.10 note to the artist, he surprised me and my friends by saying he wanted Tk100 for it! He kept saying he was a student, that this was a special month, how he needed the money very badly and other pitiful statements– all very well rehearsed. It was still early in the day and we did not want to create a scene, so we just gave him a Tk100 note and left quietly. But it certainly put a damper on the rest of the day and I think the authorities would be well advised to look into this matter.
Nifath Karim
Dhanmondi, Dhaka
---
Of Cricket and Gambling
The game of Cricket is no longer about sportsmanship: it is now all about money and gamble now. Gambling during games are common the year round, but recently it has become a serious concern, as the Bangladesh Premier League (BPL) games have kicked off. People spend a lot of money gambling and betting on matches, they remain glued to the television, leaving their work or study undone. What is even more disturbing is the fact that members of the young generation are addicted to these forms of gambling. It is also very depressing when people who actually love the game for the game itself cannot watch it in peace.
The other day I had been to a local club to watch a BPL match on the club's big-screen television. But as I entered the club, I noticed that it was very noisy and this was because people were betting on outcome of the match. It was impossible for me to peacefully watch the match; the club looked like a gambling den. I even saw students in uniform holding wads of cash telling each other, "How many runs from this ball?" A game that brings heaps of money instead of delight is not really a game. We need to take some sort of action against this culture because it will destroy our future generation. Every conscious citizen should work to promote a healthy mindset towards not only cricket but all types of sports.
Sabbir Ali
Banani, Dhaka