Food for Thought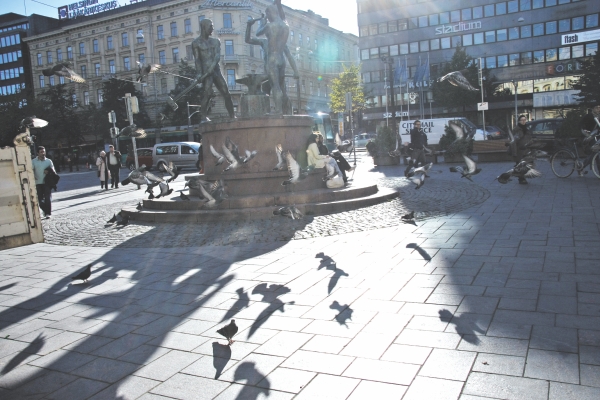 Airport Adventures of the Worst Kind
Farah Ghuznavi
I recently watched a brilliant YouTube clip by the American comedian Louis CK, where he was complaining about those who complain about flying. He made the very valid point that the idea of sitting in a chair in the sky is actually quite mind blowing, and anyone who has the opportunity to do this should be grateful for it. I have to admit, he has a point. Air travel is undoubtedly one of the ultimate modern-day miracles. Then again, sometimes the problem with air travel has nothing to do with flights and the experience of flying - rather, it can be all about what is happening on the ground long before (or well after) you have enjoyed your 'chair in the sky 'experience.
Despite the much-touted ease of international air travel in the 21st-century, and important steps taken to protect passengers through legislation providing for passengers' rights, there's still quite a bit of work left to be done in this area. And, interestingly, while some Middle Eastern and South-East Asian regional hubs are spending millions of dollars upgrading their facilities, many European and US airports would do well to revisit the standard of theirs. According to my friend Kaiser - who is far better travelled than I - Madrid airport is so badly designed that it elevates confusion to an art form. And the HVAC (Heating, Ventilation, and Air-Conditioning) system at Charles de Gaulle Paris is organised in a way that some corridors probably share ducts with the toilets, with the result that the duty-free store where expensive (often French) perfumes are sold is - ironically enough - one of the least …ahem…fragrant parts of the facility. At a number of European airports, the Currency Exchange also shuts down quite early in the evening, so be prepared with some local currency in hand for your immediate transport needs, if you don't want to get caught unawares while on the hoof.
Paris and Madrid are not airports I'm familiar with, but a recent brush with Helsinki brought home to me just how stressful 'airport travel' can be. Heading out from New Delhi, I had a brief transit stop in Helsinki (or so I thought) on the way to London. Helsinki is apparently on its way to becoming a hub for Asian travellers, because the national carrier of Finland advertises itself as providing the quickest route into Europe from Asia. This is probably true in terms of distance and the directness of incoming flight routes from Asia. But Helsinki airport has a long way to go before it can possibly live up to any claims of being a well-run facility, which is a highly desirable if not downright essential quality for any self-respecting transport hub.
My flight from Delhi landed there ten minutes late, and since I had less than an hour before I was due to catch my connecting flight out, I was more than a little nervous. As it turned out, my nail-biting was well founded. For one thing, it took twenty minutes to actually get the aircraft door open (!), and this with staff being aware that several passengers had immediate connections to London, Düsseldorf and Stockholm. Then, even though we were in transit, we had to go through the airport security system, where we were delayed further due to long queues and an inordinately relaxed pace of processing. I'm still trying to figure out what kind of dangerous contraband they thought we might have picked up - and how we were even supposed to have pulled off such an achievement - after going through stringent security in Delhi and landing in Helsinki without stopping en route...
After scrambling out of security, I managed to grab a trolley and dump my stuff on it so that I could move faster, making my way towards the departure gate for my flight. This was, numerically speaking, three gates away. But as it turned out, it was also a very long distance, a flight of stairs, and most importantly, an immigration barrier away! By then, I had less than twenty minutes to make my way to the gate. When I tried to make my way through immigration I was of course turned back from the EU desks, which had a handful of people waiting to be processed, towards the "All Passports" queue. Normally I would have handled this with the resignation befitting someone with a green passport that is not particularly welcome in any country. But on this occasion - and I'm not joking - there were around 200 people in the non-EU line. It went snaking so far back that despite the winding back and forth, you couldn't even see the immigration desks from the back of the queue.
Around 80 percent of the people standing in line seemed to be Japanese, all very pleasant and in no hurry. Subsequent queries elicited the information that some of them had up to two hours in hand before their flight was due to take off. Not that this made any difference to the callous airport staff, who insisted that everyone queue in the same line although several of us could hear our departing flights announcing their final call to board.
After spending around half an hour in the queue, nearly in tears, I made my way to the other side of the barrier to find that - contrary to the assertion of the staff member I had spoken to earlier - there was no one to advise us on where to go once our flights had left without us! The next person I was able to ask insisted that I had to go down to the departure gate and ask the personnel there, even though the flight had already left.
After I made my hurried, sweaty and panicked appearance at the gate from which my flight had long departed, the staff at the departure desk looked at me in bemusement before informing me (with the air of one dealing with a particularly slow individual) that I had to make my way to the transfer desk. Oddly enough, this was was a good ten minute walk away. By then, I was well on my way to air-related ground rage, and managed to walk off with the wrong trolley before rushing back to retrieve my own which held my bag, wallet and passport. Luckily no one else had touched it. Equally fortunately, the trolley I had stalked off with was empty, otherwise I would undoubtedly have been in even worse trouble (if that was possible)...
(...to be continued)
---