Perspective

The Customer is Never Right
ANIKA HOSSAIN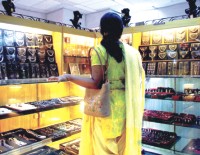 Photo: Zahedul I Khan
Over the past few decades, Dhaka city has seen many changes, mainly in terms of commercialisation. It seems just yesterday that the first large shopping mall was built in Dhanmondi, complete with a food court and arcade, which was a novelty for most of us who hadn't a clue as to what a proper mall should look like. Then before we knew it, malls, large independent chain stores, grocery stores, craft stores, high-end boutiques were popping up everywhere. Now, we are literally swamped with commercial buildings to an extent that residential areas have moved to the outskirts of the city, to house a growing population.
Despite us becoming an increasingly consumer driven society, it is very unfortunate that we Bangladeshis fail to grasp the fundamental requirement of the retail business – customer service.
Gone are the friendly, familiar faces of the shopkeepers waiting for you in the tiny stores next door, who knew you so well, they would let you pay for your groceries at your own convenience and give your children free candy. They have been replaced by crude, indifferent sales people, who couldn't be bothered to so much as look in your direction when you need their services.
"I went to a convenience store the other day to buy eye-liner and the sales girls were so busy gossiping they deliberately ignored me," says a disgruntled customer, "One of them said they didn't have any liners left which was infuriating because I was staring at a box full of the brand I wanted right in front of me inside the display case!"
Another customer, hoping to buy cologne for her husband's birthday at the different outlet shares her experience, "I was told there were no testers and I could not smell the cologne before I paid for it. Well, how am I supposed to know which one I want? I asked them in frustration. They said, just ask us, we'll tell you which ones smell nice. I stormed out of the store."
It is not an uncommon sight to see sales people completely ignoring a long line of customers at the cash register and chatting away on their cell phones. "Once, I listened to a ten minute long conversation between the salesman and the woman he had obviously dialed by mistake but could not stop flirting with– I was on the verge of hitting him with the cauliflower I was waiting to buy," shares another dissatisfied customer.
Sometimes, and this you will see mostly in the large malls or street markets, they will wander off with your thousand taka bill, trying to get change or to find you the shoe you wanted in your size and just disappear for as long as half an hour or more. You'll get tired of waiting and set off to look for him yourself and inevitably find him chatting away with sales people from a different store or on the phone.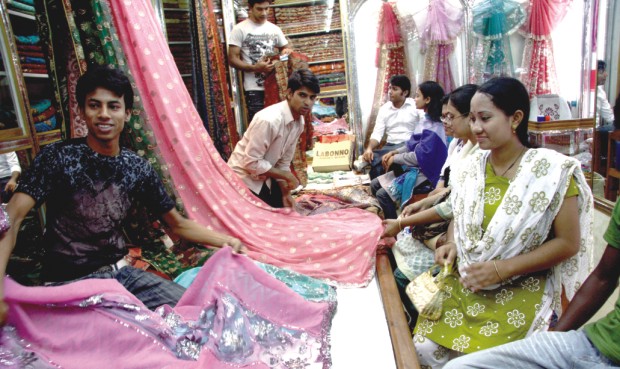 Photo: Zahedul I Khan
In places, which are service oriented such as beauty salons, it's a whole different story. Most tend to favour customers who are either friendly with the owners, wealthier than the rest and have been regulars since the business started. These ladies will get royal treatment, while the newcomers, hoping to become regulars are brushed aside. "I had just returned to Bangladesh after staying abroad for many years, and I went to get my hair done with my cousin at a well known parlour in Gulshan. It was a bit on the pricey side so my cousin wasn't a regular customer there. Despite the fact that we had made appointments, we were made to wait for an hour and a half as we watched women who had come in after us get service as soon as they walked in. It made me feel very small and insignificant and I never went back," says yet another disheartened customer.
Another customer who has made her rounds to almost all the parlours and spas in the city looking for one that suited her says, "Save one or two, all these places are extremely unprofessional. The women who work there are loud and constantly talking and laughing amongst themselves, denying you the relaxing experience you pay for. They refuse to answer your questions about the products they use, and refuse to take your suggestions into consideration about a haircut, make-up etc."
This culture of bad service has also seeped into restaurants, where the service is slow and the waiters look in the opposite direction or are nowhere to be found when you need them. "Once, my friends and I had gone to a Vietnamese restaurant and asked if they accepted credit cards before we were seated. The waiter said they did, so we went ahead and placed our order. When it was time to pay the bill a different waiter informed us that they only accepted cash, putting us in an awkward position since none of us had made a run to the ATM beforehand. We called the manager and after about 20 minutes of arguments and name calling, they finally let us pay by card," shares an irritated customer.
What more, while the government is trying to promote tourism, the employees at popular tourist resorts are flushing this endeavour down the drain. "We had booked a resort in Gazipur for a weekend," says an ex-tourist, "A few days before we were scheduled to arrive we called to confirm our booking and were told that it had been cancelled due to unavoidable circumstances. We were disappointed and surprised they had not called us themselves to inform us of the cancellation. Then the day before we had been scheduled to arrive, the manager of the resort called us and said they had decided that cancellations were bad for the business and said we could come the next day. At this point we had made other plans and we said we would let him know. Half an hour later he called to tell us we could either make up our minds immediately or forget all about it. We were shocked and furious to say the least."
Needless to say, these joints have lost many customers because of their unprofessional attitude. If this is the case in high-end places, just imagine what it's like out on the streets. Rickshawpullers swear at you if you give them less than they're expecting. CNG and taxi drivers break their own meters so you have to pay more and worse, they refuse to take you somewhere they don't fancy going (they even rob you at times). The street vendor may spit on you depending on his/her mood if you try to haggle, bus drivers may push you off the bus if they don't take a liking to you. The security guard at a commercial building or your workplace may or may not let you in, depending on his whims.
Bottom line is, customer service is an alien concept to entrepreneurs. Higher ups who run these enterprises may want to look into this sometime soon before they start losing business. Training their sales people would be a good place to start--maybe mandate an etiquette course before any interaction with customers. Until then I guess we'll see how far they can take their policy: "The customer is never right – treat them how you please."