Human Rights
For a Just Society
The National Women Development Policy has created quite a stir, being
welcomed by some and denigrated by others. But what is actually in the policy?
Farhana Urmee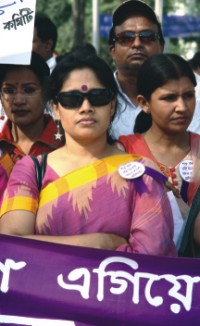 The National Women Development Policy has been unnecessarily vilified by religious groups that have tried to make the policy controversial by saying that it is against Islam. The government has insisted that this is not the case and there is no contradiction with Islamic dictates in the policy. The policy, in fact, does not deal with inherited property --the main subject of objection from religious camps -- but it does carry features that if turned into legislation, can have positive impacts on women's status.
The revised policy of 1997, named as the National Women Development Policy 2010 has a number of laudable provisions. After this policy's coming into effect the state will formulate new laws or amend the existing laws to preserve women's human rights. And the laws which are discriminatory to women shall be repealed. The committees for amending or formulating new laws and policies will have women lawyers as representatives.
The policy says that the government will take measures to eliminate oppression on women and girl children. Women will get equal opportunity in politics, administration, and service sectors along with education, sports and culture and in family life as well.
The policy recommends strong implementation of existing laws to stop child marriage, abuse, trafficking and other forms of repression on the girl child. The state's role in education will include emphasising regular presence of girls in schools; girl children will not be discriminated against in education, training, and other basic rights. The state will take necessary action against sexual harassments of girl children in educational institutions. The policy also says that the state will ensure a secure and wholesome environment for sports and cultural development of girl children.
The policy says that the state will take necessary steps to eliminate all sorts of violence against women ranging from physical, psychological, sexual harassment to rape, dowry, acid throwing and domestic violence. State will amend or formulate laws to eliminate repression on women and will provide women victims with legal assistance. The state will involve law enforcers in curbing repression on women by extensively recruiting women in police. Moreover, judiciary and police will be provided with awareness building training on gender sensitivity and equality. The state will take initiatives to stop women trafficking and will rehabilitate victims of this crime. Moreover, the judiciary will be moderated to end the trials of the cases on women and children trafficking within six months.
Regarding women's economic development the policy says that women will get equal wage and gender discrimination at work will be eliminated. The policy also ensures women's extensive participation in the labour market along with security and equal rights of women at work. The state will take initiatives to help women to become an educated and skilled workforce according to the policy.
Moreover, state will have to give recognition to the contribution of women in the social and economic sector; in every national development scheme, the economic growth will have to reflect and evaluate women's contribution. Women's involvement in household labour will also be recognised. Bangladesh Bureau of Statistics will take initiatives to measure women's contribution to the national economy of the county. Again, women will be ensured proper commuting facilities to their workplace along with housing and separate sanitation facility, day-care centres, and rest room facilities, says the policy.
The policy also recommends the continuation of the 'social safety net programmes' for poor women. Ultra poor women will be included in the allowance programmes like widow allowance, destitute women allowance, allowance for persons with disability, old-age allowance, food security programmes like VGD and maternity allowance.
Ultra poor women will be trained to become skilled workers. The national budget will have allocation for meeting the basic needs of the ultra poor women. Ultra poor women will be given the opportunity to be involved in productive work and will be included to mainstream economy of the country, says a the policy. Again, United Nations organisations, different development organisations and other voluntary organisations will be encouraged to take projects in poverty eradication that empower women.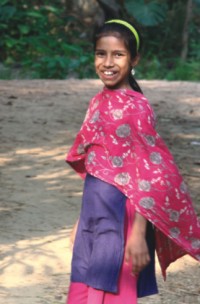 With the objective of political empowerment of women, the policy says that political parties will have to increase women's participation in respective parties by ensuring 33 percent women representation of the total participation. Again, respective parties will have to encourage women participation in politics by giving more nomination to the woman candidates. The policy also recommends increasing the reserved seats for women, in the national parliament and introducing direct elections to these seats. Direct election to the reserved seats for woman member will be introduced in every level of the local government as well, says the policy.
The policy says that more women will be recruited in policy making and administrative level to propel women's empowerment in administration. Every level including gazetted and non-gazetted service will have to introduce quota for women. The quota system in jobs will also be implemented in autonomous organisations. Private and voluntary sectors will be encouraged to introduce such a quota system to boost women's employment.
The policy has a provision for the empowerment of women with disability and indigenous women who have some additional requirements to be included in the development stream. Again, measuring the vulnerability of Bangladesh to natural calamities and disasters where women, who are already marginalised, have to suffer a lot, the policy stresses on the rehabilitation, social security, health facility for women during and after disasters. The policy gives the assurance of the rehabilitation of women victims of natural disaster or armed conflict. According to the policy, the state would invent and import technology which is women friendly in practical implementation and discard those which are unfriendly to the women. The state will take necessary measures to ensure women's nutrition and sound health.
Lauding different provisions of the National Women Development Policy 2010, lawyer SM Mustafizur Rahman says that formulation of the policy is not good enough if it is not properly implemented. Rahman who works as a gender trainer at the Gender, Justice and Diversity section of Brac says, "The issue of gender discrimination will get more attention before formulation of any kind of law, policy or rule as we have a women development policy already in our hands." Again, institution-wise awareness building on the policy is highly required, says Rahman adding that "if every sector ranging from education to judiciary knows their responsibilities for establishing gender equality, it will be easy to turn the very words of the policy into reality." The Government needs to devise a time-bound action plan on the policy and form a monitoring committee which will evaluate the gender discrimination state of the country on yearly basis and will recommend further responsibilities to eliminate gender discrimination, Rahman observes.
Describing the merit of the National Women Development Policy, lawyer ATM Morshed Alam says, a single law can preserve a single right, but a comprehensive policy can bring a number of issues in attention to realise the rights of women. "As the policy has mentioned a number of laws in it which solely preserves women rights and it has a number of provisions addressing different sectors for women development, it will be easy to sort out the sectors where gender discrimination prevails and where women development is prompted," says ATM Morshed Alam, programme manager, advocacy and research, Bangladesh National Women Lawyer Association (BNWLA). The policy gives the responsibility of women development to the state, specifically, to the Ministry of Women and Children Affairs (MOWCA) and specifies its implementation strategy which is obviously a good sign for women development, observes the law expert.