Reflections
Charming Chittagong
FAYZA HAQ
Going to Chittagong city recently was a superb experience for me – as I seldom get to so near nature, and particularly the sea. My best buddy Rowshan and I had gone not only to see the "green green grass of home" of the city, but also to see Professor Alok Roy and his talented wife, Nilufer Chaman. Both artists are known for their nouveau vision and constant quest for better and finer elements in fine arts. Both Rowshan and I went unprepared – one thinking that the other knew the city somewhat, and also believing that they will see to the unexpected financial elements involved in a single brief trip of leisure and pleasure.
I was brought up, way back, on "The Radiant Way Reader" and such anglicised texts and storybooks. Furthermore, the occasions to study in England and Wales (in what appears like prehistoric times today, being sixty-something), rain and greenery are an integral part of my nostalgia. Rain clouds, trees, leaves, and grass mean days of endless happiness and contentment. There was no dangerous flooding and waterlogging, in the brief carefree trip to what felt like flying to the moon. Yes, Madonna's "Holiday, holiday" kept ringing in my mind and also the much earlier song "Fly me to the moon". Being in Chittagong brought in notes like "Oh, to be in England" and such "oldy-goldies" from the sixties. Such was the beat of the "joi de vivre" in my heart and mind. I felt I was up and away with Wendy and the fairy Tinker Bell from children's classic book "Peter Pan".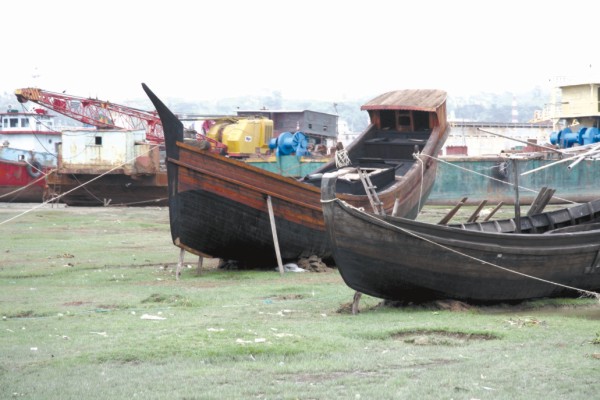 Photo: Zahedul I Khan
In fact waves of happiness went through my entire existence. I was surfeit with joy and thrilled when Professor Alok Roy came to our Chittagong Club Rest House, even though I telephoned him only after our arrival in the city. It was my buddy Rowshan's idea – to give Alok Babu a surprise. He left his teaching assignment in the Fine Arts University and his wife, put aside her own work schedule too, to welcome us with open arms. As Rowshan's car took us to Nilu and Alok's residence, the village-like area where the couple lived appeared simply a winding maze of emerald green, with the emeralds boughs, creepers and moss covered tree trunks.
Once we reached the dream house we climbed the delicate steps, which led to an oblong table that Alok had created with his own hands. The table was laden with fruits and nuts: the benches were also the professor's creation. One felt as though one were in a magical world surrounded by the professor's unique and superb collection of sculpted pieces that combined man, animal, bird and flora. The splendid creations, which were breathtaking and awesome, created a world of magic and mystery. Nilu spoke about her teaching work and her project, which was, I believe, a protest against the ruination of Nature by the brick kilns in the city. The lovely tall, statuesque lady, with her large, limpid pool -like eyes and her long limbs spoke eloquently as black and white cats and kittens played and scampered around her feet.
Alok Roy's sculpture against the hilly landscape.
In the distance were trees, which surrounded what seemed like an endless lake. Everything was tranquil, harmonious and restful. The moments were like some fragments from an idyll. Alok said that he had bought the place, hoping to get away from the humdrum of city life, with an area large enough to contain his ovens and kilns for baking his earthen sculpture.
Having said goodbye to his gentle wife, we next picked up his fawn-like, delightful teenaged daughter from her "A" level coaching classes .The foursome continued in the drizzle to the Chittagong Rest House to be his guest for lunch, laced with interesting and informative repartee. My friend Rowshan asked questions about the historical background of the club and its notable members. The Liberation War and the earlier colonial days were smoothly included in the exchange of ideas. The professor fed us with fascinating details. We had a Mughlai type delicious lunch with nan roti and murgh musallam washed down with coffee and followed by delicious caramel pudding. The daughter, with her single dimple, and warm, helpful ways, embraced us, and next she and her father left in a cab in the continuous drizzle.
Of course the hosts told us of the sights where we could go to in the port city. And so we went even to the harbour with its tall ocean liners, tugs, barges and boats. We had the sky and the ocean almost all to ourselves. The holidaymakers on the beach were just part of the more relatively recent scenario. My friend told me of the earlier experiences of holidays and job-hunting sprees, to make the evening more interesting and delectable. Rowshan, incidentally, is one of those people, who can tell stories that capture your mind and imagination with incredible mesmerising details like some Dickensian novel.
When I narrated some of minor unpalatable events in our journey to and fro Alok and Nilu's home, Madan Sahu, a guide, friend and philosopher in Dhaka, wound up our trip as a pure adventure, which would have otherwise been lacklustre, if incidents like the tyre bursting had not taken place. It is said by fellow artists in Dhaka that Alok Roy and Nilufer Chaman are great people to have Christmas holidays with. It may not have been "A Roman Holiday"-- but it was a holiday to remember.
Copyright (R) thedailystar.net 2010