Star Diary
Academic Deceit

A couple of weeks ago, I was on the way to the campus by bus. At one stop, a man got into the bus and soon after squeezed himself past me when he observed another familiar face on the bus.
During the noisy conversation that followed between the two acquaintances, I came to comprehend that their relationship was that of a student and a teacher. To my utter astonishment, when enquired about his academic qualifications the student asserted that he had recently completed his graduation in Fisheries from a college I know very well. At first, like me, that teacher was taken aback to learn the existence of the particular subject in this institution. But finally he seemed convinced by his student's unrelenting words. The subject that he mentioned is not taught in the college at all. As a student, I really felt ashamed at his deceitful reply towards his respectable teacher.
Ashim Kumar Paul
Govt Edward College
Pabna
---
Reckless Teenagers
Last week, while travelling by rickshaw, I witnessed a pathetic scene. As I reached the Fuller Road, opposite the British Council, I noticed a reckless car heading towards us. Since it was a Friday afternoon, the road had little traffic. The car took a sharp turn and missed hitting our rickshaw by just a few inches. I observed that a teenager accompanied by some friends was recklessly driving the vehicle.
Unfortunately, a motorcycle behind us was less fortunate. The biker took a sharp turn in order to prevent the collision and unable to maintain his balance, fell down on the road.
Along with the rickshaw puller, I immediately jumped down to help the injured biker. Anybody could see that he was seriously injured but the young driver and his friends seemed least bothered. They did not even slow down their car to take a cursory glance at what damage they had caused to a fellow human being because of their irresponsible lifestyle. .
Hasin bin Hanif
Old Dhaka
---
Inhumanity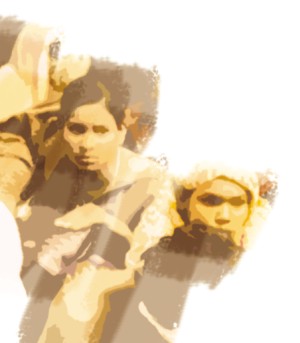 Last week when returning home, I decided to do some shopping on the way. As I was walking, there was a man walking very slowly and oddly owing to the heavy bags full of household items on both his hands. Suddenly, the man fainted and collapsed to the ground. I immediately fetched water to rouse him up.
After few minutes, the man regained his consciousness and the crowd started asking the reasons for his collapse. I learned that he is a domestic servant and though his employer knows that he fasts during the month of Ramadan, he is forced to perform heavy load activities.
Denial is not an option for the destitute old man as his employer threatens to withhold not only his Eid bonus but also his monthly salary in case of refusal to perform any chores.
Hearing this, I was disheartened because Ramadan is a very special occasion for Muslims regardless of their financial standing. Therefore it should be our duty to make sure that all people are treated with justice.
Rahim Abu Ali Sajwani
North South University
Dhaka

Copyright (R) thedailystar.net 2010