Cover Story
Sweating
It Out
The RMG industry employs
2.2 million people, mostly women.
March 19, 2009
A devastating fire broke out at the Garib & Garib Newaj factory near Gazipur on the night of February 25, as its 2000 workers mostly female were hard at work knitting sweaters to meet a shipment deadline. Within minutes, thick black smoke caused by burning acrylic yarn spreading throughout the building. By the time firefighters managed to gain access by blasting a hole in the factory wall, 21 workers lay dead. At least 50 others were hurt.
The gruesome incident has once again brought into focus the issue of working conditions in the garments factories. Anti-globalisation activists allege that the RMG factories are little more than sweatshops and portray factory owners as soulless profiteers who care nothing about their workers. The stakes were raised recently when a group of 14 international buyers sent a letter to the government asking that working conditions be improved in Bangladeshi garments factories. Industry leaders say the the buyers are not putting their money where their mouth is with falling prices hampering efforts to improve working conditions. High interest rates, the global recession and acute power shortage mean entrepreneurs are feeling the pinch. But the real losers could be the garments workers themselves.
Syed Zain Al-Mahmood
photos: zahedul i khan
It is 7.30 AM in Mirpur, Dhaka and thousands of young women are on the move. Clutching their plastic ID cards and red attendance sheets, they laugh and chat as they hurry towards their destination -- one of the hulking readymade garments factories crammed into the crowded commercial district.
22-year-old Selina, who hails from the southern district of Barisal, works at Texmark Fashion on the outskirts of Kazipara. She used to earn Tk.2200 when she first joined as a Sewing Helper four years ago. Now she works as a Machine Operator and her wages have been bumped up to Tk.3500. The pay is still low and she has to work hard, but she says she likes the independence. Says Selina, "Without this job, I would have to go back to my village."
For over two decades, the garment industry has been a central engine of the Bangladesh economy, employing nearly 2.2 million people and supporting another 10 million to 15 million, or roughly 10 percent of the population. Apparel and textiles account for nearly 80% of Bangladesh's exports -- and there is no other industry ready to take its place in case the garments business were to dry up. Millions of people suddenly thrust out of work and foreign exchange evaporating is a nightmare scenario for Bangladeshi entrepreneurs. Foreigners call the factories sweatshops but for the millions of people who live below the poverty line, they spell opportunity.
Selim Newaz, the dapper, energetic owner of Texmark, has been sweating a lot lately, and not just from the increasing heat and humidity. "I started this factory back in 2002 with just eight sewing lines," he says, toying with a clothes hanger in his modest office. "We are a small factory, but we do the best we can. We pay our workers regularly, and try to be disciplined. The recession has hit us hard. But now, just as orders are increasing we are paralysed by gas and electricity shortage. I have to operate diesel generators for up 4 hours a day. I don't know how we are going to make ends meet."
Nawaz is one of the first generation entrepreneurs who jumped on the RMG bandwagon, causing a quiet social revolution in Bangladesh. The garment industry has drawn literally millions of women out of villages into large cities. The globalisation of trade in apparel and textiles has helped transform a way of life unchanged for generations.
''It is a silent revolution that has taken place in our country,'' says Newaz. "Thousands of women in their late teens and early 20's are wearing cosmetics, carrying handbags and walking to work every day. They are empowered in a modest way. But I find it surprising when people say we are exploiting our workers. they work because it is the best available option."
Walking along the sewing lines in his small factory, underneath the whirring fans, Nawaz points out the latest renovations with pride. "We are trying to improve working conditions. But nowadays the very survival of the industry is at stake. Since I started, I haven't seen such a tough situation."
Texmark's spacious, well-ventilated and well-lit premises are the norm among a new breed of factories designed to appeal to multinationals concerned about protecting their image from criticisms that they are exploiting workers in poor countries. Industry watchers say although wages and working conditions in many factories are still short of satisfactory, they are a big improvement over the previous, less visible rural poverty.
According to economist Dr. Tareq Salehin, the transfer of technology and capital from high-wage to low-wage countries and the resulting growth of labor-intensive Third World exports are a natural part of upward mobility for countries like Bangladesh. Two decades ago, although the rapid economic growth of a handful of small Asian nations had started to attract attention, developing countries like Bangladesh were still mainly what they had always been: exporters of raw materials, importers of manufactured goods. Inefficient manufacturing sectors served their domestic markets, sheltered behind import quotas, but generated few jobs. Meanwhile, population pressure pushed desperate peasants into cultivating ever more marginal land or seeking a livelihood in any way possible.
"Over the last twenty years, lower tariff barriers, improved telecommunications, cheaper air transport--reduced the disadvantages of producing in developing countries," explains Dr. Salehin. "Low wages allowed developing countries to break into world markets. And so Bangladesh which had previously earned foreign currency selling jute started producing shirts and sweaters instead."
The only reason developing countries have been able to compete with the industries in the developed world is their ability to offer employers cheap labour. Deny them that ability, say experts, and you might well deny them the prospect of continuing industrial growth, even reverse the growth that has been achieved.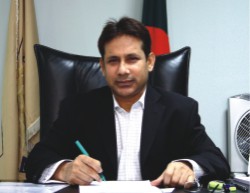 Abdus Salam Murshedy
During the dark months of the global recession, local exporters faced the problem of deferred payment and price cutting from the international buyers. Worryingly, that trend is continuing even as developed economies pull out of recession.
"Foreign buyers are even negotiating the prices of previously confirmed orders. This could have disastrous effects in the long run if the situation continues, as many business plan for the future with expected profits. A substantial decrease such as the minimum of a 10% drop in prices the buyers are currently clamouring for could cripple the sector." Laments one local factory owner. "At this critical time the government should come forward to ease the energy crisis. The access to credit should continue at any cost for the garment entrepreneurs."
Many owners have criticised the role of the foreign multinationals sourcing from Bangladesh. Nike, Walmart, Tesco and other companies have been hammered in the Western press over the last decade for producing clothes, shoes, toys and other products in grim little factories with dismal conditions. Protests against sweatshops and the dark forces of globalisation that they seem to represent have become common at meetings of the World Bank and the World Trade Organization. But local entrepreneurs say the buyers are bent on decreasing further the CM -- cost of manufacturing.
"The buyers are squeezing us in terms of prices all the time," says one owner, "even as they lecture us on paying living wages, and scold us during audits."
One of the biggest problems garments factories are facing is meeting shipment deadlines by reducing the lead time -- the turnaround time from receipt of an order to the delivery of a product as this is a key factor in staying competitive in a market where giants like China and India can deliver products to international markets far more quickly than Bangladesh. Abdus Salam Murshedy, president of Bangladesh Garments Manufacturers & Exporters Association (BGMEA) says Bangladesh has the longest lead-time amongst its competitors.
Murshedy says due to the gas shortage lead times have increased and frantic owners are airlifting their shipments. In the last one and a half months, about 100 chartered planes left Dhaka airport with shipments, and each airfreight means loss for the exporters as they have to foot the bills from their pocket. According to the BGMEA president, every kilogram of goods put on a plane costs $4.30, and this is a net loss for the seller.
Md. Fazlul Hoque, President of BKMEA says, "We need support from the government immediately if our sector is to be protected from the external shocks of the global recession and power crisis. We have already asked for cash support and sought policy support regarding bank interest rates and banking rules." His major worry was how long the government would take to act on their demands. "I suggest the government divert gas by stopping production at some older fertilizer factories and give them to the garments factories. We could easily import fertilizer at less cost."
But some economists disagree. Prof MA Taslim, chief executive officer of Bangladesh Foreign Trade Institute, says, "Talk of reducing bank rates and essentially asking for government subsidies do not make complete sense to me. Our banks survive on the garments industry, they are its meat and drink, but there is no way they can lend at lower rates than they are currently offering. We shouldn't jeopardise the banking sector just to help out another sector. We must keep our priorities in order."
Abdus Salam Murshedy delivers a strong rebuttal. "Without government help our industry will suffer unbelievable damage. Just look at our main competitors, India, Pakistan, China, Vietnam and Cambodia they are all getting cash subsidies and huge government support and that is how and why they have been able to control their garments sector. They are going through exactly what we are going through, the only difference is they have got genuine governmental support and we have nothing. Aside from government support India, Pakistan, Vietnam and Cambodia have also all experienced major currency devaluation in the past year, 30.91%, 27.62%, 10.21% and 5.78% respectively, in comparison to 0.61 in Bangladesh, thus making their exports cheaper than ours. Most of them also enjoy single digit interest rates. This could push more buyers away from Bangladesh to their countries as they will be tempted to move to countries where the government supports the garments industry and where devaluation has made their imports cheaper."
The turmoil in the garments sector may also hamper efforts to improve conditions for the workers. Most owners are quick to point out that substantial progress has been made. Most workers agree. According to Nazma Akhter, president of the Sammolito Garments Sromik Federation and the General Secretary of Awaj Foundation, an NGO working for workers' rights, discrimination against female workers in the sector, in terms of wages, is hardly heard of now. "There are seven grades in a garments factory, where a worker starts off working as a helper in the seventh grade with minimum wage of Tk 1662," the former garment worker explains. "But most workers pay more than this these days. As a worker gets promoted, he or she shifts to a higher grade and accordingly gets a higher salary. Since everything works according to these guidelines, there is hardly any scope of discrimination in terms of wages. However, many workers are not regularly paid their wages. Often a worker calls to say that she and the others in her factory have not been paid their wages for the last month. This is a common problem that workers, male or female, face today. But thankfully, there are arbitration panels these days where we can go."
Although wages may have improved -- compared to the available alternatives -- one area that has been systematically neglected is worker safety. Disregard for safety norms and regulations have turned some garments factories into potential death traps. One study found that about 60 percent of the 4,500 garments factories in the country lack adequate fire fighting tools. Even after a fire in the Garib & Garib factory claimed a fire fighter's life last August, the management made no effort to keep water in the factory's own hydrant. It was revealed through enquiries by the press that 11 guards were on duty on that fateful "black Thursday night," but none knew how to operate fire extinguishers and hydrants. To compound the problem, heavy grill windows with sealed glass panes did not let the smoke out.
Safety compliance rules make it mandatory for every factory to have a separate emergency exit. But in the case of Garib, the space was so narrowed by piles of goods and materials that it could not be used in times of emergency. To make matters worse, the main gate remained locked after the fire broke out as the security personnel fled from the factory premises with keys after they had sensed danger. Fire fighters had to cut window grills on the second floor to rescue four to five workers.
Safety inspectors have found that almost none of the factories have battery operated emergency lights, signs and sirens, which are essential to check stampedes and chaos when darkness envelops the premises in the event of a fire. Modern fire alarm systems which can save lives are also absent in most factories.
Salahuddin Ahmed, Managing Director of M&J Group, a woven garments manufacturer says the industry must do more to ensure safety. "We have installed digital fire alarms and hold regular fire drills. We take our social and safety audits very seriously. But unfortunately some of my fellow businessmen are too preoccupied with the business challenges. They forget that investing in your workers is ultimately good business since it increases productivity."
While acknowledging the existing problems, Salam Murshedy stresses that the sector is fighting for its survival. The situation also does not bode well if laid out in statistical terms. Apparel exports have been clocking negative growths for the last few months, despite Bangladesh today standing as the second largest garment exporter in terms of quantity.
From the beginning of this fiscal year in July, garment exports have been showing a continuous negative growth, a very unusual trend for the sector. In September last, it dipped by a highest 29 percent. "We must act fast to save the industry," stresses Murshedy. " There has been enough talk, I hope the government will now come forward with pragmatic steps."
"We have plenty of orders," says Salahuddin Ahmed. "The question, will we be able to keep up with demand? Otherwise we will lose market share very quickly. Many factories will struggle to keep their head above water."
The worry is filtering down to the workers. "This job puts rice on my plate," says Selina of Mirpur. "If there is no business, who will feed us?"
opyright (R) thedailystar.net 2010