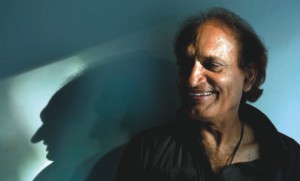 Raghu Rai. Photo: Shehabuddin/Drik
Profile
Up Close and Personal

In an exclusive interview with the Star, Raghu Rai renowned Indian photographer, talks about his life and work
Fayza Haq
Raghu Rai, a revered veteran photographer, coming once more to Dhaka -- this being his second more recent visit to Bangladesh -- spoke exclusively to The Star. Standing statuesque in his dramatic black garbs and matching sandal-shoe, at the Bengal Gallery of Fine Arts, where his work was exhibited to mark "Drik" Gallery's 20th anniversary, Rai photo credit said he considered himself an integral part of "Drik", declaring himself its mentor and friend from the outset. Rai has been to Bangladesh since 1971, mingling with the masses, with ease, despite his Punjabi ancestry, as he once pointed out. He was here to cover the Liberation War for which he was awarded the coveted "Padamsree" by the Indian government.
"I've long association with 'Drik' and (Dr) Shahidul (Alam). I have high regard and love for him because of the kind of work he's doing in Bangladesh for photography. Anything he tells me I'll gladly do for him -- because we don't have enough people like him in this world who are as dedicated as he is to the medium. He has supported and guided innumerable young photographers. To share your idea of photography with young minds is admirable -- as young minds can come up with such meaningful responses," said Rai.
Photo: Raghu Rai
Asked if he were here in Dhaka to celebrate "Drik"'s anniversary, or to present his work, once more in Bangladesh, Rai said, "Of course, I'm now a part of 'Drik'. To have achieved what 'Drik' did, beginning from scratch-- literally one room -- extending it to the 'Patshala', and a world-wide recognised agency; and ultimately to have trained so many photographers: These are achievements which are undoubtedly rich. 'Drik' makes such a difference to the life of thousands in Bangladesh. It's definitely important for me to be here to celebrate the achievements that rightfully deserve accolades."
Dwelling on his experiences during the Liberation War, Rai said," I came to Bangladesh when it wasn't declared as Bangladesh. This was when refugees were coming to India in thousands. When the War began I was here, and also during the surrender. I saw a lot of bloodshed and misery. And it was a time of great sorrow and suffering. The way Bangladesh has risen -- from blood, tears and toil is something great."
Touching on his photographs on display at Bengal Gallery, Rai said, "There's a lot of black and white and coloured ones too. I don't prefer either black and white or colour-- the situations tell me what to go in for. Where the subject matter is an overtly serious one, and where you want to harmonize and speak out in stark, loud greys and blacks, I go in for the dramatic decision. When I see the celebration of life -- jubilation and harmonious rhythm of life -- when I see the light in the sky, the clouds and the flow of nature, man and his surroundings, I go into streaks, dashes and splashes of colour. Luckily, in digital photography this is easy. If the colours don't gel you can move onto black-and-white."
Giving his opinion of digital photography, and commenting on whether or not it is gimmicky, Rai said, "Those who are manipulators they manipulate anywhere. Those who are sincere and serious remain so all throughout. Manipulation is your own character and attitude."
Rai regretted that though there were many photographers in India, his homeland, there were not organisations like "Drik" -- with its five successful "Chobi Melas" which has made photography global for Bangladeshis. He said that it was not easy for himself to get recognition, although he got the coveted award "Padasree" , the highest civil award from the Indian government. In his talks in Bangladesh, he stressed on the difference between painting and photography; and how photography hadn't quite caught up with the wealth of painting, even the paintings during the Renaissance. At the same time, he said, "A photographer always captures time."
Photo: Raghu Rai
Tracing his life, Rai (b. 1942) said how paternal wishes led him to study engineering. During that time he stayed with his elder brother, a photographer. During this time he chased a baby donkey and took its picture. This got printed in the "The London Times", which gave him his first exposure. Rai said that he was very contented with his photography but that he would like to travel more, and in his next life, he'd like to be a musician.
In 1966 Rai took up a job with The Hindustan Times. He was the chief photographer of The Statesman, picture editor of Sunday (Calcutta) and worked as editor/visualiser/photographer of India Today, in its early days. In 1977, Cartier-Bresson asked him to join Magnum Photos. During the last 18 years his extensive coverage of India resulted in 20 books. His work with Greenpeace on the Bhopal chemical disaster resulted in a book, exhibitions which brought him international fame in 2004. He is still associated with Magnum Photos.
Later the same day, speaking at "Drik" auditorium, Rai faced young photographers, who had come there to hear his comments on his third book on Delhi. Giving guidelines to good photography, Rai said, " As photographers we're keeping a visual record of time. As historians of time, a sincere photographer's responsibility is being more than that just a clicker of lenses. One has to make oneself physically and mentally alert to use lenses, especially in today's digital world.

Photos: Raghu Rai
" If you want to be respected for your work, the feeling and the capturing of the entire world around you matters. Every click is important, and as important as a heartbeat. While photographing, you actually stop breathing -- so to say-- as the breathing can disturb."
Rai said that in our overpopulated Subcontinent, the role of the young photographer is to feel that he/she is special and blessed, with a vital purpose in life. Speaking of the use of cameras, Rai said that motorised ones are not the best. "One should not work like mindless machines but select the theme and timing with care and accuracy," he said.
Earlier on Rai said that his experience of India is horizontal, it does not begin from anywhere, nor does it end anywhere. "It is the panoramic experience that allows me to photograph the throbbing energies on this given canvas" he says. He explains further his approach to his work:
"At times, different meditations merge into one and gather in a single space, simply a spontaneous collection of circumstances. I stand amid this human deluge trying to untangle the merging and emerging of various colours, the myriad hues of every emotion, set in motion by each charge and recharge. It energizes and enriches itself.
" Art is not about beauty. Art and creativity is about capturing human expressions. It's not enough to capture the hackneyed conventions, such as old wrinkles or a sleepy village or even a beautiful young woman. Everything that is predictable should be avoided. We've become like computerized machines; and think we've captured and selected enough in our minds. We've to strive to see deeper into the reality and energy of a place and respond to its vibes. We've to focus on the rhythm of life."
"A photo, whether a documentary or otherwise should capture a moment with truth and freshness so that the picture comes alive. Everything has some energy and a picture should capture this. A photograph should be meaningful to anyone." A photographer, according to Rai, should be a sensitive observer.
" The restless and restful find their home in me... The inadequate being in me wishes that there were four or five of me. It's life's longing for itself that makes me go on. The emergence of the unseen and revelation of the unknown leaves me amazed!"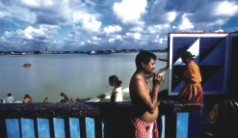 Talking on whether anything in particular touched in, Rai said," Basically, the people of Bangladesh, India and Pakistan are similar. After Partition of 1947 we stand as divided and separate countries. When I walk in the streets of Dhaka, I don't think that onlookers can pinpoint my origin. Being here is like being in one's own country for me. For me the Bengalis are a very special people. They are very sensitive and emotional. It is because of the unique and nonpareil Bengali culture that I'm coming out with my second book on Calcutta. The only difference between the two Bengal is the religion."
During the last ten years, added Rai, religion is the factor that is playing havoc in so many parts of the world. He said that all religions are becoming more fundamental than ever before -- which is very unfortunate. A good religious practitioner will never look upon any other religion with a "different mind and eye". Religions were created by us, said Rai.
As he leafed through his latest book on India, before his captivated audience -- seated on the floor of the "Drik" auditorium -- Rai patiently explained the complexities and the specialties of most of the pictures in his latest book. Humour and subtlety were integral parts of the commentary on his pictures. This included Eid and Muharram at the Jama Masjid ; the Temple of Ravan-- with its combination of human figures seen amongst the details of the statues of the deities in the frescoes and arches of the temple; the Janpath -- with the lights and shadows created a fascinating, shimmering effect. Also in focus were events like voting in Old Delhi with posters; the "human energy" of celebrations at Easter and at Nizamuddin Aulia's "darga"; "babus" seated languorously and listlessly in their offices; police officers during Indira Gandhi's state of emergency etc.
"God is there in every particle of dust. One must thus give importance to each and everything around us," Rai concluded, in his talk, which lasted more than an hour.
Dr Shahidul Alam, asked to sum up the achievements and future plans of "Drik", whose celebrations Raghu Rai had come for, said," We have achieved a lot; but there's certainly a lot more we could have done. We work against extreme obstacles, with very limited resources. Yet, what we've been able to achieve has placed Bangladesh at the pinnacle of the photo journalism world. But his shouldn't make us complacent. When we began photography played a limited role in social movements. There's been a dramatic shift since then. 'Patshala' is considered by many as the finest photography school in the world. It has the most illustrious international faculty teachers. It has students coming from Europe, the US , Australia, and from other parts of the majority world. Their achievements , both academically and their practice are outstanding. 'Patshala' is on its eleventh year.
"Shortly afterwards we started 'Chobi Mela', with its five parts, so far. This is one the most impressive festivals of the world."
Copyright (R) thedailystar.net 2009