Health
Swine Flu
DosandDon'ts
Syed Zain Al-Mahmood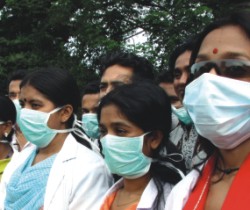 Be careful, not paranoid.
Swine Flu is sweeping the globe. The death toll worldwide is 2,837 and counting. The number of laboratory-confirmed cases has reached 254,206, though the figure understates the actual number since countries are no longer required to report individual cases. In many countries including Bangladesh authorities have stopped laboratory testing for screening purposes as the rapidly spreading flu threatens to overwhelm laboratory facilities.
The World Health Organization (WHO) declared a pandemic of H1N1 swine flu on June 11, 2009. The announcement means the swine flu virus is spreading from person to person in a sustained manner globally and is unlikely to fizzle out. The last pandemic -- the Hong Kong flu of 1968 -- killed about one million people.
Despite its rapid spread, H1N1 is still not in the category of the Hong Kong flu or the Spanish Flu of 1918 which emptied entire localities. The WHO still considers the impact on countries to be "relatively moderate" although the agency has urged governments to put in place all necessary measures to contain the virus.
The biggest casualty in the swine flu pandemic could be common sense. Lawmakers in Spain have called for a "kissing ban" to stop transmission of the virus. Traditional healers in India are peddling remedies made out of cow's urine. The rapid spread of the disease along with a lack of proper information has led to panic among some people, while others remain blissfully oblivious to the threat.
"The main message that should go out to everyone is: don't panic but be extremely careful," says virologist Dr ASM Alamgir of the Institute of Epidemiology, Disease Control and Research (IEDCR). "This is a virus that is extremely contagious, but with proper precautions and treatment it should not be fatal."
Bangladesh is particularly at risk because of population density and weakness of healthcare infrastructure. Lack of awareness among the mass populace could see a rapid rise in the number of fatalities.
"The unusually congested state of Dhaka city increases the threat of H1N1 influenza," warns Dr Alamgir. "The slum areas are especially vulnerable. Also, this is the Eid shopping season. Many of the confirmed cases I have seen are salesmen from the large shopping malls."
What makes Swine Flu so insidious is that its symptoms are broadly the same as those of ordinary flu, but may be more severe and cause more serious complications.
The typical symptoms are: sudden fever (a body temperature of over 100.4F) and a sudden cough. Other symptoms include sore throat, body aches, headache, chills, sneezing, fatigue, diarrhea and vomiting. Swine flu symptoms develop three to five days after exposure to the virus and continue for about eight days.
"Some of the symptoms are misleading, and not all of them may be present at the same time," says virologist Dr. Alamgir. "A runny nose and fatigue are very common in our country. So in clinical practice we are looking for fever, sore throat and a cough. Those are the most prominent symptoms. We are also seeing diarrhea among many swine flu patients."
Most patients who have contracted swine flu recover within a week and do not suffer complications, even without antiviral drugs. However, experts point out that as this is a new virus, its behaviour cannot be predicted with certainty. Swine flu is different from seasonal flu in that most serious illnesses have been in younger age groups, as happened with all three 20th-century influenza pandemics.
"Antiviral drugs can reduce the severity of symptoms," says Dr Alamgir. "Two classes of antiviral medications are used to reduce symptoms and duration of the flu -- adamantane antivirals and neuraminidase inhibitors. However, it is important to prevent indiscriminate use of these medications since flu viruses can develop resistance to them. They should be held in reserve and used judiciously."
Human swine flu H1N1 is sensitive to oseltamivir (Tamiflu) and zanamivir (Relenza), both of which are neuraminidase inhibitors. But experts say there is no need to start panic buying these drugs.
"Influenza virus is self-limiting," Dr Alamgir points out. "I always say a cold is cured in one week if you take medicine, and it gets better in seven days if you don't!"
If you think you have swine flu, should you rush to a hospital? Physicians have placed swine flu patients into three groups.
Group-A. Those who have swine flu symptoms but no respiratory distress. Advice: Stay home, take paracetamol, and plenty of fluids.
Group-B. Those who have swine flu symptoms along with respiratory distress. Advice: Hospitalisation and antiviral medication.
Group-C. Those who have swine flu symptoms and are in a High Risk Group. Advice: Antiviral medication, and hospitalisation if necessary.
Scientists are still learning more about the risk profile of the virus, but it is already known that the following people are High Risk:
people with:
* chronic lung disease,
* chronic heart disease,
* chronic kidney disease,
* chronic liver disease,
* chronic neurological disease (such as epilepsy, multiple sclerosis and Parkinson's disease)
* immunosuppression (whether caused by disease or treatment) and
* diabetes mellitus,
* who have had drug treatment for asthma within the past three years,
* women,
* aged 65 years and older, and
* children under five years old.
It is vital that people in these higher-risk groups who catch swine flu start taking antivirals as soon as possible.
Doctors are also stressing lifestyle measures that would help prevent the spread of swine flu.
Do…
* Wash your hands thoroughly and frequently. Use soap and water. Droplets do not stay in the air for long, but Flu viruses can survive for two hours or longer on surfaces, such as doorknobs and countertops.
* Avoid contact. Stay away from crowds if possible. Doctors say confirmed cases of H1N1 include salesmen at busy shopping malls.
* Wear face masks, as they can offer a degree of protection.
* Stay home if you're sick. If you do have swine flu, you can give it to others starting about 24 hours before you develop symptoms and ending about seven days later.
* Reduce exposure within your household. If a member of your household has swine flu, designate one other household member to be responsible for the ill person's close personal care.
* Drink plenty of liquids. Choose water, juice and warm soups to prevent dehydration. Drink enough so that your urine is clear or pale yellow.
* Rest. Get more sleep to help your immune system fight infection.
* Consider pain relievers. Use an over-the-counter pain reliever such as Paracetamol cautiously, as needed. Don't give aspirin to children or teens because of the risk of Reye's syndrome, a rare but potentially fatal disease.
Don't…
* Panic. It is important to maintain a sense of perspective in an epidemic.
* Don't stock up on antivirals or start taking them as a precaution. They won't help you and may become ineffective in the long run.
* Don't sneeze or cough openly. Cover your mouth with a handkerchief. Don't spit in the open. When you sneeze, it is better to cover your mouth with your elbow or sleeve rather than your hands which may then touch other surfaces.
* Don't take antibiotics. They do not work against viral infections.
* Don't smoke. Smoking damages the lining of the respiratory tract making it more prone to disease. Research shows a higher incidence of flu cases in smokers compared with nonsmokers, and, worse, a higher mortality rate for smokers than nonsmokers from the flu.
If you have symptoms of swine flu and are suffering from respiratory difficulty, do go to a hospital prepared to fight H1N1.
List of Hospitals for treatment of Influenza H1N1
Government Hospital
1. Bangabandhu Sheikh Mujib Medical University
2. Dhaka Medical College & Hospital
3. Sir Salimullah Medical College & Hospital
4. Shahid Shohrowardy Medical College & Hospital
5. National Institute for Disease of Chest and Hospital (NIDCH)
6. Infectious Disease Hospital (IDH)
Private Hospitals
1. BIRDEM
2. Bangladesh Medical College Hospital, Dhanmondi
3. Uttara Adhunik Hospital, Uttara
4. Holy Family Medical College Hospital
5. Dhaka National Medical College Hospital
6. Dhaka Shishu Hospital
7. Shahabuddin Medical College Hospital.
From the bubonic plague to the Spanish Flu -- mankind has survived many pandemics. With proper precautions, effective treatment and a healthy dose of common sense, we should ride Swine Flu out.
Web developed by: Kazi Ziaur Rahman
Copyright (R) thedailystar.net 2009