History's People
Ekattorer Chithi, which compiles letters written by the Freedom Fighters, brings forth the forgotten faces of our War of Freedom.
Ahmede Hussain
Even though Bangladesh's War of Liberation was truly a people's war, individual's role in it has remained ignored. History has always been biased towards the big names that crowd it, and the war has been no exception. So, 32 years after the people took up 'whatever they have' to fight the marauding Pakistan Army which was butchering innocent civilians, the stories of the masses are yet to be told. The role of individuals in history is indeed a murky affair; history is seen as part of collective consciousness, those who make it, the toiling masses, become a footnote in its margin.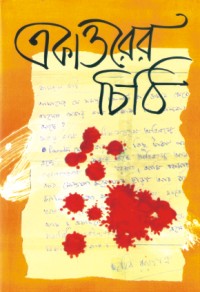 Ekattorer Chithi
(Letters of 1971 from participating
freedom fighters in the liberation
war of Bangladesh)
Prothoma Prokashan
ISBN 978 984 8765 00 5
Tk 250; pp 127
Ekattorer Chithi, a publication of Prothoma Prokashan, tries to compile the letters written by the freedom fighters, some of whom have laid down their lives to bring freedom to their beloved motherland. The book does what other books on the Liberation War ignores--it tells people's tales, it describes the suffering of a nation that has become united for a cause, it narrates the dreams of a people who has stood up against years of exploitation.
Rashid Haider, one of the editors of the letters, rightly writes in the book's preface: As it was a people's war, if we analyse the letters, we will find that most of the letters are written by young freedom fighters--young men who are not well-educated, some are still studying at schools and colleges. I have noticed that, almost all of them went to the war to fight against the sufferings, the exploitations that were inflicted on their motherland. They did not have any military training, neither were they properly trained, some of them did not have any idea what basic assault weapons were. When people get into a war without even knowing what modern warfare is, one can imagine how unequal the fight can be; and, what surprise then when we saw these young men stand with valour in the field of war. Our trained warriors fought following their war book, others followed their heart, making their lives the best weapon of war.
One letter, written by Shaheed Rumi to his uncle Pasha can be mentioned. In June 16, 1971, Rumi, a muktijodda, wrote from Agartala:
"Dearest Pasha Mama, Don't be surprised! It was written and has come to pass. And after you read this letter, destroy it. Don't try to write to Amma about this letter. It will put them in danger.
This is a hurried letter. I don't have much time. I have to leave tomorrow for my base camp.
We are fighting a just war. We shall win. Pray for us all. I don't know what to write…there is so much to write about. But every tale of atrocity you hear, every picture of terrible destruction that you see is true. They have torn into us with savagery unparalleled in human history. And sure as Newton was right, so shall we too tear into them with like ferocity. Already our war is far advanced. When the monsoons come we shall intensify our operation.
I don't know when I shall write again. Please don't write to me. And do your best for SHONAR BANGLA.
Bye for now. With love and regards.
Rumi."
Rumi's letter gives us a rare glimpse into the minds of the freedom fighters. What sets the letters apart from other books on the '71 war are the human stories, which the book is endowed it. While the other books--novels or collections of short stories--with their grand narratives, see the war as the product of the toils of a lot of faceless freedom fighters or the oppressions of Rajakars and densely moustached 'khan-shenas', Ekattorer Chithi deals with the separations, the sufferings and the lost hopes and broken dreams of individuals who were on their small little way making history.
Prothom Alo and Grameen Phone deserve kudos for compiling these letters, which will remain an important milestone in the history of our great war. The book's cover, simple though it is, is striking and very thoughtfully done. The printing is also of high quality. Ekattorer Chithi, as a historical document, is invaluable. One only hopes that more endeavours like this are in the offing.
Web Developed By: Kazi Ziaur Rahman
Copyright (R) thedailystar.net 2009