Interview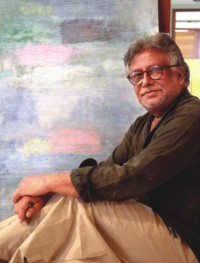 Of Cascading Colours and Pulsating Lines

Fayza Haq
Monirul Islam, who is currently holding his solo exhibition at Bengal Gallery, is anything but complacent about his mastery of prints, oil on paper, and mixed-media works. The exquisite extravaganza consists of 180 pieces . He traces his skill and powerful strokes to his teachers -- like Mohammed Kibri, Safiuddin Ahmed, Mohammed Baset, and others at Madrid. Zainul Abedin, the master painter of Bangladesh, remains his most influential guru. Zainul Abedin left an indelible mark on his works, and inspired him, with his humane personality and limitless wisdom. "I had the opportunity to work with him in Chandpur and Khulna. His vitality and brush speed left a great impact on all his students. With his guidance and encouragement, I won the scholarship to Spain before the Liberation War--initially for nine months," says Monirul Islam.
"At first I studied fresco painting. I turned to other genres as no one does much of fresco painting these days. My teacher in Spain was Vella Senior (who taught me mural). I moved on to etching. I learnt this from the workshops of 'Gourpo 15', which consisted of renowned Spanish artists. I believe that printmaking died out after Goya. Only Fortuni did some remarkable etchings. After him Spain did not have any good print-makers. This is because artists moved on to Paris to do etchings. From 1940 to 1950 the Spanish artists revived printmaking. Miro and Tapis made thousands of prints. Chillida also contributed to this revival.
"As I had the opportunity to have materials and eminent teachers, I moved on to graphic art-- which includes woodcut, etching, lithography and silkscreen. I gravitated to etching as I felt that it had a lot of possibilities. One can make relief work with the lines, and the language of lines always moved me, even if this is with a pencil," says Monirul Islam. Once again, in his present work, and those of his last 40 years, he combines delicate but scintillating colours with lines and forms that suggest objects and figures. In Spain there is what is known as "Monir's School". Off and on, he is invited to the universities and museums to conduct workshops with his technique. According to Monirul Islam, the print media is something "solid". "I tried to capture the effect of water-colour on plates. So far I've had 20 workshops all over Spain," says Monir.
"I must give all credit to my teachers in Bangladesh -- who groomed me for specialisation in Madrid. Zainul Abedin taught me watercolour with patience and understanding; I picked up more from Safiuddin Ahmed's lithography's lithography; Abdul Baset too was a fantastic teacher; Mustafa Manwar too gave me encouragement and his watercolours. The creative genius of these masters gave me the necessary impetus to forge ahead in life," says Moniru. . He also speaks of his inspiration from European masters like Goya and Miro. He admits, that like most other artists, the impact of the symbols and cubes by Dali and Picasso are naturally there in his creations.
Earthy shades -- with touches of contrasting buoyant colours like pulsating orange, shades of blue and umber are there to create more rhythm and harmony in his works. The paper he uses is hand-made, which Monir has created himself. On it he has used his own paints -- produced from crushed bricks, burnt rice and other natural elements, which he finds around him at Chandpur. Monirul Islam says that just as the blue Mediterranean skies, the golden sand sunny orange groves, plus the mauve herb fields of Spain inspire him to create dancing lines and images In the same manner, in Chandpur, the thick clumps of leafy trees, the innumerable ponds, clear skies as well as water-laden heavy, sleepy clouds help him rest and create -- with ease and rejuvenated energy.
The fish, fruits and vegetables of Bangladesh, added to virgin olive oil, and a few touches of European spices, here and there create the gastronomical wonders in his tiny but neat Dhanmondi kitchen. Mouth-watering but simple meals -- which contain both Spanish and Bangladeshi gourmet elements -- give him the desire and energy to work relentlessly. A small bathtub and his economical printing machine are all he needs to work away with the table full of paints. His few friends, aspiring students and select guests at the homely dining table provide the break for his ceaseless work. Monirul Islam is drawn by his roots, as are many Bangladeshi artists, living overseas. It is his aging mother, in particular, who makes Monirul Islam almost a permanent resident of Dhaka for many months -- off and on -- in the recent past.
At times Monirul Islam's mixed-media works and prints contain sensuous female figures and dancing trees, with their embracing and intermingling leaves. These too remind one of joyous, celebrating women, entwining arms and tripping toes. The female figure has inspired artists or all ages, and this artist is no exception. This artist's brush and paint strokes and his line work in prints also celebrate the inevitable presence of human form of both sexes. The essential lines, drawn with a delicate and lyrical touch, lend poetry to the pieces. Bewildering dots, circles and other dashes of curled and twisted shapes appear to sing of the joy of living. As splashes and streaks of jubilant hues frame and add unity to his compositions, specially in his smaller creations, the bold and dramatic streaks in his larger entries drive home the message of peace and harmony, which is the quest of most artists.
"Art is stronger than the artist himself. That's why I often get lost in my paintings and take ages to complete a piece of work. At times a small painting takes me eight hours at a stretch, working ceaselessly for three days on that single piece. At times I've used oil on paper for richer effect and longer lasting consistency," Monirul Islam concludes.
Copyright (R) thedailystar.net 2008