Sci Tech

Pixel Perfect

Wong Li Za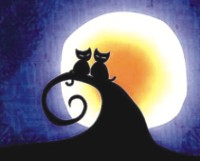 The artworks look like scaled-up desktop wallpaper with vibrant colours, abstract designs and scenes of real life. A closer look reveals that some of them are impossible to create by hand. Enter the realm of digital art, a new genre of visual arts formed in tandem with technological advancement.
Digital art refers to artwork created on a computer in digital form. It can be purely computer-generated or taken from another source such as a scanned photograph, or it can be an image drawn using a mouse or graphics tablet, via vector graphics software.
Digital illustration is the use of digital tools to produce images under the direct manipulation of the artist, usually through a pointing device like a tablet or mouse. It is different from computer-generated art, which is produced by a computer using mathematical models created by the artist. "It is now the 21st century, so why not create modern art using digital means? Digital art is a new generation of art with a fresh flavour and I feel that people want something other than hand-painted works," asserted digital artist Joey Cason.
Cason, 33, is the in-house artist of Soul Art Gallery, believed to be the first (physical) digital art gallery in Malaysia, owned by Digiscan Group. Located in a small commercial area in Bandar Manjalara, Kuala Lumpur, it exhibits over 70 pieces of 2D contemporary and abstract work done by Cason.
Earlier this year, some of his works were showcased at Interiors Malaysia 2008 and Archidex 2008, which are architecture and interior design trade fairs. In conjunction with the Monsoon Cup 2007, Soul Art, launched in January, also held a digital art exhibition at Kelab Teluk Warisan, Kuala Terengganu.
Of Malaysian-Chinese descent, Cason graduated from Saito Academy, Kuala Lumpur, in 1993. He spent the next 10 years in the advertising industry as a graphic designer and art director. However, Cason soon felt he wanted more space to explore his creativity and skill, and made the bold move to venture out as a digital artist.
"As an art director, I basically produced what clients wanted. Now, I create a piece and it's up to the client to decide whether he likes it or not. I have more control over my work now," said Cason, from Kuala Lumpur. Using imaging programmes Photoshop and Illustrator, Cason has since produced close to 200 artworks. His creations are divided into three categories: graphics, surreal and photography. Graphics consists of modern and abstract pieces of art, while surreal pieces lie between reality and graphics.
In photography, Cason snaps pictures and prints them in High Dynamic Range, a technique that uses a combination of three different light exposures to create a brighter, sharper and higher contrast effect. However, this category of his work is still being developed.
To date, Cason's favourite piece remains his first work entitled Leaf of Joy, a complicated production featuring layered leaves in various shades of green, created using a single, real leaf. He is also proud of his latest work, Starfield, a series depicting the universe in which he "drew" the planet and constellations largely from scratch, putting in the stars manually.
"To form the main planet, I had to find the right texture before enhancing it with colour and lighting," he said. Part of Cason's work as a digital artist involves typing in codes into a programme, which will then convert them into graphics. He then manipulates the piece using a mouse or graphic tablet.
Critics may argue that the artistic touch of a traditional painter or originality is missing in digital art. Some could say it is a mere montage of different graphics but Cason contended that a lot of skill, hard work and creativity go into each piece.
"I may use an existing picture and modify it but I still construct it into graphics from scratch," said Cason, adding that creating the effects requires a lot of work. Digital art also allows an artist to produce pieces impossible to achieve by bare hand, such as delicate dots, fine lines or motifs in perfect symmetry or other detailed arrangements.
"My work caters to people who appreciate the knowledge of imaging software," said Cason, who typically spends one to two weeks to complete each piece. "In addition, the wonder of digital art is that we do not know the final outcome until we mix all the different computer effects, which takes a lot of time to experiment with," he said, adding that he only utilises 50 per cent to 60 per cent of the software functions.
The most difficult part of his work, said Cason, remains inspiration, which can come from mundane acts like walking on a pavement to using a small part of a photograph to create a whole new piece. He also goes online frequently to learn how other digital artists use software tools to create various images and effects.
"We share and exchange experiences to improve ourselves," said Cason, who hopes to showcase his work in Singapore and China soon. Cason's artworks are priced between 700 ringgit (US$205) and 2,000 ringgit ($586). Each comes in a limited edition of 10 pieces, while a selected few are exclusive.
This article was first published in The Star, Malaysia. Reprinted with permission.
.Copyright (R) thedailystar.net 2008