Music
Natural Harmony

Elita Karim
After a long break, 37-year-old Kaiser is back playing music professionally.
Listening to Shohojat, one could almost imagine the natural showers gushing out of mountains and picture the possibility of experiencing tranquillity after a long day's work. Coming back into the scene with a set of music and lyrics, reflecting the spirituality of God's creations, Kaiser released his new album Shohojat (Natural Instinct) last month.
A well-known personality in the music arena, Kaiser began his musical career decades ago, at the age of 15. His musical compositions became popular when his band Trio hit the scene in the mid-nineties. Winner of a Benson and Hedges Awards in 2001, an award that used to recognise both promising and established vocalists, lyricists and instrument players, Kaiser had also made a name for himself as a poet at one time.
After a long break, 37-year-old Kaiser is back playing music professionally. Not only is he coming out with new sounds and lyrics, Kaiser has also launched a music label company Chiroharith. "With Chiroharith, I have discovered new dimensions in the music scene in Bangladesh," he explains. "I am experiencing the technical aspects involved in producing an album, for instance, distributing Shohojat to all parts of the country. It is an extremely challenging job, but I had decided around twenty years ago that I would dedicate my life to composing and song writing. That's why, I try to get the most out of the job."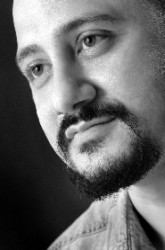 Even though Kaiser has not been in the limelight for a while, he has been following the changing phases in the music scene for the last few years. To the recent trend of selecting gifted musicians on reality shows, Kaiser comments that he believes that it is impossible to build musicians inside so-called factories. "It is more important to nurture the passion of music inside you," he says.
Through Shohojat, Kaiser has been able to bring his experiments into the limelight. Considering the fact that Kaiser has been keeping a low profile in the scene and also the sudden emergence of Chiroharith in the line of competition of several other successfully running music labels in the country, Shohojat has had a very good response from the music listeners.
The response to his music might have left Kaiser overwhelmed, however the public at large is yet to experience is new tunes. Available in all major CD and cassette outlets, Shohojat might be one of the very few initiatives taken by musicians in the Bangladeshi music scene, to bring about something fresh, soulful and melodic.
Copyright (R) thedailystar.net 2008